15th Alabama Regiment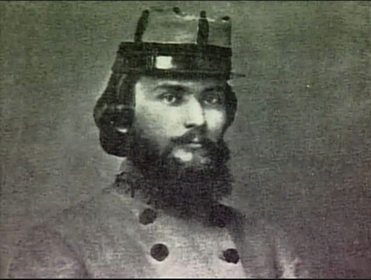 Colonel William C. Oates
- Organized on Jul 3 1861 at Fort Mitchell, AL
- Mustered out on Apr 9 1865 at Appomattox Court House

Available statistics for total numbers of men listed as:
- Enlisted or commissioned: 1958
- Drafted: 19
- Transferred in: 9
- Killed or died of wounds: 261
- Died of disease: 416
- Prisoner of war: 218
- Died while prisoner of war: 46
- Disabled: 231
- Deserted: 66
- Discharged: 50
- Transferred out: 11
* Information obtained through: Confederate Military History, Extended Edition (19 Volumes); The Union Army (9 Volumes); Walter Clark, Histories of the Several Regiments and Battalions From North Carolina in the Great War 1861-1865 (5 Volumes); North Carolina Troops 1861-1865: A Roster (15 Volumes); Official Records of the Union and Confederate Armies.
Recommended Reading: Gettysburg Requiem: The Life and Lost Causes of Confederate Colonel William C. Oates, by Glenn W. LaFantasie. Booklist: This excellent, scholarly biography deals with a man best known as Joshua Chamberlain's principal opponent on Little Round Top on the second day of the Battle of Gettysburg. Like his famous opponent, the 15th Alabama Regiment's commander, William C. Oates, knew the art of the infantry officer. Born when much of his native Alabama was still frontier, he survived six wounds, including the loss of his right arm. After the war, he was a distinguished and eventually wealthy lawyer and state politician as well as a thoroughly unreconstructed rebel with a notoriously hot temper. Continued below…
Yet he made a scandal at the end of his career when, at a state constitutional convention, he advocated no racial limitations on voting rights… A valuable addition to the Civil War shelves. About the Author: Glenn W. LaFantasie is the Frockt Family Professor of Civil War History and the Director of the Center for the Civil War in the West at Western Kentucky University. He is the bestselling author of Twilight at Little Round Top. He has also written for several magazines and newspapers, including American History, North & South, MHQ: The Quarterly Journal of Military History, The New York Times Book Review, America's Civil War, Civil War Times Illustrated, and The Providence Journal.