2nd North Carolina Cavalry Regiment: Statistics*
- Organized on Aug 30 1861
- Mustered out on Apr 9 1865

Available statistics for total numbers of men listed as:
- Enlisted or commissioned: 1439
- Drafted: 7
- Transferred in: 60
- Killed or died of wounds: 63
- Died of disease: 151
- Prisoner of war: 256
- Died while prisoner of war: 17
- Disabled: 71
- Missing: 3
- Deserted: 30
- Discharged: 139
- Transferred out: 108
* Information obtained through: Confederate Military History, Extended Edition (19 Volumes); The Union Army (9 Volumes); Walter Clark, Histories of the Several Regiments and Battalions From North Carolina in the Great War 1861-1865 (5 Volumes); North Carolina Troops 1861-1865: A Roster (15 Volumes); Official Records of the Union and Confederate Armies.
North Carolina Civil War History Map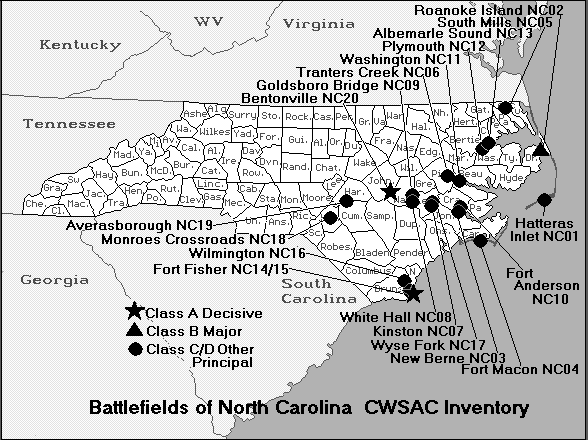 NC Civil War History Map
Brigade, Division, Corps, and Army Assignments for 2nd North Carolina Cavalry Regiment
Recommended Reading: The 2nd North Carolina Cavalry. This history covers not only the Second North Carolina Cavalry's accomplishments and failures, but the events that influenced its actions and heroic performance. The author pays particular attention to the Second North Carolina's involvement with the Army of Northern Virginia and the North Carolina Cavalry Brigade, and includes official documents, letters written to and from home, and diaries and memoirs to present the soldiers' war experiences.