2nd North Carolina Mounted Infantry Regiment, U.S.
A.K.A. Union 2nd North Carolina Mounted Infantry Regiment; 2nd North Carolina (Federal) Mounted Infantry; 2nd North Carolina Mounted, U.S.A. United States Army
Introduction
The Union 2nd North Carolina Mounted Infantry was known by many names, including Home Yankees since the regiment often tramped and fought against their home communities that dared take up arms against the Union. To raise a weapon against your brother during the Civil War, well that actually happened if you donned Union blue and served in only one of two mounted infantry regiments from the Tar Heel State that had their ranks filled with men who were descendants of rebel stock, because they had dared raise a hand against King George during the American Revolution. The Federal 2nd North Carolina was formed by loyal Union men from western North Carolina and East Tennessee, while Confederate deserters formed a fraction of the regiment.
North Carolina Mounted Infantry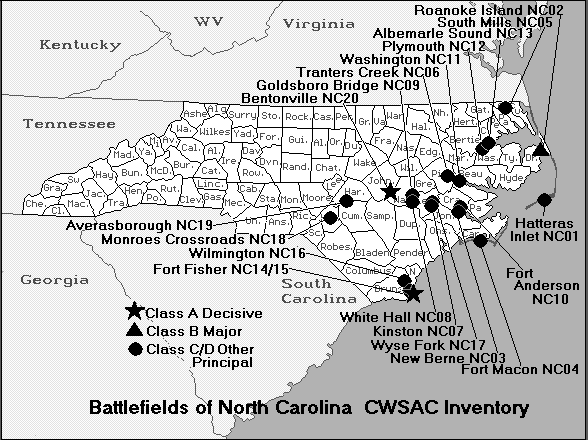 North Carolina Mounted Infantry
ORGANIZED
Knoxville, Tenn., October 1863. Attached to 1st Brigade, Willcox's Division, 9th Army Corps, Left Wing Forces, Dept. Ohio, to April 1864. 1st Brigade, 4th Division, 23rd Army Corps, Dept. Ohio, to February 1865. 1st Brigade, 4th Division, District of East Tennessee, Dept. of the Cumberland, to August 1865.

SERVICE
Ordered to Greenville, Tenn., to October 16, 1863, and assigned there till November 6. Moved to Bull's Gap November 6, and duty there till December. March across Clinch Mountains to Clinch River. Action at Walker's Ford on December 2. Gibson's and Wyerman's, Miss., February 22, 1864. Duty at Cumberland Gap and patrol duty in East Tennessee till April 1865. Scout from Cumberland Gap January 23-27, 1865. Expedition from East Tennessee into Western North Carolina March 21-April 25, 1865. Moved to Boone, N.C., April 6, and to Asheville, N.C., April 27-30. Duty in North Carolina and East Tennessee till August. Mustered out August 16, 1865.
Route of Union General George Stoneman's Raid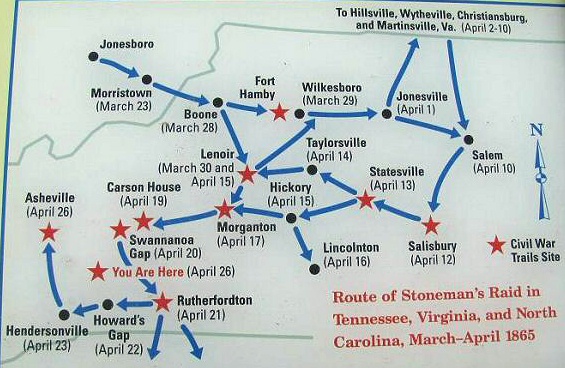 (Stoneman's Raid Map)
OVERVIEW
"Swarms of [North Carolina] men liable to conscription are gone to the tories or to the Yankees." Brigadier General J. W. McElroy, First Brigade North Carolina Home Guard, April 12, 1864
The Union Army recruited two mounted infantry regiments within North Carolina, and both units, 2nd North Carolina Mounted Infantry and 3rd North Carolina Mounted, were raised principally from loyal Union men of Western North Carolina counties. The men who formed the 2nd North Carolina Mounted Infantry were recruited from Western North Carolina, East Tennessee, and a fraction of its ranks were filled with Confederate deserters. Recruitment of these regiments epitomized the Brother's War, and the men serving in these two Union units were commonly referred to as Home Yankees and tories. Union Major General George Stoneman's command as it concerns Western North Carolina in 1865: Second North Carolina Mounted Infantry Regiment, Lieut. Colonel William C. Bartlett; Third North Carolina Mounted Infantry Regiment, Colonel George W. Kirk; First Brigade, Commanding Colonel Chauncey G. Hawley; Fourth Division, Department of the Cumberland, Brig. General Davis Tillson; District of East Tennessee, Major General George Stoneman. To view entire Union District of East Tennessee, including 1st and 2nd Brigades, and Brig. Gen. Gillem's Cavalry Division, see Stoneman's Cavalry Raid and O.R., 1, 49, pt. II, pp. 538-539*.
*Official Records of the Union and Confederate Armies
Sources: National Park Service: Soldiers and Sailors System; Official Records of the Union and Confederate Armies; North Carolina Museum of History.
Recommended Reading: Bushwhackers, The Civil War in North Carolina: The Mountains (338 pages). Description: Trotter's book (which could have been titled "Murder, Mayhem, and Mountain Madness") is an epic backdrop for the most horrific murdering, plundering and pillaging of the mountain communities of western North Carolina during the state's darkest hour—the American Civil War. Commonly referred to as Southern Appalachia, the North Carolina and East Tennessee mountains witnessed divided loyalties in its bushwhackers and guerrilla units. These so-called "bushwhackers" even used the conflict to settle old feuds and scores, which, in some cases, continued well after the war ended. Continued below...
Some bushwhackers were highly organized 'fighting guerrilla units' while others were a motley group of deserters and outliers, and, since most of them were residents of the region, they were familiar with the terrain and made for a "very formidable foe." In this work, Trotter does a great job on covering the many facets of the bushwhackers, including their: battles, skirmishes, raids, activities, motives, the outcome, and even the aftermath. This book is also a great source for tracing ancestors during the Civil War; a must have for the family researcher of Southern Appalachia.
Recommended Reading: The Loyal Mountaineers Of Tennessee (1888) (Hardcover: 426 pages) (Kessinger Publishing, LLC) (June 2, 2008). Description: This book defines the importance of East Tennessee and its residents to the Union cause during the Civil War. The author begins with early history of East Tennessee and the events which led to the War Between the States. He continues by describing local people and events that contributed to the decision to remain loyal to the United States. The events of the War as they involve East Tennessee are detailed, including important meetings and battles such as Carter's Raid and the siege of Knoxville. Continued below...
The text is enhanced with illustrated portraits of East Tennessee individuals who contributed to the Civil War effort. Originally written and published in 1888, this reprinted edition is accompanied by a complete index. This book is a valuable addition to both the Tennessee historian and the Civil War buff.
Recommended Reading: East Tennessee and the Civil War (Hardcover: 588 pages). Description: A solid social, political, and military history, this work gives light to the rise of the pro-Union and pro-Confederacy factions. It explores the political developments and recounts in fine detail the military maneuvering and conflicts that occurred. Beginning with a history of the state's first settlers, the author lays a strong foundation for understanding the values and beliefs of East Tennesseans. He examines the rise of abolition and secession, and then advances into the Civil War. Continued below...
Early in the conflict, Union sympathizers burned a number of railroad bridges, resulting in occupation by Confederate troops and abuses upon the Unionists and their families. The author also documents in detail the 'siege and relief' of Knoxville. Although authored by a Unionist, the work is objective in nature and fair in its treatment of the South and the Confederate cause, and, complete with a comprehensive index, this work should be in every Civil War library.
Recommended Reading: Bridge Burners: A True Adventure of East Tennessee Underground Civil War. Description: When the East Tennessee and Virginia Railway line was completed, dignitaries gathered in celebration as the final spike was hammered into the last tie in Greene County. Opening new doors of growth and economic development in the Region, the railroad would become a point of conflict only three years later. When the Civil War began, the line became a vital link in transporting Confederate troops and supplies into Virginia. The railroad was vulnerable since many hostile Unionists remained in the region. Continued below...
Confederate authorities were understandably worried about the rail lines and how to protect them. Inevitably the stage was set and on a cold Friday night, November 8, 1861, the Unionists proceeded with plans to burn the key railroad bridges of
East Tennessee
; President Abraham Lincoln had approved the plan. This thoroughly researched, easy-to-read narrative tells the incredible true story of the people and events in the '
insurrection gone wrong'
.
Recommended Reading: The Civil War in North Carolina. Description: Numerous battles and skirmishes were fought in North Carolina during the Civil War, and the campaigns and battles themselves were crucial in the grand strategy of the conflict and involved some of the most famous generals of the war. Continued below...
John Barrett presents the complete story of military engagements and battles across the state, including the classical pitched battle of Bentonville--involving Generals Joe Johnston and William Sherman--the siege of
Fort
Fisher
, the amphibious campaigns on the coast, and cavalry sweeps such as
General George Stoneman's Raid
. "Includes cavalry battles, Union Navy operations, Confederate Navy expeditions, Naval bombardments, the land battles... [A]n indispensable edition." Also available in hardcover:
The Civil War in North Carolina
.