Thomas' Legion
American Civil War HOMEPAGE
American Civil War
Causes of the Civil War : What Caused the Civil War
Organization of Union and Confederate Armies: Infantry, Cavalry, Artillery
Civil War Navy: Union Navy and Confederate Navy
American Civil War: The Soldier's Life
Civil War Turning Points
American Civil War: Casualties, Battles and Battlefields
Civil War Casualties, Fatalities & Statistics
Civil War Generals
American Civil War Desertion and Deserters: Union and Confederate
Civil War Prisoner of War: Union and Confederate Prison History
Civil War Reconstruction Era and Aftermath
American Civil War Genealogy and Research
Civil War
American Civil War Pictures - Photographs
African Americans and American Civil War History
American Civil War Store
American Civil War Polls
NORTH CAROLINA HISTORY
North Carolina Civil War History
North Carolina American Civil War Statistics, Battles, History
North Carolina Civil War History and Battles
North Carolina Civil War Regiments and Battles
North Carolina Coast: American Civil War
HISTORY OF WESTERN NORTH CAROLINA
Western North Carolina and the American Civil War
Western North Carolina: Civil War Troops, Regiments, Units
North Carolina: American Civil War Photos
Cherokee Chief William Holland Thomas
HISTORY OF THE CHEROKEE INDIANS
Cherokee Indian Heritage, History, Culture, Customs, Ceremonies, and Religion
Cherokee Indians: American Civil War
History of the Eastern Band of Cherokee Indian Nation
Cherokee War Rituals, Culture, Festivals, Government, and Beliefs
Researching your Cherokee Heritage
Civil War Diary, Memoirs, Letters, and Newspapers

Picture a North Carolina Slave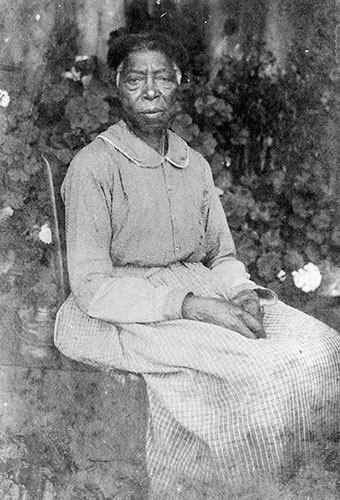 (Slave Photo)
Photograph is courtesy Victoria Casey McDonald
Amanda Thomas Casey was born into slavery to a woman named Martha, who is thought to have been one of the first slaves of
Cherokee Chief William Holland Thomas
. Photo is courtesy Victoria Casey McDonald from her book, "
A Pictorial History: The
African-Americans
of Jackson County
." In addition, you may try searching for Victoria Casey McDonald's publications in the Amazon search box located at the bottom of this page.
Recommended Reading:
A Black Woman's Civil War Memoirs: Reminiscences of My Life in Camp With the 33rd U.S. Colored Troops, Late 1st South Carolina Volunteers.
Description:
Taylor was born a slave, gained her freedom early in the Civil War, and served as a nurse for the first black regiment of the Union Army. Her disappointing, fairly random recollections cover her flight to freedom in 1862, her regiment's expeditions along the Southeastern coast, the end of the war and, briefly, Reconstruction. The author does not demonstrate a capacity for observation and reflection or the descriptive skills necessary to bring her experiences to life for the reader. Of such a momentous occasion as the first time she heard the Emancipation Proclamation, her most significant comment is: "It was a glorious day for us all, and we enjoyed every minute of it." Continued below...
She also makes little mention of her personal life, including her two marriages and the death of a son. In her reflections on the condition of blacks in 1902, the year the memoirs were originally privately published,
Taylor
's writing is at its strongest and most vivid as she decries the betrayal of the freedom and equality blacks and whites had fought for in the Civil War. Included here are excellent, illuminating footnotes by Romero, a research fellow at
Johns
Hopkins
University
. Containing historical facts and analysis and quotes from other Civil War memoirs, they supply not only the historical context, but also some of the human drama that
Taylor
's offering lacks. P
ublishers Weekly,
Copyright 1988 Reed Business Information, Inc.
Recommended Reading:
Black Profiles in Courage: A Legacy of African-American Achievement.
Description:
With all the flair of his last-second game-winning sky hooks, Kareem Abdul-Jabbar delivers a well-written and important collection highlighting the lives of America's greatest black heroes. Taking his title cue from John Kennedy's Profiles in Courage, Abdul-Jabbar brings to life the exploits of a wide variety of African Americans, including Estevanico, a Moorish slave who discovered Arizona and New Mexico; Cinque, a kidnapped African slave who led a mutiny aboard the slave ship Amistad and later won his freedom in the U.S.; and Harriet Tubman, who brought hundreds of slaves to freedom on the Underground Railroad. Continued below...
In a time when the media beams negative images of African Americans around the world, Black Profiles in Courage is indispensable for young adults of other races as well as African-American youth, showing that attributes like courage are not coded by color. For those young blacks who feel distant from America because of racism, books like this are a small but potent antidote against prejudice, reminding them of the important contributions African Americans have made to their country.
Recommended Reading: North Carolinians in the Era of the Civil War and Reconstruction (The University of North Carolina Press). Description: Although North Carolina was a "home front" state rather than a battlefield state for most of the Civil War, it was heavily involved in the Confederate war effort and experienced many conflicts as a result. North Carolinians were divided over the issue of secession, and changes in race and gender relations brought new controversy. Blacks fought for freedom, women sought greater independence, and their aspirations for change stimulated fierce resistance from more privileged groups. Republicans and Democrats fought over power during Reconstruction and for decades thereafter disagreed over the meaning of the war and Reconstruction. Continued below...
With contributions by well-known historians as well as talented younger scholars, this volume offers new insights into all the key issues of the Civil War era that played out in pronounced ways in the Tar Heel State. In nine fascinating essays composed specifically for this volume, contributors address themes such as ambivalent whites, freed blacks, the political establishment, racial hopes and fears, postwar ideology, and North Carolina women. These issues of the Civil War and Reconstruction eras were so powerful that they continue to agitate North Carolinians today.
Recommended Reading: Bluecoats and Tar Heels: Soldiers and Civilians in Reconstruction North Carolina (New Directions in Southern History) (Hardcover). Description: In Bluecoats and Tar Heels: Soldiers and Civilians in Reconstruction North Carolina, Mark L. Bradley examines the complex relationship between U.S. Army soldiers and North Carolina civilians after the Civil War. Continued below...
Postwar violence and political instability led the federal government to deploy elements of the U.S. Army in the
Tar
Heel
State
, but their twelve-year occupation was marked by uneven success: it proved more adept at conciliating white ex-Confederates than at protecting the civil and political rights of black Carolinians. Bluecoats and Tar Heels is the first book to focus on the army's role as post-bellum conciliator, providing readers the opportunity to discover a rich but neglected chapter in Reconstruction history.
Recommended Viewing: Africans in America: America's Journey Through Slavery, Starring: Angela Bassett, Jeremy Rabb, Andre Braugher, Eric Foner, and Kemp Harris. Review: "Everything you thought you knew about slavery is about to be challenged." So says WGBH about its six-hour series Africans in America, and they are absolutely right. Interviews with historians and luminaries such as General Colin Powell, dramatic re-creations of important events, and beautiful photography create a vivid and compelling story of over 400 years of tragedy. Continued below...
Ten million Africans died on the journey to
America
alone; they and the countless numbers whose lives were wasted in servitude find a voice in Angela Bassett's outstanding narration. At once scholarly and moving, Africans in
America
should be required viewing for anyone interested in the American condition.