Battle of Averasboro
North Carolina and Civil War
The Carolinas Campaign
Introduction
The Battle of Averasboro, spelled Averasborough at the time, resulted from a deliberate, well-planned, and well-executed Confederate tactical military maneuver in force--the first since the beginning of Union Maj. Gen. William T. Sherman's march north. The action was designed to delay and to damage Sherman's progress, and it did both under the able and experienced leadership of Lt. Gen. William J. Hardee. On March 16-17, 1865, three miles south of the town, the Union juggernaut battered Confederate forces. More than thirty thousand Federals battled six thousand Confederates on a narrow strip of land between Black River and the Cape Fear River. Of equal and ongoing significance, the Battle of Averasboro and its aftermath highlight the resolve, the compassion, and the resilience of the Southerners involved–both military and civilian. Many would say that Hardee successfully checked and delayed the Union forces and allowed time for Gen. Joseph E. Johnston to organize his forces to fight at Bentonville, but to Sherman, the delaying action at Averasboro was of little consequence, perhaps similar to a modern-day speedbump and nothing more.
Battle of Averasboro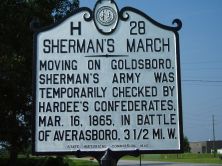 (Historical Marker)
Battle of Averasboro History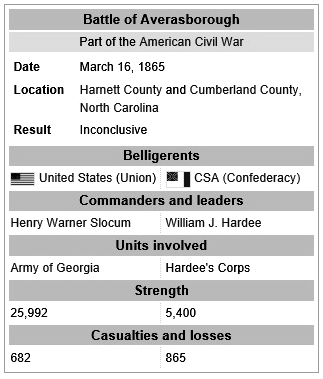 Battle of Averasboro, North Carolina
Averasboro became home to Confederate soldiers during the American Civil War as a recruiting station. During this time, the Battle of Averasboro took place only four miles from town. This battle marked the Confederate Army's first deliberate resistance against the march of Federal forces. Maj. Gen. Sherman led this march, and went gunning down Georgia and the Carolinas. In the end, the Confederacy lost 800 soldiers and withdrew from the battle. However, Lt. Gen. Hardee did succeed in the Confederacy's motive to delay Sherman's advancement. During this time, Averasboro's male population dropped due to heavy recruitment into the Confederate Army. Over half of the young men lost their lives in this battle. The only time the town caught a break occurred when Sherman bypassed the town after the battle of Averasboro. Had he not bypassed the town, his soldiers would have burned it down. Janie Smith, an 18 year old who had her house used as a Confederate hospital, writes to a friend describing the aftermath of the battle: "The scene beggars description, the blood lay in puddles in the grove, the groans of the dying and the complaints of those undergoing amputation was horrible, the painful impression has seared my very heart. I can never forget it."
During the Reconstruction Era, many residents migrated out of the town. A murder involving the Ku Klux Klan spurred the migration. The victim was David McDuffie, and informant for the government who had obtained a list of the members of the clan after infiltrating the Averasboro chapter. After his murder, citizens fled before U.S. marshals arrived. River transport declined as a result of little to no demand of naval stores. In 1885, the construction of a short cut for a rail line from Wilson to Fayetteville began, and it later became part of the Atlantic Coastline Railroad. This Railroad bypassed Averasboro by four miles and instead passed through the town of Lucknow (present-day Dunn). With this final blow, the remnant of its inhabitants moved to Dunn. The use of the Averasboro post office officially discontinued on December 14, 1903, and the mail service was transferred to the Dunn post office.
As the third largest town on the Cape Fear River, to becoming non-existent on maps, Averasboro is remembered merely in the history books. Today, physically only an abandoned post office and an ancient cemetery remain of the port town. What if it had become the capital of North Carolina, or what if its locks and dams had been repaired? We may never get those answers, but we do know that this town of only 600 people evolved into the present-day town of Dunn, North Carolina: Population 10,173.
Battle of Averasboro, North Carolina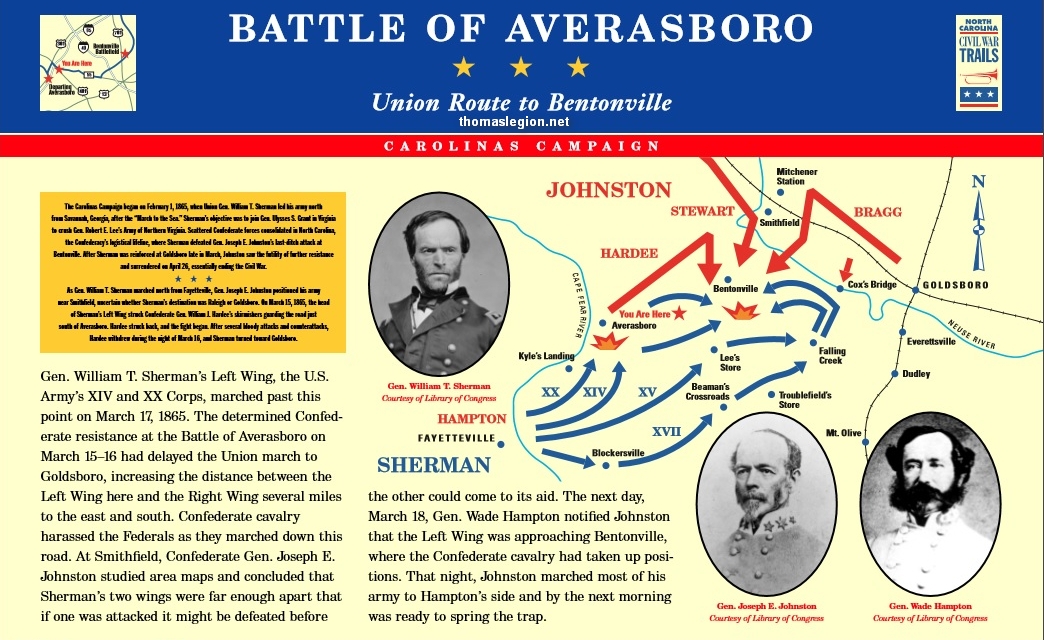 Battle of Averasboro and the Campaign of the Carolinas
Battle of Averasboro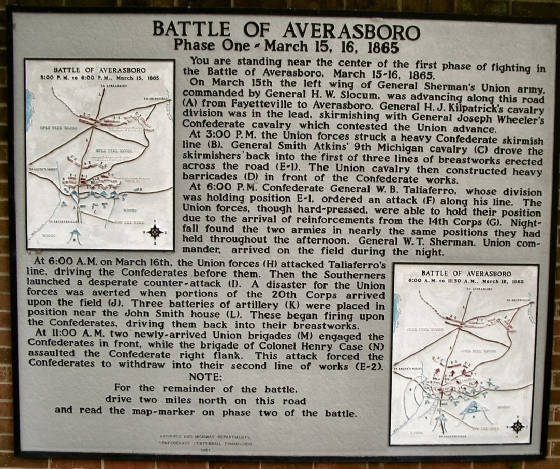 Battle of Averasboro Interpretive Marker
The Battle of Averasboro was a costly delaying action that began in Harnett County on March 15, 1865, near the end of the Civil War (1861-1865). Maj. Gen. William T. Sherman's Union army of 60,000 men was moving northward from Fayetteville in two columns. On March 15, Gen. Joseph E. Johnston ordered Lt. Gen. William J. Hardee's 6,000 Confederate troops to engage the enemy while Maj. Gens. Robert F. Hoke and Daniel H. Hill marched from Kinston. Johnston needed time to consolidate his forces for a major battle. About five miles south of Averasboro, Hardee deployed his troops in three defensive lines to impede Sherman's left wing.
At 6:00 a.m. the next day, in the driving rain, the Federal attack began with an artillery barrage and cavalry charge. Skirmishers were driven back, but the Confederates rallied and charged. They had the upper hand until Maj. Gen. Henry W. Slocum, commander of Sherman's left wing, ordered up additional infantry led by Col. William Hawley. By 11:00 a.m. the Confederate right on the first line had been turned, forcing the Rebels back to their second line of defense. At 1:00 p.m., after another Union attack, the Confederates withdrew to their third line. Union shelling continued, followed by several costly charges. At 8:00 p.m. Hardee ordered a withdrawal along the road to Smithfield, leaving Maj. Gen. Joseph Wheeler's dismounted cavalry to cover the retreat. At daybreak Wheeler withdrew.
The fight delayed the Union advance, but Hardee's small force was no match for Sherman's left wing. Union casualties were reported at 682 killed, wounded, and missing. Confederate casualties were, Hardee asserted, "between 400 and 500." The fight near Averasboro was only a small battle, but it effectively stalled Slocum's advance for one day, enabling Johnston to concentrate his forces and launch a full-scale attack against the Union left wing at Bentonville three days later.
Background
To study any given battle of the Civil War, it is important to understand how and why it evolved. Battles rarely just happened. Whether part of an expedition, operation, or campaign, battles generally belonged to a grand strategy of an army. Averasboro was no exception.
Averasboro Civil War History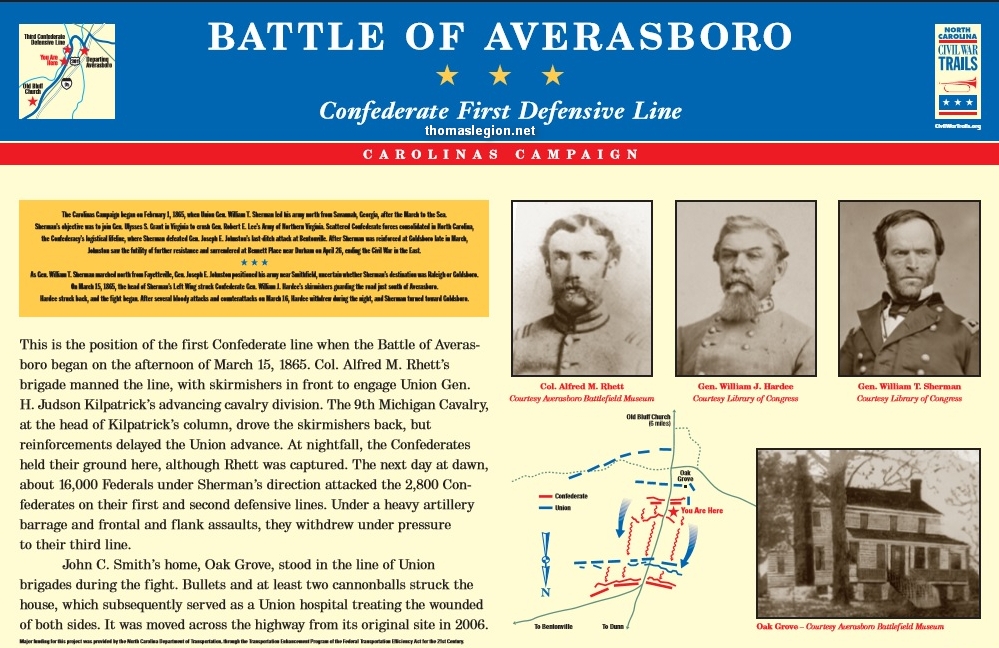 Battle of Averasboro, North Carolina
Battle of Averasboro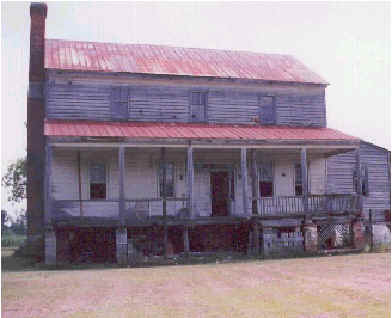 John Smith House at Oak Grove, present-day
(Right) Photo of the Plantation home of John Smith. The Smith House was used as a Confederate hospital during the Battle of Averasboro on March 16, 1865.
At the beginning of 1864, Ulysses S. Grant was promoted to lieutenant general and given command of all Union armies. He chose to make his headquarters with the Army of the Potomac, although Maj. Gen. George G. Meade remained the actual commander of that army. He left Maj. Gen. William Tecumseh Sherman in command of most of the western armies. Grant understood the concept of total war and believed, along with Sherman and President Abraham Lincoln, that only the utter defeat of Confederate forces and their economic base would bring an end to the war. Therefore, scorched earth tactics would be required in some important theaters. He devised a coordinated strategy that would strike at the heart of the Confederacy from multiple directions: Grant, Meade, and Maj. Gen. Benjamin Butler against Robert E. Lee's Army of Northern Virginia near Richmond; Maj. Gen. Franz Sigel to invade the Shenandoah Valley and destroy Lee's supply lines; Sherman to invade Georgia and capture Atlanta; Maj. Gen. Nathaniel Banks to capture Mobile, Alabama. After accomplishing their objectives, each commander was to move his army toward Richmond, to aid Grant in his efforts to force the capitulation of Lee's Army of Northern Virginia and therefore conclude a war that had claimed 620,000 American lives. After moving his army through Georgia and to the sea, Sherman world turn his command north and push toward Richmond, leaving a swath of devastation, and surrendered armies, while en route.
On orders from Lt. Gen. Ulysses S. Grant, Commander in Chief of all Union forces, in April 1864, Maj. Gen. William T. Sherman was to move against the Confederate forces in the South. He was to neutralize the South's war-making capability by defeating its army, demoralizing its people, and destroying key resupply sources. This was to happen in combination with Grant's efforts in
Northern Virginia
. After ravaging
South Carolina
and burning its capital,
Columbia
, by March 1, 1865, the first of
Sherman
's troops were entering
North Carolina
. Following
Sherman
's capture of
Fayetteville
, Union soldiers demolished the arsenal there, crossed the
Cape Fear River
, and continued northward to rendezvous with other Federal commands.
On orders from Gen. Joseph E. Johnston, General of the Army of the South, to delay the progress of a major portion of Sherman's army after it moved north from Fayetteville, North Carolina, Lt. Gen. William J. Hardee and his determined corps of Confederates successfully surprised, shocked and disrupted the formidable Federals. This success occurred against overwhelming odds. In February, Gen. Robert E Lee had ordered Johnston to assume the command of the Army of Tennessee and all troops in the Carolinas, Georgia, and Florida to "concentrate all available forces and drive Sherman back."
Battle of Averasboro Interpretive Marker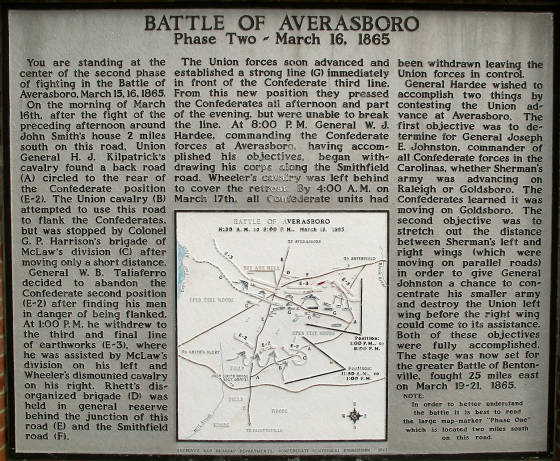 Battle of Averasboro
In March 1865, as Gen. Braxton Bragg attempted to thwart an overwhelming Union offensive to the east, Gen. Johnston assembled forces in the vicinity of Smithfield, North Carolina. Meanwhile, under Johnston's directions, Hardee employed the veteran cavalry of Lt. Gen. Wade Hampton and Maj. Gen. Joseph Wheeler to closely monitor and raid Sherman's advancing army. Hardee's infantry and artillery consisted of the divisions of two seasoned veterans of the major Virginia Campaigns, Maj. Gen. Lafayette McLaws and Brig. Gen. William B. Taliaferro. McLaws had commanded a division at Gettysburg, and Taliaferro had commanded a division under Lt. Gen. T.J. ("Stonewall") Jackson. Both Generals McLaws and Taliaferro had assembled remnants of Confederate commands in Georgia and South Carolina, and with Lt. Gen. Hardee and the cavalry, they were enroute to join General Johnston.
Realizing that Maj. Gen. Sherman's left wing was isolated as it advanced between the Cape Fear and Black Rivers toward Averasboro, Hardee initiated the classic and effective delaying action required by Gen. Johnston in prelude to the Battle of Bentonville. Just as Sherman had successfully concluded his March to the Sea, he would continue to write history with his exhaustive March from the Sea and through the Carolinas. The Battle of Averasboro (also known as Averysborough or Averasborough, Hole Creek, Smithville, Smith's Mill and Black River) was the first deliberate, tactical resistance to the controversial march of Federal forces through Georgia and the Carolinas. The battle was fought on the plantation lands of the John Smith family four miles south of the Cape Fear River village of Averasboro.
Battle
The army of Union Maj. Gen. William T. Sherman encountered its most significant resistance as it moved through the Carolinas on its way to join Lt. Gen. Ulysses S. Grant's army at
Petersburg
, Virginia
. Confederate Lt. Gen. William Hardee tried to block one wing of
Sherman
's force advancing from Fayetteville, commanded by Maj. Gen. Henry Slocum, but the motley Rebel force was swept aside at
Averasboro, North Carolina
.
Battle of Averasboro
Battle of Averasboro and Campaign of the Carolinas
Averasboro Civil War History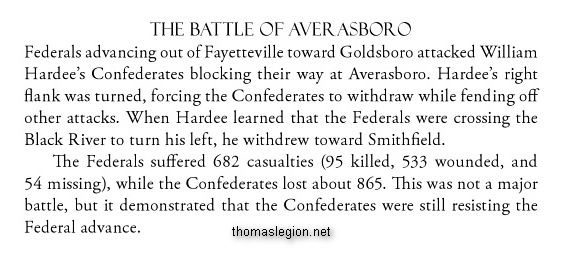 Battle of Averasboro
Sherman's army left Savannah, Georgia, in late January and began its push through the Carolinas with the intention of inflicting the same damage on those states as it infamously had on Georgia two months prior. The Confederates could offer little opposition, and
Sherman moved
northward while engaging in only a few small skirmishes. Now, however, the Southerners had gathered more troops and dug in their heels as the Confederacy entered its final days. While traveling with his right wing, Maj. Gen. Sherman had overestimated the strength of the Confederates, placing Hardee's strength at 20,000, so he sent Slocum with more than 25,000 soldiers to press and carry the position.
Lt. Gen. Hardee placed his troops, numbering some 5,000, across the main roads leading away from Fayetteville in an effort to determine Sherman's objective. Union cavalry under Maj. Gen. Hugh Judson Kilpatrick contacted some of Hardee's men along the old Plank Road northeast of Fayetteville on March 15. Kilpatrick could not punch through, so he regrouped and waited until March 16 to renew the attack. When they tried again, the Federals still could not break the Rebel lines until two divisions of Slocum's infantry arrived. In danger of being outflanked and possibly surrounded, Hardee withdrew his troops and headed toward a rendezvous with Gen. Joe Johnston's gathering army at Bentonville, North Carolina.
On March 15th the left wing of Maj. Gen. William Sherman's army, commanded by Maj. Gen. Henry Slocum, was advancing from Fayetteville to Averasboro. Maj. Gen. Hugh Kilpatrick's cavalry division was in the lead, skirmishing with Lt. Gen. Joe Wheeler's Confederate cavalry which contested the Union advance. Soon, both armies would be engaged in some hard yet brief fighting.
At 3:00 P.M. the Union forces struck a heavy Confederate skirmish line. Col. Smith Atkins' 9th Michigan cavalry drove the skirmishers back into the first of three lines of breastworks. The Union cavalry then constructed heavy barricades in front of the Confederate works. At 6:00 P.M. Confederate Brig. Gen. William Taliaferro, whose division was holding position, ordered an attack along his line. The Union forces, though hard-pressed, were able to hold their position due to the arrival of reinforcements from the 14th Corps. Nightfall found the two armies in nearly the same positions they had held throughout the afternoon. Maj. Gen. William Sherman, commanding Union forces, arrived on the field during the night. At 6:00 A.M. on March 16th, the Union forces attacked Taliaferro's line, driving the Confederates before them. Then the Southerners launched a desperate counter-attack. A disaster for the Union forces was averted when portions of the 20th Corps arrived upon the field. Three batteries of artillery were placed in the position near the John Smith house. These began firing upon the Confederates, driving them back into their breastworks. At 11:00 A.M. two newly-arrived Union brigades engaged the Confederates in front, while the brigade of Col. Henry Case assaulted the Confederate right flank. This attack forced the Confederates to withdraw into their second line of works.
Averasboro Civil War History
Carolinas Campaign and the Battle of Averasboro.
Battle of Averasboro Interpretive Marker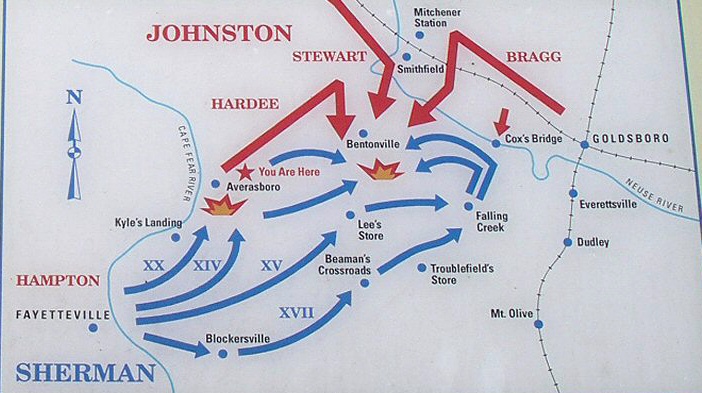 Union and Confederate troops movements during Carolinas Campaign.
On the morning of March 16th, after the fight of the preceding afternoon around John Smith's house, Kilpatrick's cavalry found a back road circled to the rear of the Confederate position. The Union cavalry attempted to use this road to flank the Confederates, but was stopped by Col. G. P. Harrison's brigade of McLaws' division after moving only a short distance. Taliaferro decided to abandon the Confederate second position after finding his men in danger of being flanked. At 1:00 P.M. he withdrew to the third and final line of earthworks, where he was assisted by Maj. Gen. Lafayette McLaws' division on his left and Wheeler's dismounted cavalry on his right. Rhett's disorganized brigade was held in general reserve.
The Union forces soon advanced and established a strong line immediately in front of the Confederate third line. From this new position they pressed the Confederates all afternoon and part of the evening, but were unable to break the line. At 8:00 P.M. Lt. Gen. William Hardee, commanding Confederate forces at Averasboro, having accomplished his objectives, began withdrawing his corps along the Smithfield road. Wheeler's cavalry was left behind to cover the retreat. By 4:00 A.M. on March 17th, all Confederate units had been withdrawn leaving the Union forces in control.
Lt. Gen. Hardee wished to accomplish two things by contesting the Union advance at Averasboro. The first objective was to determine for Gen. Joseph E. Johnston, commander of all Confederate forces in the Carolinas, whether Sherman's army was advancing on Raleigh or Goldsboro. The Confederates learned it was moving on Goldsboro. The second objective was to stretch out the distance between Maj. Gen. Sherman's left and right wings (which were moving on parallel roads) in order to give Gen. Johnston a chance to concentrate his smaller army and destroy the Union left wing before the right wing could come to its assistance. Both of these objectives were fully accomplished. The stage was now set for the greater Battle of Bentonville fought 25 miles east on March 19-21, 1865.
Sherman had commented to his generals that he believed Hardee wanted to fight, but appearing more annoyed than concerned, the Federal commander was eager to make battle with his adversary. After sweeping aside Rebel resistance in what had been coined a brief delay at Averasboro, Sherman would move his Union juggernaut toward Bentonville, where more formidable resistance would be met in battle just three days later on March 19. Gen. Robert E. Lee would surrender his beleaguered army to Lt. Gen. Ulysses S. Grant on April 9 at Appomattox, Virginia, and Sherman, who would later serve as Commanding General of the U.S. Army (1869–83), would accept the surrender of Gen. Joe Johnston and 89,270 soldiers, in the single largest capitulation of the war, on April 26, 1865, at Bennett Place, Durham, North Carolina, thus closing the final chapter of the bloodiest conflict in the nation's history.
Chronology
On December 21, 1864, Union Maj. Gen. William T. Sherman completed his March to the Sea by capturing Savannah, Georgia. Sherman's next move was to march northward through the Carolinas to Richmond, Virginia, the capital of the Confederacy, where he would combine with the forces commanded by Union general-in-chief Ulysses S. Grant. The massive juggernaut under Grant and Sherman would ensure final victory for the Union by crushing Confederate general-in-chief Robert E. Lee's Army of Northern Virginia. Before marching to Richmond, however, Sherman would halt at Goldsboro, North Carolina, and unite with a Union force commanded by Maj. Gen. John M. Schofield.
Map of North Carolina Civil War Battlefields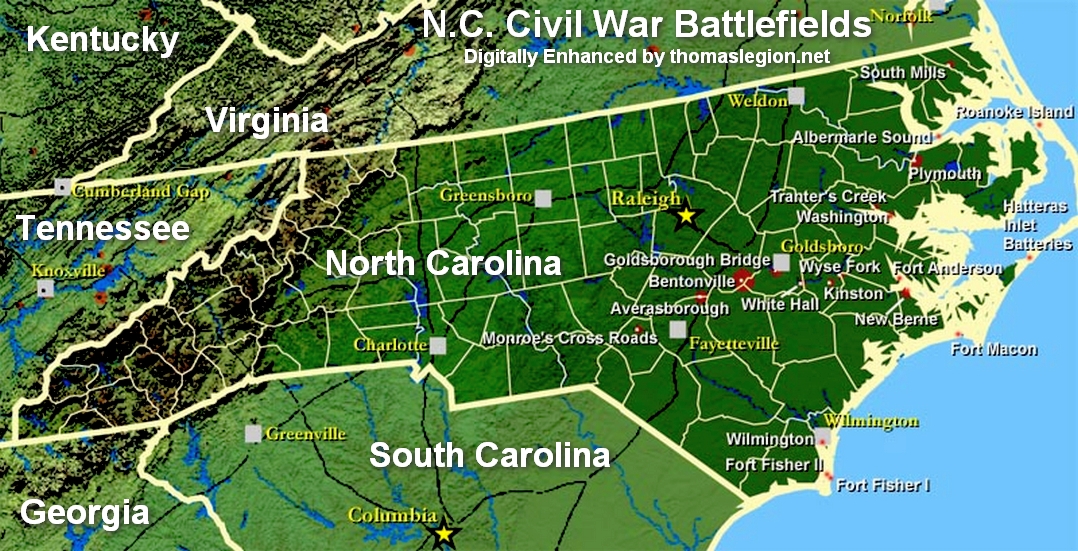 Battle of Averasboro, N.C.
Jane (Janie) Smith and the Battle of Averasboro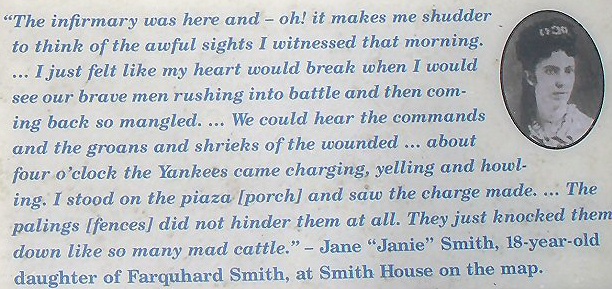 Battle of Averasboro Marker
On February 1, 1865, Sherman began his Carolinas Campaign by advancing into South Carolina. By February 17, his forces had captured Columbia, the capital of the Palmetto State. Thus far, the Confederates' resistance in South Carolina was ineffective. On February 22, Lee ordered Gen. Joseph E. Johnston to assume command of the forces opposing Sherman. During the first week of March, Johnston frantically concentrated his scattered forces in central North Carolina, while Sherman advanced into the Tar Heel State.
On March 10, Confederate cavalry commander Wade Hampton surprised his Federal counterpart Judson Kilpatrick at Monroe's Crossroads in an engagement later dubbed "Kilpatrick's Shirttail Skedaddle." Although Kilpatrick quickly recovered from his shock and regained his camp, Hampton succeeded in opening the road to Fayetteville. Meanwhile at Wyse Fork near Kinston, Confederate forces under Gen. Braxton Bragg attacked one of Schofield's two corps marching inland toward a junction with Sherman. Although the Confederates overran a portion of the Union line on March 8, the Federals succeeded in repulsing several Confederate assaults on March 10. On the night of the tenth, Bragg began withdrawing west toward Johnston. On March 11, Sherman occupied Fayetteville. During their four-day halt there, the Federals destroyed the former U.S. Arsenal. Sherman also plotted the final stage of his march to Goldsboro. His Left Wing would feint due north toward Raleigh, the state capital, while his Right Wing would march northeast toward Goldsboro. Johnston, meanwhile, gathered his forces at Smithfield because it was near the North Carolina Railroad and stood roughly midway between Raleigh and Goldsboro, Sherman's two most likely objectives.
On March 16, Confederate Lt. Gen. William J. Hardee fought a delaying action near Averasboro against Sherman's Left Wing, buying Johnston precious time to concentrate his forces around Smithfield. After the Battle of Averasboro, the Union Left Wing headed east toward Goldsboro. Acting on information provided by his cavalry commander, Lt. Gen. Wade Hampton, Gen. Joe Johnston directed his Army of the South to concentrate at Bentonville and attack the Union Left Wing. On March 19, the first day of the Battle of Bentonville, the Confederates routed the lead Federal division, but the rest of the Left Wing dug in and, after a fierce struggle, the fighting ended in a draw. On the twentieth, the Federal Right Wing joined the Left Wing. Though outnumbered three-to-one, Johnston refused to withdraw and thus demoralize his troops. On March 21, a Union division launched an unauthorized attack against the weak Confederate left flank and nearly succeeded in cutting off Johnston's sole line of retreat. Only a desperate counterattack saved the Army of the South, which retreated toward Smithfield later that night. Content to let Johnston escape to Smithfield, Maj. Gen. Sherman reached Goldsboro on March 23 and formed a junction with Schofield.
Battle of Averasboro Interpretive Marker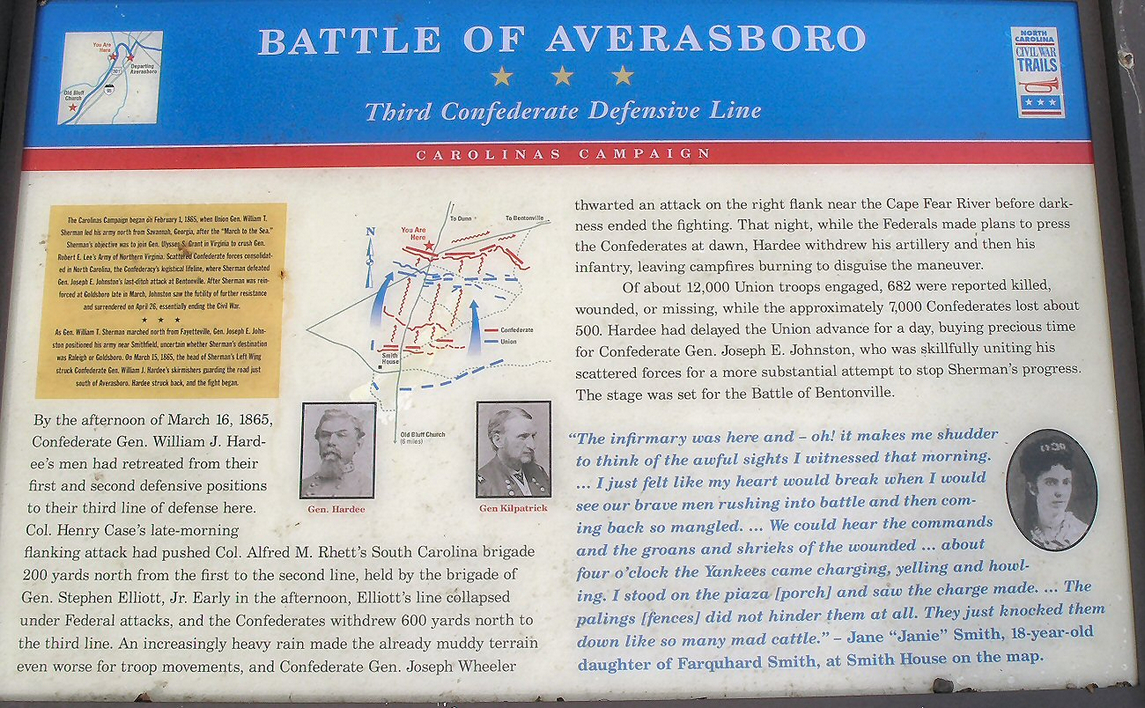 Battle of Averasboro Interpretive Marker
On April 10, 1865, Sherman resumed his Carolinas Campaign. As the Federals advanced toward Raleigh, Johnston's newly renamed Army of Tennessee fell back and eventually halted around Greensboro. Meanwhile, the Union and Confederate commanders received word of Lee's surrender on April 9, convincing Johnston that further resistance was futile. On April 13, the Federals occupied Raleigh, and four days later, Sherman and Johnston began surrender negotiations at the Bennett Place near Durham. After President Andrew Johnson's rejection of Sherman's preliminary agreement, the two commanders met on April 26 and agreed to terms virtually identical to those Lee had received from Grant at Appomattox Court House. The resulting surrender was the largest of the war, embracing almost 90,000 Confederate troops in the Carolinas, Georgia, and Florida.
Voices of Averasboro
"Mr. Sherman, I think is pursuing the wrong policy to accomplish his designs. The Negroes are bitterly prejudiced to his minions. They were treated, if possible, worse than the white folks, all their provisions taken and their clothes destroyed and some carried off.
They left no living thing in Smithville but the people. One old hen played sick and thus saved her neck, but lost all of her children. The Yankees would run all over the yard to catch the little things to squeeze to death.
Every nook and corner of the premises was searched and the things that they didn't use were burned or torn into strings. No house except the blacksmith shop was burned, but into the flames they threw every tool, plow etc., that was on the place." — Letter from 18 year-old Janie Smith (July 26, 1846 — August 15,
1882) whose family home was used as a Confederate hospital during the Battle of Averasboro.
"Before the skirmishers had gained the position assigned them, the brave [Capt. William G.] Barnett fell, shot through the head, dying almost instantly . . . . Just as his remains were carried back to our line Col. [James] Lake was struck in the right forearm, when, quietly slipping the sword knot from his wrist, he grasped the sword in his left hand, and was about giving an order 'Forward on a charge!' when he fell, severely wounded in the groin, and was carried to the rear . . . . [W]e kept up a dull skirmishing fire until dark." — Sgt. William B. Westervelt, 17th New York Zouaves, Vandever's brigade, Morgan's division, 14th Corps, Army of Georgia (Late Army of the Cumberland) (Left Wing), describing the Battle of Averasboro, March 16, 1865.
Battle of Averasboro and the Carolinas Campaign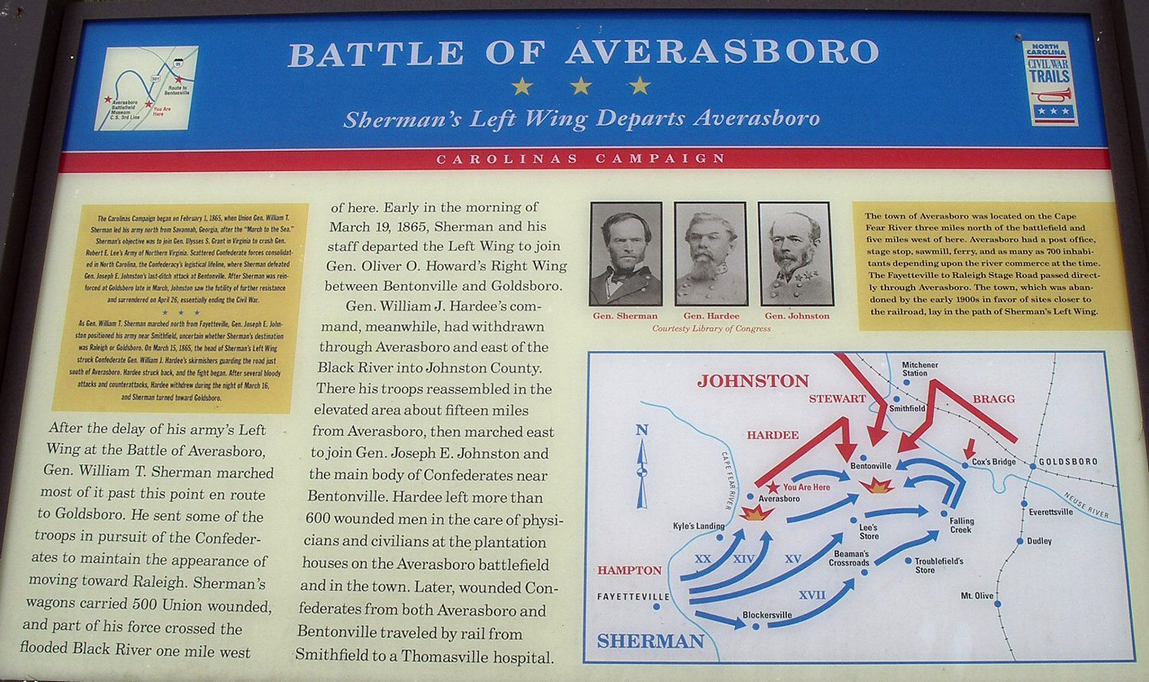 Battle of Averasboro and the Carolinas Campaign
North Carolina Civil War Battlefields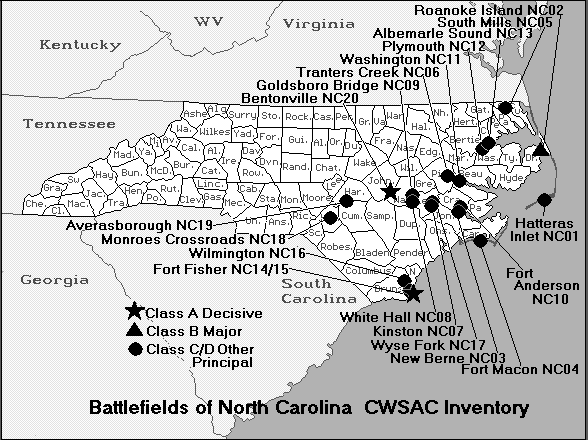 North Carolina Civil War Battles Map
Analysis
The Battle of Averasboro would begin on March 15, 1865, with the Confederates dug in on the ground of their choosing. Outnumbered five-to-one, the Southerners awaited the Northern behemoth of more than 25,000 to crash headlong into its lines. Determined to check the Federal advance, Hardee chose Averasboro to make his stand. The reason was geography. With a much smaller command, Hardee would wisely use the Cape Fear and Black rivers to protect his flanks. Although instructed to delay the enemy, which would allow Johnston the necessary time to assemble his forces for the approaching army of Sherman, Hardee had also hoped that his adversary would commit some serious errors, some blunders like Chancellorsville, for example. But Sherman's lieutenant, Maj. Gen. Slocum, would fight patiently yet with determination before awakening the third day to a battlefield absent of Rebel forces. Having completed the objective, the Southerners then withdrew to nearby Bentonville.
The battle opened as soldiers under the command of Col. Alfred M. Rhett of
South Carolina
occupied the Confederate first line of defense and attacked the Ninth Michigan. The Yankees drove the Rebels back into their breastworks but quickly withdrew when shelled by Confederate artillery. The Ninth Michigan constructed barricades in front of the Confederate position. Heavy fighting occurred there during the day. At nightfall, the two armies were in nearly the same positions they held throughout the afternoon.
At 6:00 a.m. on the morning of March 16, the Yankees attacked. Heavy fighting occurred during the day, with many attacks and counter attacks taking place. Superior numbers allowed the Northerners to eventually force their way through enemy line forcing the Confederates to withdraw to their third line of defense. There, Confederate Brig. Gen. William Taliaferro aligned his forces astride the Raleigh-Fayetteville Road to make a last stand. The final Union attack occurred around 3:00 p.m. when a sharp attack was launched against the Confederate right. Confederate cavalry commanded by Lt. Gen. Joseph Wheeler quickly stopped the attack by pouring a devastating fire into the Yankee advance. Union troops continuously attacked throughout the afternoon but were in each instance repulsed by the stubborn Confederates. Their mission accomplished, the Confederates began to withdraw during the night of the 16th. Continuous skirmishing occurred during the morning of the 17th until all troops had withdrawn.
Sherman's army group entered Fayetteville on March 11 and remained there for four days. While most of the men rested, the 1st Michigan Engineers and Mechanics demolished the Confederate arsenal there on orders from the commanding general. Maj. Gen. William T. Sherman, meanwhile, plotted the final leg of his 450-mile march to Goldsboro. As usual, the plan included a feint—this time due north toward Raleigh with Kilpatrick's cavalry and four divisions of Slocum's wing in light marching order. The remaining two divisions would escort all nonessential wagons in the rear of Howard's wing. Maj. Gen. Henry Slocum would advance up the Plank Road to within four miles of Averasboro, North Carolina, and then head east on the Goldsboro Road via Bentonville, North Carolina. In the meantime, Kilpatrick's cavalry and one infantry division would continue feinting on Raleigh before veering off toward Goldsboro. Of Slocum's march toward Bentonville, Sherman wrote, "I do think it is Johnston's only chance to meet this army before an easy junction with Schofield can be effected." While Sherman's army group rested at Fayetteville, Hardee's corps halted at Smithville, North Carolina (not to be confused with Smithfield), about five miles south of Averasboro. Since evacuating Charleston in mid-February, Hardee had lost one-half of his 13,000 troops to straggling, desertion, and Governor Magrath's militia recalls. The general decided that he had better fight or perhaps face the final disintegration of his demoralized command. He also hoped to buy time for the concentration of Johnston's army. Lt. Gen. William Hardee deployed his corps in three lines, placing the relatively inexperienced soldiers of Taliaferro's division on the first two lines and entrusting the third and main line to the more seasoned troops of McLaws' division. Sherman's army group resumed the advance on March 15, with Kilpatrick's cavalry preceding Slocum's wing up the Plank Road. About midafternoon, Maj. Gen. Hugh J. Kilpatrick's lead regiment collided with Confederates from Hardee's command, and the two sides skirmished for several hours. While working their way through no-man's-land, three Union cavalry scouts captured one of Taliaferro's brigade commanders, Col. Alfred M. Rhett, who was riding between the lines with just one staff officer. Before being turned over to the provost marshal, Rhett spent the evening with some old acquaintances—namely Generals Sherman, Slocum, and Davis, who had been stationed at Charleston, Rhett's hometown, before the war. At nightfall, the fighting ceased, and the two sides frantically dug fieldworks in preparation for a battle the next day. "Hardee is ahead of me and shows fight," Sherman wrote early on March 16. "I will go at him in the morning with four divisions and push him as far as Averasborough before turning toward Bentonville and [Goldsboro]."
Battle of Averasboro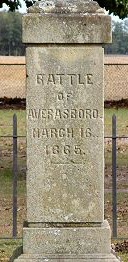 Averasboro Memorial
Averasboro, North Carolina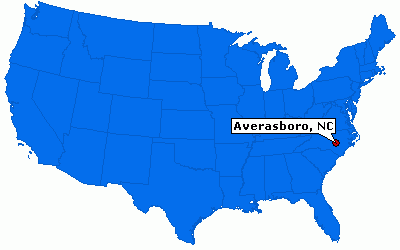 Averasboro, North Carolina
The Battle of Averasboro began at dawn on March 16, amid a steady rain that fell for most of the day. Throughout the morning, Kilpatrick's cavalry and the Federal XX Corps probed Hardee's first line for weaknesses. About noon, Sherman directed Maj. Gen. Henry W. Slocum to send a brigade around the Confederate right flank. Slocum chose Col. Henry Case's XX Corps brigade, whose surprise flank attack routed the Confederates of Rhett's brigade manning the first line. "I was never so pleased in my life as I was to see the rebs get up and try to get out of the way," wrote an Illinois soldier who participated in the assault. Soon afterward, the Federals drove back the second line held by Brig. Gen. Stephen Elliott's brigade. As Brig. Gen. James D. Morgan's division of the Union XIV Corps attacked on the left in an effort to outflank Hardee's third line, two small divisions of Wheeler's Confederate cavalry arrived just in time to plug the gap. With Hardee's line now extending from the Cape Fear River on his right to the swamps bordering the Black River on the left, Sherman decided to postpone making a general assault until the next morning. At nightfall, however, Hardee began to evacuate his position. When Federal skirmishers advanced at dawn on March 17, they discovered that the Confederates had withdrawn. Hardee's delaying action at Averasboro had succeeded in checking Sherman's movement for one day, buying Johnston invaluable time to concentrate his forces. In doing so, Hardee also had given his green troops their first taste of field combat and boosted their sagging morale. For his part, Sherman had driven Hardee toward Smithfield, thereby opening the road to Goldsboro. The Confederates suffered at least 500 casualties, most of them coming from Rhett's brigade, while the Federal losses amounted to 682. Of that number, 533 were wounded and had to be transported with the column, hence Sherman's decision to press Hardee on March 16 rather than risk a full-scale assault because he knew that each additional wounded man would further slow his progress.
Notes
Depending on the source, casualty figures for Averasboro vary from 977 to 1,547. The range in casualties is due largely because of inaccurate missing in action figures from Confederate forces. Generals Slocum and Kilpatrick reported their casualties for the fighting at Averasboro at 682 killed, wounded, captured, or missing. Of the casualties 533 were wounded. Official Records XLVII, Pt. I, Ser. I, 66.
Official Records of the Union and Confederate Armies indicates 682 Union casualties, with 95 killed, 533 wounded, and 54 missing. Hardee stated his losses between 400 and 500.

Averasboro Battlefield Commission places estimated total casualties at 977.

North Carolina Office of Archives and History states estimated total losses of 1,182.

The History Channel (A&E Networks) shows estimated total casualties at 1,540, with Union casualties approximately 675, with 95 killed, 530 wounded, and 50 missing. Confederate losses were estimated at 865.

National Park Service (NPS) suggests estimated total losses of 1,419.

Contemporary sources estimate total Confederate losses of 865.
(Sources and related reading listed below.)
Recommended Reading: NO SUCH ARMY SINCE THE DAYS OF JULIUS CAESAR: Sherman's Carolinas Campaign from Fayetteville to Averasboro (Discovering Civil War America). Description: General William T. Sherman's 1865 Carolinas Campaign receives scant attention from most Civil War historians, largely because it was overshadowed by the Army of Northern Virginia's final campaign against the Army of the Potomac. However, a careful examination of this campaign indicates that few armies in all of military history accomplished more under more adverse conditions than did Sherman's. Continued below…
Mark A. Smith and Wade Sokolosky, both career military officers, lend their professional eye to the critical but often overlooked run-up to the seminal Battle of Bentonville, covering March 11-16, 1865. Beginning with the capture of Fayetteville and the demolition of its Arsenal, Smith and Sokolosky chronicle the Battle of Averasboro in greater detail than ever tackled before in this, the third volume of Ironclad's, "The Discovering Civil War America Series." In the two-day fight at Averasboro, Lt. Gen. William J. Hardee's Corps conducted a brilliantly planned and well-executed defense in depth that held Sherman's juggernaut in check for two full days. Having accomplished his objective, Hardee then broke off and disengaged. This delay permitted General Joseph E. Johnston to concentrate his forces in preparation for what became the Battle of Bentonville. The book includes new maps, abundant illustrations, and a detailed driving and walking tour for dedicated battlefield stompers.
Recommended Reading: Southern Storm: Sherman's March to the Sea, by Noah Andre Trudeau (Hardcover). From Publishers Weekly: Starred Review. Trudeau, a prize-winning Civil War historian (Gettysburg), addresses William T. Sherman's march to the sea in the autumn of 1864. Sherman's inclusion of civilian and commercial property on the list of military objectives was not a harbinger of total war, says Trudeau. Rather, its purpose was to demonstrate to the Confederacy that there was no place in the South safe from Union troops. Continued below…
The actual levels of destruction and pillage were limited even by Civil War standards, Trudeau says; they only seemed shocking to Georgians previously spared a home invasion on a grand scale. Confederate resistance was limited as well. Trudeau praises Sherman's generalship, always better at operational than tactical levels. He presents the inner dynamics of one of the finest armies the U.S. has ever fielded: veteran troops from Massachusetts to Minnesota, under proven officers, consistently able to make the difficult seem routine. And Trudeau acknowledges the often-overlooked contributions of the slaves who provided their liberators invaluable information and labor. The march to the sea was in many ways the day of jubilo, and in Trudeau it has found its Xenophon. 16 pages of b&w photos, 36 maps.
Recommended Reading: On Sherman's Trail: The Civil War's North Carolina Climax. Description: Join journalist and historian Jim Wise as he follows Sherman's last march through the Tar Heel State from Wilson's Store to the surrender at Bennett Place. Retrace the steps of the soldiers at Averasboro and Bentonville. Learn about what the civilians faced as the Northern army approached and view the modern landscape through their eyes. Whether you are on the road or in a comfortable armchair, you will enjoy this memorable, well-researched account of General Sherman's North Carolina campaign and the brave men and women who stood in his path.
Recommended Reading: Sherman's March Through the Carolinas. Description: In retrospect, General William Tecumseh Sherman considered his march through the Carolinas the greatest of his military feats, greater even than the Georgia campaign. When he set out northward from Savannah with 60,000 veteran soldiers in January 1865, he was more convinced than ever that the bold application of his ideas of total war could speedily end the conflict. Continued below…
John Barrett's story of what happened in the three months that followed is based on printed memoirs and documentary records of those who fought and of the civilians who lived in the path of Sherman's onslaught. The burning of Columbia, the battle of Bentonville, and Joseph E. Johnston's surrender nine days after Appomattox are at the center of the story, but Barrett also focuses on other aspects of the campaign, such as the undisciplined pillaging of the 'bummers,' and on its effects on local populations. About the Author: John G. Barrett is professor emeritus of history at the Virginia Military Institute. He is author of several books, including The Civil War in North Carolina, and coeditor of North Carolina Civil War Documentary.
Recommended Reading: Sherman's March: The First Full-Length Narrative of General William T. Sherman's Devastating March through Georgia and the Carolinas. Description: Sherman's March is the vivid narrative of General William T. Sherman's devastating sweep through Georgia and the Carolinas in the closing days of the Civil War. Weaving together hundreds of eyewitness stories, Burke Davis graphically brings to life the dramatic experiences of the 65,000 Federal troops who plundered their way through the South and those of the anguished -- and often defiant -- Confederate women and men who sought to protect themselves and their family treasures, usually in vain. Dominating these events is the general himself -- "Uncle Billy" to his troops, the devil incarnate to the Southerners he encountered.
Recommended Viewing: The Civil War - A Film by Ken Burns. Review: The Civil War - A Film by Ken Burns is the most successful public-television miniseries in American history. The 11-hour Civil War didn't just captivate a nation, reteaching to us our history in narrative terms; it actually also invented a new film language taken from its creator. When people describe documentaries using the "Ken Burns approach," its style is understood: voice-over narrators reading letters and documents dramatically and stating the writer's name at their conclusion, fresh live footage of places juxtaposed with still images (photographs, paintings, maps, prints), anecdotal interviews, and romantic musical scores taken from the era he depicts. Continued below...
The Civil War uses all of these devices to evoke atmosphere and resurrect an event that many knew only from stale history books. While Burns is a historian, a researcher, and a documentarian, he's above all a gifted storyteller, and it's his narrative powers that give this chronicle its beauty, overwhelming emotion, and devastating horror. Using the words of old letters, eloquently read by a variety of celebrities, the stories of historians like Shelby Foote and rare, stained photos, Burns allows us not only to relearn and finally understand our history, but also to feel and experience it. "Hailed as a film masterpiece and landmark in historical storytelling." "[S]hould be a requirement for every student."
Sources: Averasboro Battlefield Commission; Barrett, John G. "Bentonville, North Carolina (NC020), Johnston County, March 19–21, 1865", in The Civil War Battlefield Guide, 2nd ed., edited by Francis Kennedy. Boston: Houghton Mifflin Co., 1998. ISBN 0-395-74012-6; Bradley, Mark L. Last Stand in the Carolinas: The Battle of Bentonville. Campbell, California: Savas Publishing Co., 1995. ISBN 1-882810-02-3; Broadwater, Robert P. Battle of Despair: Bentonville and the North Carolina Campaign. Macon, Georgia: Mercer University Press, 2004. ISBN 978-0-86554-821-3; Center of Military History United States Army Washington, D.C., 2015; Civil War Trust, civilwar.org; Davis, Daniel T., and Phillip S. Greenwalt. Calamity in Carolina: The Battles of Averasboro and Bentonville, March 1865. Emerging Civil War Series. El Dorado Hills, CA: Savas Beatie, 2015. ISBN 978-1-61121-245-7; Google Earth; History Channel, history.com; Hughes, Nathaniel Cheairs, Jr. Bentonville: The Final Battle of Sherman and Johnston. Chapel Hill: University of North Carolina Press, 1996. ISBN 0-8078-2281-7; John Locke Foundation; Library of Congress; Microsoft Virtual Earth; National Park Service; North Carolina Museum of History; North Carolina Office of Archives and History; Smith, Mark A., and Wade Sokolosky. No Such Army Since the Days of Julius Caesar: Sherman's Carolinas Campaign from Fayetteville to Averasboro (Discovering Civil War America)Published January 1st 2006 by Ironclad Publishing. ISBN 978-0967377063; UNC School of Education, learnnc.org; University of North Carolina, Chapel Hill, unc.edu; U.S. War Department, The War of the Rebellion: a Compilation of the Official Records of the Union and Confederate Armies.