Battle of Bean's Station
Tennessee Civil War History
Battle of Bean's Station
Other Names: None
Location: Grainger County
Campaign: Knoxville Campaign (1863)
Date(s): December 14, 1863
Principal Commanders: Brig. Gen. J. M. Shackelford [US]; Lt. Gen. James Longstreet [CS]
Forces Engaged: Cavalry Corps, Department of the Ohio [US]; Confederate Forces in East Tennessee [CS]
Battle of Bean Station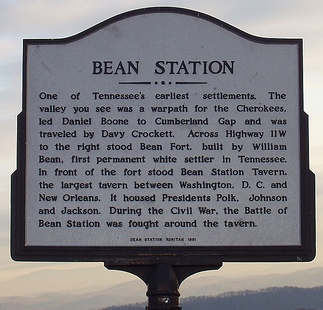 (Civil War Battle of Bean's Station Tennessee)
Estimated Casualties: 1,600 total (US 700; CS 900)
Result(s):
Confederate victory
Summary: The Battle of Bean's Station, fought December 14, 1863, was the third and final battle of Longstreet's Knoxville Campaign (November-December 1863), which also included the battles of Campbell's Station (November 16, 1863) and Fort Sanders (November 29, 1863). When Lt. Gen. James Longstreet abandoned the Siege of Knoxville on December 4, 1863, and retreated northeast towards Rogersville, Tennessee, Union Maj. Gen. John G. Parke followed the Confederates from a distance. Longstreet continued to Rutledge on December 6 and Rogersville on the 9th. Parke next sent Brig. Gen. J. M. Shackelford with about 5,000 cavalry (included mounted infantry) to follow and report the movements of Longstreet.
On the 13th, while Shackelford's cavalry was near Bean's Station on the Holston River, Longstreet with hopes of opening the battle moved his army in the direction of Shackelford. Three Confederate columns and artillery converged on Bean's Station to hit the Federals in a 19th century pincer movement. By 2:00 a.m. on the 14th, one column was skirmishing with Union pickets. The pickets delayed the advance and warned Shackelford of the Confederate presence. The Union brigadier hastily deployed and readied his command for an assault. Soon, the battle would start and a series of Confederate movements would be met by stiff Union resistance throughout the day. Seeking an advantage, the Confederates made flanking attacks while assaulting various points of the Union line, but the Federals were able to check each move until Southern reinforcements arrived.
By nightfall, the Federals, now confronted with superior Confederate numbers, began retiring from Bean's Station through Bean's Gap and on to Blain's Cross Roads. Longstreet set out to attack the Union forces again the next morning, but as he approached them at Blain's Cross Roads, he found them well-entrenched. Longstreet withdrew and the Federals soon left the area. The Knoxville Campaign ended following the battle of Bean's Station, and Longstreet went into winter quarters at Russellville. Their success meant little to Confederate efforts except to prevent disaster.
East Tennessee and Knoxville Campaign Map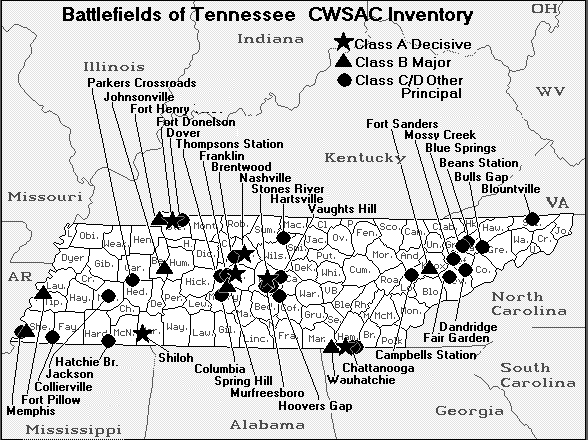 (Map of Tennessee Civil War Battles)
Knoxville Campaign: The Knoxville Campaign was a series of Civil War battles and maneuvers in East Tennessee during November-December of 1863 with the objective to retake and secure the city of Knoxville and the railroad that linked the Confederacy east and west. Forces under Maj. Gen. Ambrose Burnside occupied Knoxville in September 1863, and Confederate forces under Lt. Gen. James Longstreet were detached from Gen. Braxton Bragg's Army of Tennessee at Chattanooga to dislodge Union forces there. Longstreet's own siege of Knoxville concluded when Union Maj. Gen. William T. Sherman led elements of the Army of the Tennessee and other troops to Burnside's relief. Union and Confederate armies would henceforth engage in several small scale battles in an attempt to dominate East Tennessee. Although Knoxville would remain under Federal control, Union commanders would now have to contend with Rebel raiders such as John Hunt Morgan.
Battle: On December 4, 1863, Confederate Lt. Gen. James Longstreet began his retreat from Knoxville, Tennessee, by marching his 12,000 battle-hardened veterans down muddy roads in heavy rain. Longstreet's command was hungry and exhausted, many were wearing tattered clothes and the majority had no shoes, and a fraction was ill. Nevertheless, the army made a forced march from Knoxville and moved northeast toward Rogersville, Tennessee. On the night of the 4th the Confederates arrived at Blain's Crossroads, twenty miles east of Knoxville. The 12,000 Confederates would next pass through Bean's Station, march seventeen miles east and bivouac near Rogersville.
While Union Maj. Gen. John G. Parke's infantry followed the Confederates from a distance, Longstreet continued to Rutledge on the 6th and Rogersville on the 9th, where he would rest his army until the ensuing fight. Parke next sent Brig. Gen. J. M. Shackelford and 5,000 cavalry to locate, but not engage, the Rebel army. Shackelford's command was organized into 12 regiments (6 mounted infantry and 6 of cavalry) and divided into 5 brigades.
After reports indicated that the pursuing Federal cavalry had been located at Bean's Station without infantry support, Longstreet ordered his army to about face and move on the station. Press the initiative thought Longstreet, and on December 14, he would attempt an encirclement of the Union position. With superior numbers the Southern commander hoped to move his cavalry to the rear of the Federals and eliminate any route of escape. Next, according to Longstreet's plan of attack, he would move his infantry from its bivouac at Rogersville and then press the Union front at the station. Whereas the Confederate commander's encircling movement was tactically sound, it would fail during its execution later that day.
Longstreet's Knoxville Campaign Map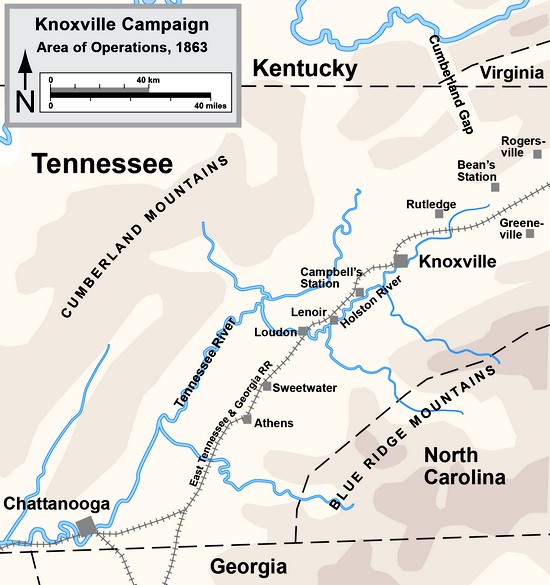 (Civil War Knoxville Campaign Map)
(Right) Railroads made East Tennessee a battlefield of wills during the American Civil War (1861-1865).
Prior to battle, Longstreet instructed Brig. Gen. William T. Martin to move four cavalry brigades down the south side of the Holston River and cross at or below the station, while Brig. Gen. William "Grumble" Jones with two cavalry brigades was to go down the north side of the Clinch Mountains and cut off the Federal retreat at Bean's Station gap.
On the morning of December 14, Bushrod Johnson's infantry division deployed, followed by Lafayette McLaws's division and elements of Hood's division. Colonel Henry Giltner's cavalry brigade established contact with Federal pickets before Bean's Station at about 2:00 p.m., and the battle began. The Federal position rested on both sides of the Rutledge Road. The Union commander, Brig. Gen. J. M. Shackelford, positioned his artillery behind a brook on either side of the road. Confederate forces advancing from the east also positioned their artillery batteries above and below the roadway.
The Confederate force, with Johnson's Tennessee Brigade maneuvering below the road and Brig. Gen. Archibald Gracie's Alabama Brigade above it to the north, was met with heavy fire from Federal batteries behind the creek and infantry musketry inside the tavern itself. Confederate artillery batteries advanced to pour fire into the building, and Longstreet sent Kershaw's brigade around Gracie's northern flank to encircle the Union left flank. Federal commanders detected the movement and executed a fighting retreat towards Rutledge.
Battle of Bean's Station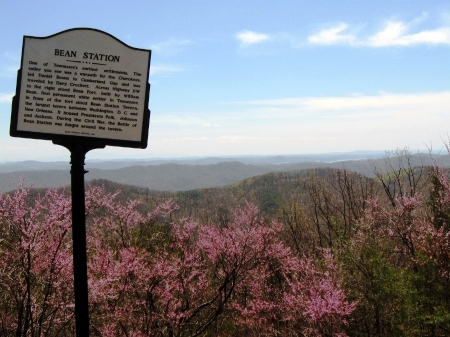 (Beautiful and Scenic Bean Station, Tennessee)
Fighting began the next day at about 2 p.m. when Confederate cavalry encountered Union pickets about three miles east of Bean's Station. What followed was a general engagement, with Brig. Gen. Gracie's brigade pressing and forcing Union cavalry to slowly fall back. One division managed to get around the Union left flank, and as darkness fell the Confederates occupied Bean's Station. An attempt to cut off and thrash the retreating Union army failed when it encountered strong resistance from Parke's infantry. Jones and the infantry had performed well, but Martin mishandled his part, and Shackelford's cavalry escaped to Blain's C.R. without more serious loss than a few wagons. Pursuit was attempted but futile, Longstreet maintained, because Evander Law was slow and Lafayette McLaws was loath to move before bread was issued to the hungry men.
The casualties totaled around 700 Union and 900 Confederate killed and wounded, and Bean's Station marked the end of the fighting in the Knoxville Campaign. Despite a Confederate victory it had little long-term effect. Longstreet had lacked the numbers to attack and destroy an isolated Union detachment and to push his army on another offensive was futile without the much needed but never received reinforcements. Instead, winter set in and the fighting in East Tennessee halted. Longstreet's men returned to the Army of Northern Virginia in the spring. See also
Tennessee Civil War History
.
Analysis: On the morning of December 15, Longstreet pursued the Federals towards Rutledge, hoping to force them toward Martin's waiting cavalry. Unfortunately, Martin was not in position as planned due to a delaying action by Federal cavalry at a river crossing, and the retreating Federal army managed to entrench behind some hastily constructed breastworks. Martin belatedly joined Micah Jenkins's brigade for an attack on the Federal position, but Jenkins refused to advance without further reinforcement. Federal reinforcements from the direction of Rutledge forced the Confederate forces to withdraw back to Bean's Station, and the action was over. Although Bean's Station was a tactical victory for Longstreet, he failed to entrap the Federal army as planned. Whereas the Federals would continue to occupy Knoxville and dominate East Tennessee, Confederate forces would harass them for the remainder of the war.
(Sources and related reading listed below.)
Advance to:
Sources: National Park Service; Official Records of the Union and Confederate Armies; Library of Congress; Longstreet, James. From Manassas to Appomattox: Memoirs of the Civil War in America. New York: Da Capo Press, 1992. ISBN 0-306-80464-6. First published in 1896 by J. B. Lippincott and Co.; Smith, David (1999). Campaign to Nowhere: The Results of General Longstreet's Move into Upper East Tennessee. Strawberry Plains Press; Boatner, Mark M. (1959). The Civil War Dictionary. New York: David McKay Co. pp. 53–54. ISBN 0-679-50013-8; Freeman, David S. (1942–1946). Lee's Lieutenants-A Study in Command 2. Charles Scribner's Sons; Eicher, David J. The Longest Night: A Military History of the Civil War. New York: Simon & Schuster, 2001. ISBN 0-684-84944-5; Hartley, William. "Knoxville Campaign." In Encyclopedia of the American Civil War: A Political, Social, and Military History, edited by David S. Heidler and Jeanne T. Heidler. New York: W. W. Norton & Company, 2000. ISBN 0-393-04758-X; Hess, Earl J. The Knoxville Campaign: Burnside and Longstreet in East Tennessee. Knoxville: University of Tennessee Press, 2012. ISBN 978-1-57233-916-3; Korn, Jerry, and the Editors of Time-Life Books. The Fight for Chattanooga: Chickamauga to Missionary Ridge. Alexandria, VA: Time-Life Books, 1985. ISBN 0-8094-4816-5; Wert, Jeffry D. General James Longstreet: The Confederacy's Most Controversial Soldier: A Biography. New York: Simon & Schuster, 1993. ISBN 0-671-70921-6.