Battle of Appomattox Station
Appomattox Civil War History
Battle of Appomattox Station
Other Names: Appomattox
Location: Appomattox County
Campaign: Appomattox Campaign (March-April 1865)
Date(s): April 8, 1865
Principal Commanders: Maj. Gen. George A. Custer [US]; Brig. Gen. Lindsay Walker [CS]
Forces Engaged: Divisions
Estimated Casualties: Unknown
Result(s): Union victory
Summary: After capturing Confederate supplies, Maj. Gen. George Custer's cavalry charged through the woods into the cannon fire of Confederate Brig. Gen. Reuben Lindsay Walker's troops. Though unsupported by infantry, Walker's men repulsed the first three charges, but Custer's final assault captured 25 cannon, 200 wagons, and 1,000 prisoners. The Federals dispersed Walker's artillery and secured the Richmond-Lynchburg Stage Road. By holding the high ground west of Appomattox Court House they blocked the road General Lee intended to use and force his surrender the next day.
Battle of Appomattox Station, April 8, 1865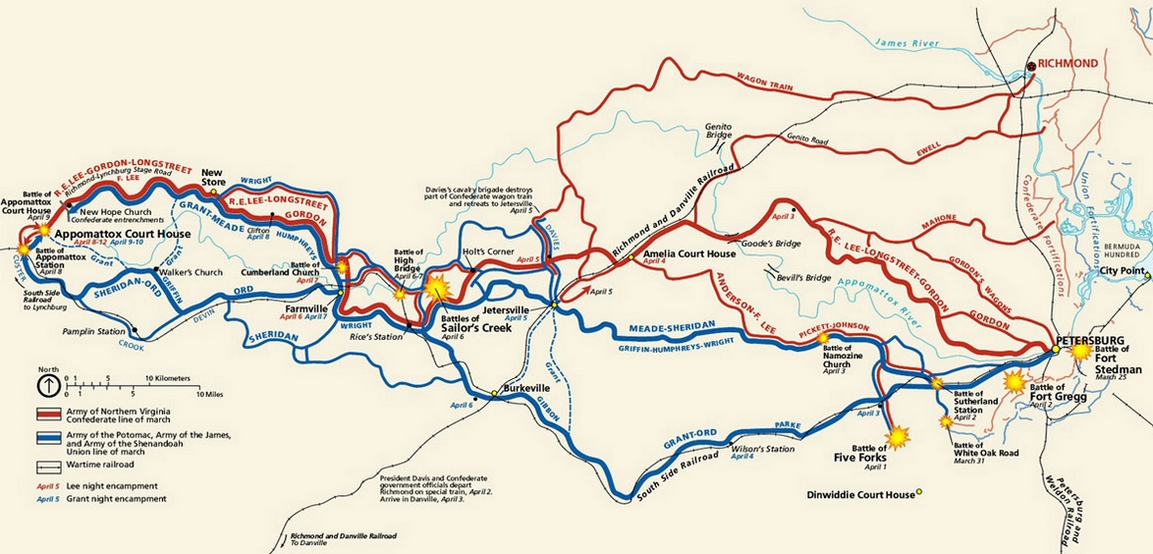 Appomattox Campaign Map
Battle of Appomattox Station Map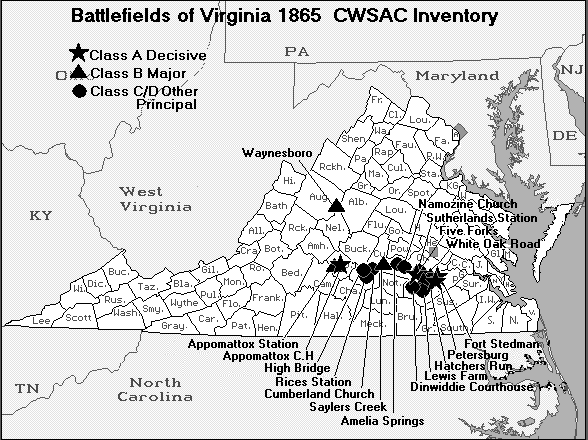 Civil War Appomattox Battlefield Map
Appomattox Campaign: The Appomattox Campaign was a series of American Civil War battles fought March 29 – April 9, 1865 in Virginia that concluded with the surrender of Confederate General Robert E. Lee's Army of Northern Virginia to the Union Army (Army of the Potomac, Army of the James and Army of the Shenandoah) under the overall command of Lieutenant General Ulysses S. Grant. In the following eleven weeks after Lee's surrender, the Civil War ended as other Confederate armies surrendered and Rebel government leaders were captured or fled the country.
As the Richmond–Petersburg Campaign (also known as the Siege of Petersburg) ended, Lee's army was outnumbered and exhausted from a winter of trench warfare over an approximately 40 mile front, numerous battles, disease, hunger and desertion.
Grant's well-equipped and well-fed army was growing in strength. On March 29, 1865, the Union Army began an offensive that stretched and broke the Confederate defenses southwest of Petersburg and cut their supply lines to Petersburg and the Confederate capital of Richmond. Union victories at the Battle of Five Forks on April 1, and the Third Battle of Petersburg, often called the Breakthrough at Petersburg, on April 2, opened Petersburg and Richmond to imminent capture. Lee ordered the evacuation of Confederate forces from both Petersburg and Richmond on the night of April 2–3 before Grant's army could cut off any escape. Confederate government leaders also fled west from Richmond that night.
The Confederates marched west, heading toward Danville, Virginia or Lynchburg, VA. as an alternative. Lee planned to resupply his army at one of those cities and march southwest into North Carolina where he could unite his army with the Confederate army commanded by Gen. Joseph E. Johnston.
Grant's army pursued Lee's forces relentlessly. During the next week, the Federals fought a series of battles and cut off or destroyed Confederate supplies and blocked their paths to the south and ultimately to the west. On April 6, 1865, the Confederate command suffered a significant defeat at the Battle of Sailor's Creek, Virginia, where they lost about 7,700 men killed and captured and an unknown number wounded. Nonetheless, Lee continued to move the remainder of his battered army to the west. Soon cornered, short of food and supplies and outnumbered, Lee surrendered the Army of Northern Virginia to Grant on April 9, 1865, at Appomattox Court House, Virginia.
Battle of Appomattox Station, Virginia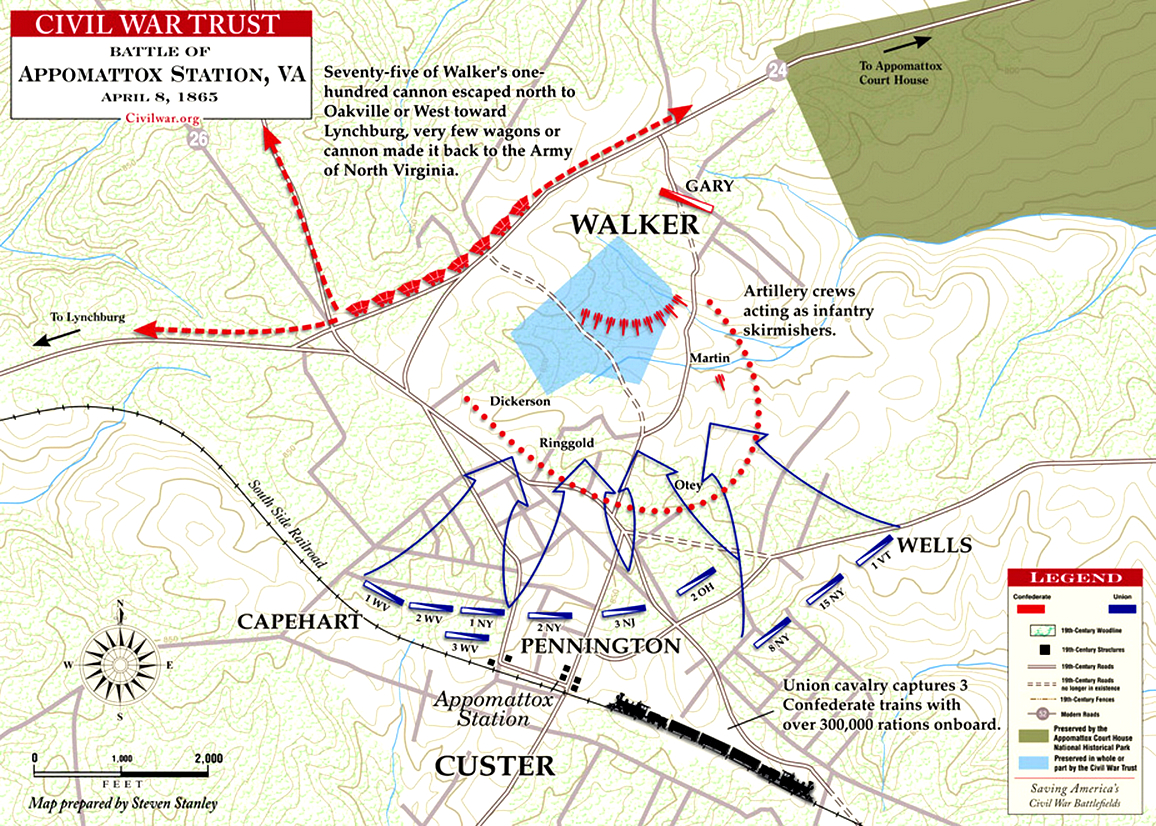 Appomattox Station Battlefield Map, April 8, 1865
Battle of Appomattox
Custer's Cavalry Charge, April 8, 1865
Battle: The Battle of Appomattox Station, as part of the Appomattox Campaign, was fought between a Union (Army of the Potomac, Army of the James, Army of the Shenandoah) cavalry division under the command of Brigadier General (Brevet Major General) George Armstrong Custer and Confederate Army of Northern Virginia artillery units commanded by Brigadier General Lindsay Walker with support from some dismounted cavalrymen, artillerymen armed with muskets and some stragglers on April 8, 1865, at Appomattox Station, Virginia.
Following the withdrawal of General Robert E. Lee's Army of Northern Virginia from their defenses at Petersburg, Virginia after the Battle of Five Forks, Third Battle of Petersburg and Battle of Sutherland's Station, the Union Army closely pursued the Confederates westward on parallel and trailing routes. The Confederates, short of rations and supplies, suffered numerous losses from desertion, capture and fighting, especially the Battle of Sailor's Creek on April 6, 1865. After the Battle of Cumberland Church on April 7, Lee's army made a third consecutive night march in an effort to stay ahead of the Union forces. Union cavalry under the command of Major General Philip H. Sheridan made a long ride of about 30 miles on April 8, in order to capture Confederate supply trains at Appomattox Station and get ahead of the Confederates, cutting off their routes of retreat.
At the start of the action at Appomattox Station, between 2 and 3 p.m. on April 8, the leading troopers of Company K, 2nd New York Cavalry Regiment rode up to three unguarded Confederate trains that had been sent from Lynchburg, Virginia, with rations, ordnance and other supplies for the Army of Northern Virginia and forced them to surrender. The rest of the regiment and other cavalrymen from the brigade of Colonel Alexander Pennington, Jr. soon moved into the station in support. Soldiers with railroad experience ran the three trains east about 5 miles to the camp of the Union Army of the James. A fourth locomotive and one or two cars escaped toward Lynchburg and at least one remaining car from that train was burned.
The reserve artillery of Lee's Army of Northern Virginia, under the command of Third Corps artillery chief, Brigadier General Lindsay Walker, was parked near the station and the Lynchburg stage road. The artillery was guarded by about 500 cavalrymen commanded by Brigadier General Martin Gary, supported by artillery of Captain Crispin Dickenson's Ringgold Battery and Captain David Walker's Otey Battery, who had been re-armed with muskets, and some stragglers gathered up in the vicinity by Lieutenant W. F. Robinson of the Ringgold Battery. Walker began to shell the station soon after he learned of the presence of Federal cavalry there. Custer's men soon discovered the source of the firing about 2 miles away and attacked Walker's artillery park near the Lynchburg stage road. Walker's men were concentrated there with about 25 guns arrayed in a semi-circle to defend themselves and another 35 to 75 guns held in reserve.
After capturing the supply trains, Northern cavalry attacked the Southern artillery batteries and their supporting dismounted cavalry, armed artillerymen and engineers and infantry stragglers. After making several futile charges early in the evening, Union cavalry cracked the Confederate line at dusk. The Rebels began to withdraw, taking as many guns and wagons with them as they could. After exploiting the gap, Custer's men followed the fleeing Confederates in a running battle to the Lynchburg stage road, on which the Union men seized an important foothold.
Sheridan relieved Custer's tired men with the division of Major General George Crook after the fighting died down. Sheridan advised Union General-in-Chief Lt. Gen. Ulysses S. Grant of the favorable outcome of his raid at the station and fight at the artillery park. Sheridan expressed his opinion that the Federals could surround and crush the Confederates the next morning with infantry support. He urged Major General Edward Ord, who had been pushing and encouraging his men of the XXIV Corps and two brigades of the 2nd Division (Brigadier General (Brevet Major General) William Birney's division, temporarily under Gibbon's command) of the XXV Corps (African-Americans) of the Army of the James to keep as close as possible to the cavalry. He also ordered Brig. Gen. (Brevet Major General) Charles Griffin, whose V Corps was moving just behind Ord's men, to close up so the Confederates could not escape in the morning.
Battle of Appomattox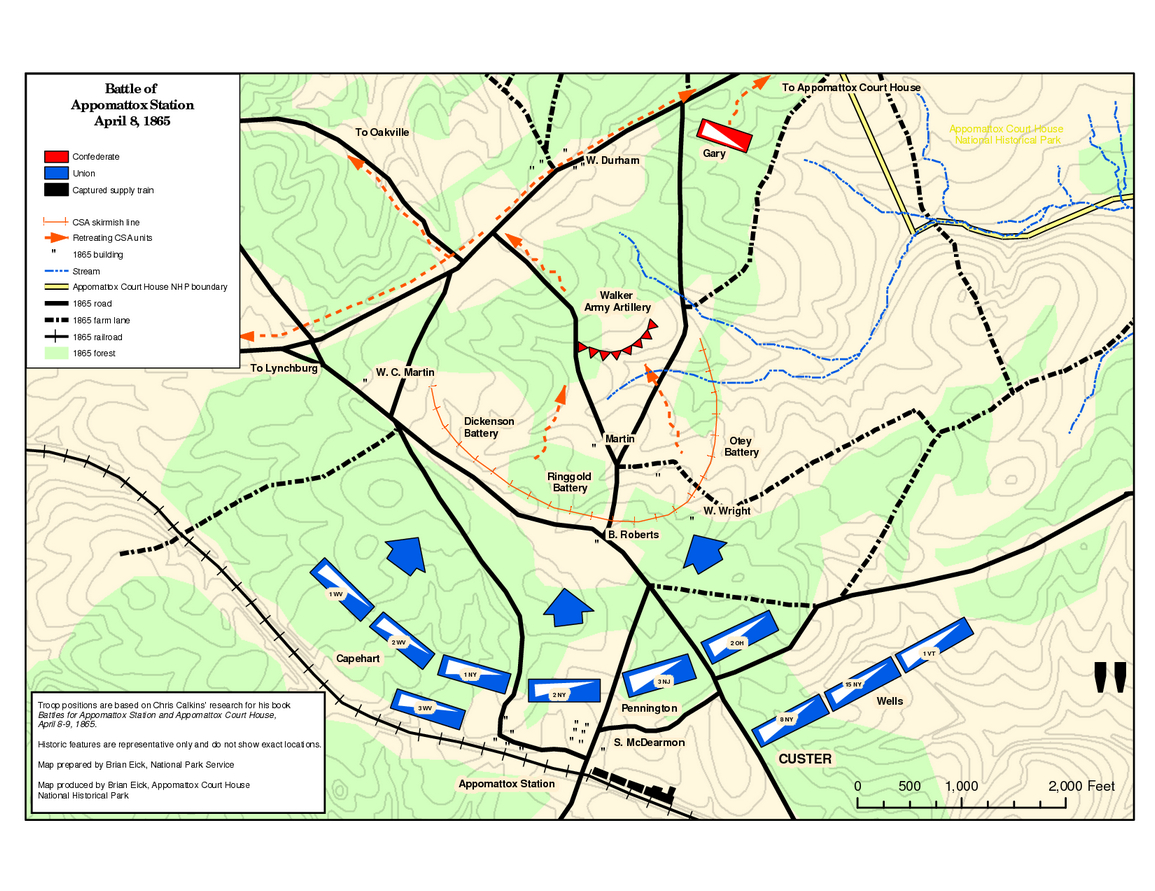 Union and Confederate Positions on Appomattox Battlefield
Aftermath: Sheridan sent a message to Grant about the day's operations at 9:20 p.m. and he also urged Maj. Gen. Edward Ord with the Army of the James and Bvt. Maj. Gen. Charles Griffin with the V Corps to press ahead with all possible energy in order to cut off the Confederate route of escape at Appomattox. The lead units of the infantry columns reached Appomattox Station about 2:00 a.m. on April 9, although most of the infantry came up later in the morning while the cavalry were holding back the Confederate escape attempt.
The marches and movements of the Union cavalry and the XXIV Corps, V Corps and African-American men of the XXV Corps on April 8 to get ahead of the Army of Northern Virginia on their route west, as well as the efforts of the II Corps and VI Corps to press the Confederates from behind, led to the Southern army being effectively surrounded on April 9.
Lee and his principal subordinates knew that the sound of gunfire from the direction of Appomattox Station on April 8 meant that Union cavalry were ahead of them. After discussing the situation with Lt. Gen. Longstreet and Maj. Gens. Gordon and Fitzhugh Lee, including mentioning Grant's generous term of parole of the army upon its surrender to them, Gen. Lee decided to attempt a breakthrough toward Lynchburg on the morning of April 9 if his army only had to confront Union cavalry.
If Union infantry were also ahead of them, they would need to reconsider their actions. Gordon and Fitzhugh Lee were assigned the task of clearing the Union troopers off the road to Lynchburg. Lee wanted to press toward Danville by an indirect route through Campbell Court House. The plan was for the Confederate troops to hurry through the Union cavalry blockade with only essential supplies. The wagon train would head toward Lynchburg by a circuitous route without an escort. Surplus wagons and supplies again would be burned. If Union infantry also blocked the way, Lee asked his subordinates to inform him so a flag of truce could be sent to Grant "to accede to the only alternative left to us."
Upon Sheridan's order, Crook sent Colonel (Bvt. Brig. Gen.) Charles H. Smith's brigade of Crook's division to post on a commanding ridge across the Lynchburg stage road west of Appomattox, just west of the Oakville Road. Smith had four regiments, the 1st Maine Volunteer Cavalry, 2nd Regiment New York Mounted Rifles, 6th and 13th Ohio Cavalries, and 2 guns of Lord's 2nd United States Artillery Regiment. Custer's and Devin's divisions were at Appomattox Station for deployment in support.

About 10:00 p.m., Brig. Gen. John W. Turner's division of Maj. Gen. John Gibbon's XXIV Corps of Maj. Gen. Edward O. C. Ord's Army of the James reached the road crossing with the South Side Railroad about 3 miles from Appomattox Station, having marched 30 miles since dawn. Turner's troops stopped at the location where the trains captured at Appomattox Station had been sent.
Brig. Gen. Robert S. Foster's division arrived at camp about an hour later, followed by African-American troops from two brigades of the 2d Division of XXV Corps. When Brig. Gen. Charles Griffin's V Corps arrived behind Ord's force, they camped with empty haversacks, too far back on the road to benefit from the provisions captured at Appomattox Station.
Generals Grant and Meade, who had traveled with the II Corps in their pursuit of Gordon's corps on April 8, stayed at Clifton, a plantation 4.5 miles from New Store that night. Humphreys's VI Corps also caught up and camped at New Store that night. Although Grant had been in a good mood in the morning on April 8, he was suffering from a migraine headache by the afternoon and into the night.
Lee was about 16 miles ahead of Grant. He replied to Grant's further message with an evasive answer in which he said he merely wondered what the terms would be if he surrendered, not that the time had come for that. He offered to meet Grant on the stage road at the rear of his army at 10:00 a.m. on April 9. Lee realized he would know by then if his army could escape and, if not, he would have no alternative but to surrender the army or face its annihilation.
Appomattox Station and Civil War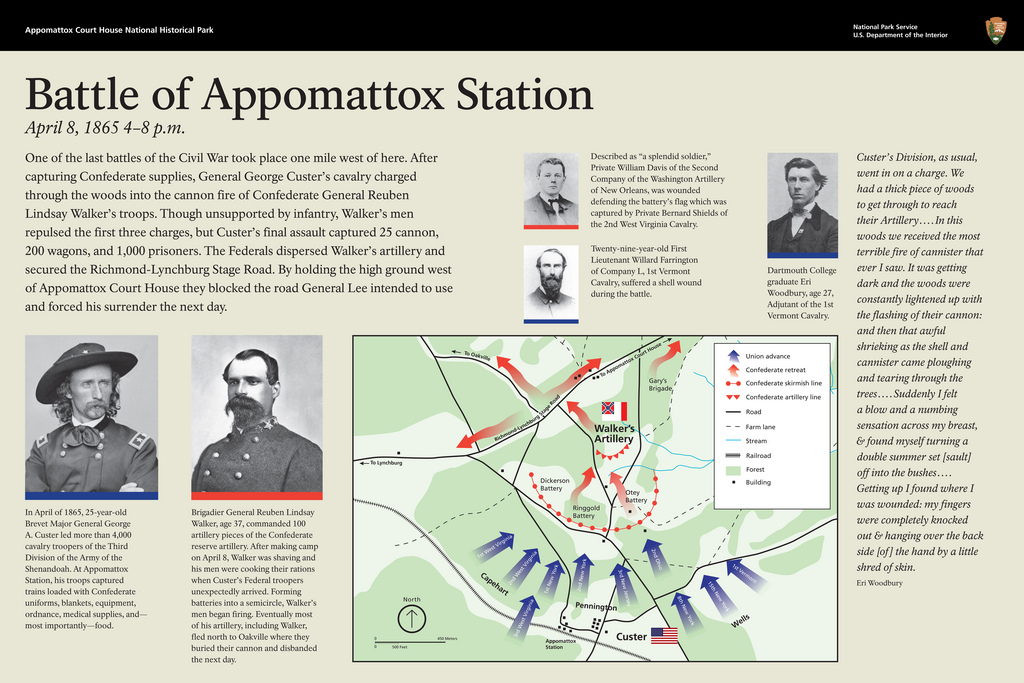 Battle of Appomattox Station
Analysis: On April 8, 1865, the cavalry division of Maj. Gen. George Armstrong Custer seized a supply train of 200 wagons and captured 25 guns, and blocked Gen. Robert E. Lee's route of escape. This action pitted Confederate artillery under the command of Brig. Gen. Lindsay Walker, without infantry support, against Custer's cavalry. Custer moved his troopers three times directly into Rebel guns only to repulsed each time. Unrelenting, Custer reformed his cavalry and pressed once more into the Southern front, this time overrunning and dispersing the weary artillerists who had formed the thin gray line. Lt. Gen. Grant, commanding, then sent a letter to Lee offering rather generous surrender terms, as urged by President Abraham Lincoln, and proposing a meeting to discuss them.
With rations and supplies destroyed, Lee's remaining hope was to outmarch the Union pursuers to Lynchburg where there were more rations and supplies. Some food was still available in the remaining wagons and it was distributed to the units as they arrived in the vicinity of Appomattox Court House, Walker's artillery first, then Gordon's infantry, and the rest of army. This engagement would conclude with Lee's battered Army of Northern Virginia being checked at every move. On the morrow, Grant's large army would finalize the four year conflict by trapping Lee's rather dwindled command similar to the board styled checkmate.
While Custer could have waited, called on Union artillery and enjoyed the sights of counterbattery fire, he pressed the initiative and suffered only minimal losses while denying the Confederates the much needed food and supplies, as well as capturing 1,000 of the enemy. Lee would also be denied an exit for his once mighty Army of Northern Virginia.
The Federals lost an estimated 25 killed, 50 wounded, and 3 missing, while Confederate casualties went unreported, but the Southerners did surrender some 1,000 men. Custer had sealed the fate of the remaining scant Rebel force, and the following day, April 9th, would see Lee surrender to Grant nearby.
(Sources and related reading listed below.)
Sources: National Park Service; Appomattox Court House National Historic Park; Civil War Trust, civilwar.org; Official Records of the Union and Confederate Armies; Bearss, Edwin C., with Bryce A. Suderow. The Petersburg Campaign. Vol. 2, The Western Front Battles, September 1864 – April 1865. El Dorado Hills, CA: Savas Beatie, 2014. ISBN 978-1-61121-104-7; Blair, Jayne E. The Essential Civil War: A Handbook to the Battles, Armies, Navies and Commanders. Jefferson, NC and London: McFarland & Company, Inc., 2006. ISBN 978-0-7864-2472-6; Calkins, Chris. The Appomattox Campaign, March 29 – April 9, 1865. Conshohocken, PA: Combined Books, 1997. ISBN 978-0-938-28954-8; Davis, Burke. To Appomattox: Nine April Days, 1865. New York: Eastern Acorn Press reprint, 1981. ISBN 978-0-915992-17-1. First published New York: Rinehart, 1959; Evans, Clement A., ed. Confederate Military History: A Library of Confederate States History. Volume 5. Capers, Ellison; South Carolina. 12 vols. Atlanta: Confederate Publishing Company, 1899. OCLC 833588. Retrieved January 20, 2011; Greene, A. Wilson. The Final Battles of the Petersburg Campaign: Breaking the Backbone of the Rebellion. Knoxville: University of Tennessee Press, 2008. ISBN 978-1-57233-610-0; Humphreys, Andrew A., The Virginia Campaign of 1864 and 1865: The Army of the Potomac and the Army of the James. New York: Charles Scribners' Sons, 1883. OCLC 38203003; Jamieson, Perry D. Spring 1865: The Closing Campaigns of the Civil War. Lincoln, NE and London: University of Nebraska Press, 2015. ISBN 978-0-8032-2581-7; Kennedy, Frances H., ed. The Civil War Battlefield Guide. 2nd ed. Boston: Houghton Mifflin Co., 1998. ISBN 978-0-395-74012-5; Longacre, Edward G. The Cavalry at Appomattox: A Tactical Study of Mounted Operations During the Civil War's Climactic Campaign, March 27 – April 9, 1865. Mechanicsburg, PA: Stackpole Books, 2003. ISBN 978-0-8117-0051-1; Marvel, William. Lee's Last Retreat: The Flight to Appomattox. Chapel Hill: University of North Carolina Press, 2002. ISBN 978-0-8078-5703-8;Randol, Alanson Merwin. Last Days of the Rebellion. The Second New York cavalry (Harris' Light) at Appomattox Station and Appomattox Court House, April 8 and 9, 1865. Alcatraz Island, CA: 1886. OCLC 58763899. Originally published: Presidio of San Francisco, 1883; Salmon, John S., The Official Virginia Civil War Battlefield Guide, Stackpole Books, 2001, ISBN 978-0-8117-2868-3; Schaff, Morris. The Sunset of the Confederacy. Boston: J. W. Luce and Company, 1912. OCLC 1851090; Sheridan, P. H. "The Last Days of the Rebellion" in The North American Review. Vol. 137, No. 320 (Jul., 1883), p. 13. Published by: University of Northern Iowa; Starr, Steven. The Union Cavalry in the Civil War: The War in the East from Gettysburg to Appomattox, 1863–1865. Volume 2. Baton Rouge: Louisiana State University Press, 2007. Originally published 1981. ISBN 978-0-8071-3292-0; Tremain, Henry Edwin. The Last Hours of Sheridan's Cavalry. New York: Bonnell, Silvers and Bowers, 1904. Reprint of 1871–1872 publication. OCLC 4368467; Trudeau, Noah Andre. "Out of the Storm: The End of the Civil War, April–June 1865. Boston, New York: Little, Brown and Company, 1994. ISBN 978-0-316-85328-6; Warner, Ezra J., Generals in Blue: Lives of the Union Commanders, Louisiana State University Press, 1964, ISBN 0-8071-0822-7; Winik, Jay. April 1865: The Month That Saved America. New York: HarperCollins, 2006. ISBN 978-0-06-089968-4.