Thomas' Legion
American Civil War HOMEPAGE
American Civil War
Causes of the Civil War : What Caused the Civil War
Organization of Union and Confederate Armies: Infantry, Cavalry, Artillery
Civil War Navy: Union Navy and Confederate Navy
American Civil War: The Soldier's Life
Civil War Turning Points
American Civil War: Casualties, Battles and Battlefields
Civil War Casualties, Fatalities & Statistics
Civil War Generals
American Civil War Desertion and Deserters: Union and Confederate
Civil War Prisoner of War: Union and Confederate Prison History
Civil War Reconstruction Era and Aftermath
American Civil War Genealogy and Research
Civil War
American Civil War Pictures - Photographs
African Americans and American Civil War History
American Civil War Store
American Civil War Polls
NORTH CAROLINA HISTORY
North Carolina Civil War History
North Carolina American Civil War Statistics, Battles, History
North Carolina Civil War History and Battles
North Carolina Civil War Regiments and Battles
North Carolina Coast: American Civil War
HISTORY OF WESTERN NORTH CAROLINA
Western North Carolina and the American Civil War
Western North Carolina: Civil War Troops, Regiments, Units
North Carolina: American Civil War Photos
Cherokee Chief William Holland Thomas
HISTORY OF THE CHEROKEE INDIANS
Cherokee Indian Heritage, History, Culture, Customs, Ceremonies, and Religion
Cherokee Indians: American Civil War
History of the Eastern Band of Cherokee Indian Nation
Cherokee War Rituals, Culture, Festivals, Government, and Beliefs
Researching your Cherokee Heritage
Civil War Diary, Memoirs, Letters, and Newspapers

Battle of Chickamauga Maps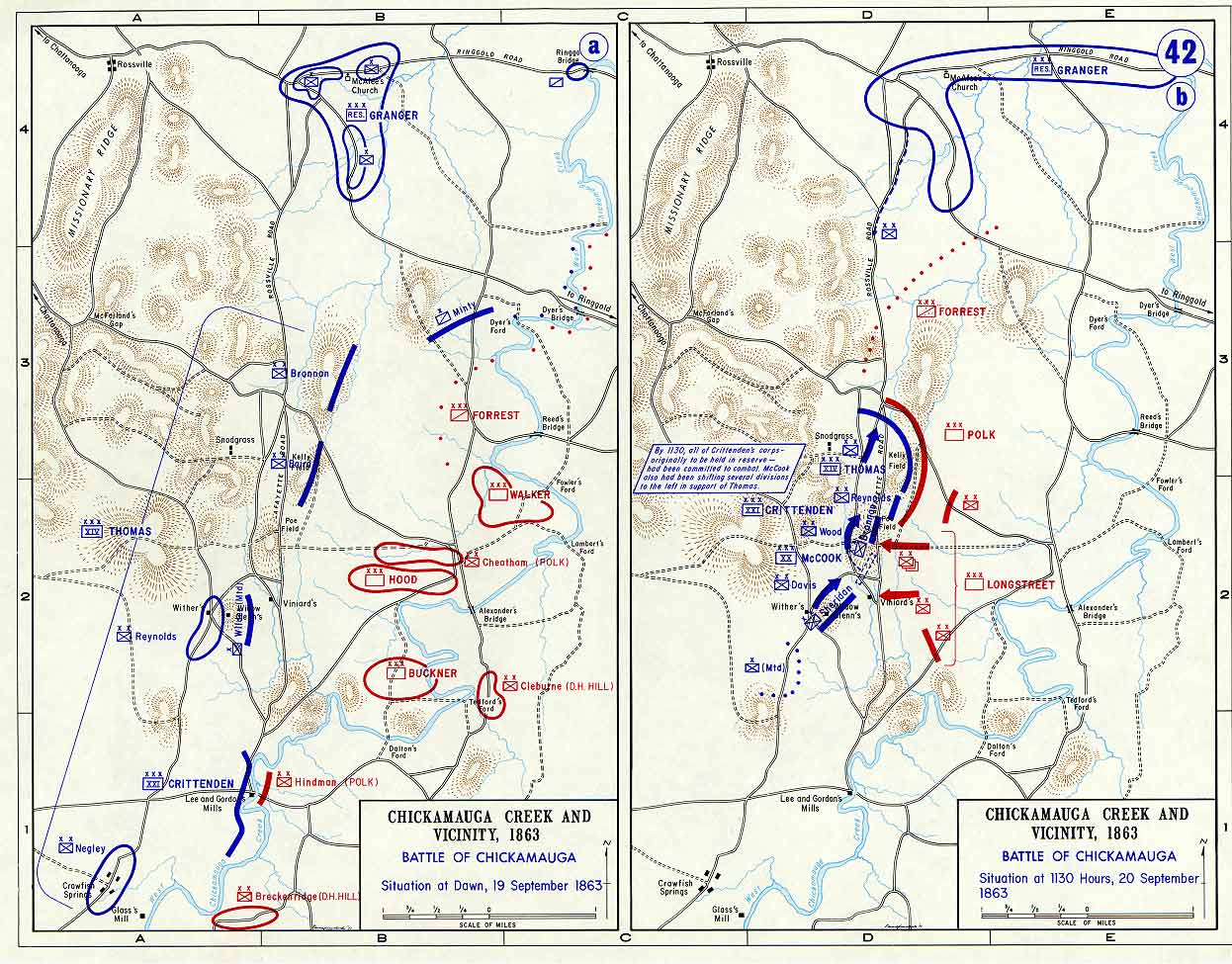 (Chickamauga Battlefield Map of the Union and Confederate Armies)
Courtesy of the United States Military Academy
Recommended Reading: Guide to the Battle of Chickamauga (The U.S. Army War College Guides to Civil War Battles). Description: "The most thorough, detailed, and accurate books of their kind. I have used them [U.S. Army War College Guides to Civil War Battles] to lead guided tours of several battlefields, with great success", -- James M. McPherson, Pulitzer Prize winning author.
Recommended Reading: Chickamauga: A Battlefield Guide (This Hallowed Ground: Guides to Civil War). Description: Providing an overview of this dramatic battle of the Civil War, this book also provides an on-site tour to help both serious students and casual visitors get the most out of a visit to the location. "These 43 detailed maps are a must have for the buff... Chickamauga was the second bloodiest battle of the Civil War, and these maps are a wonderful guide to its battlefield." Continued below…
About the Author: Steven E. Woodworth is an assistant professor of history at Texas Christian University. His books include Six Armies in Tennessee: The Chickamauga and Chattanooga Campaigns (Nebraska 1998).
Recommended Reading: Historic Photos of Chickamauga and Chattanooga (Historic Photos) (Hardcover). Description: The campaign from Murfreesboro, Tennessee, to Chickamauga, Georgia, followed by the siege of Chattanooga, is one of the most dramatic stories of the entire Civil War. Union Major General William S. Rosecrans led a brilliant advance into Georgia, taking Chattanooga with the loss of only six men. Near Chickamauga Creek, Confederate General Braxton Bragg routed Rosecrans army, then laid siege to it from the heights around Chattanooga. Continued below…
Major General Ulysses S. Grant, recently given command of virtually all Federal armies in the Western Theater, arrived to break the siege. A climatic Union charge routed Bragg s demoralized army. Historic Photos of Chickamauga Chattanooga tells this story and much more, for it includes the important struggle to preserve America's Civil War battlefields, which began with Chickamauga. Striking black-and-white images of aging veterans, reuniting to preserve their history, join photos of the rugged terrain over which they fought in 1863. This is a compelling American story told in photographs, with text by a noted historian.
Recommended Reading: This Terrible Sound: THE BATTLE OF CHICKAMAUGA (Civil War Trilogy) (Hardcover: 688 pages) (University of Illinois Press). Description: Peter Cozzens is one of those amazing writers that brings you onto the field and allows you to experience the campaign. You advance with Cleburne's Division as it moves through the dusk shrouded woods and your pulse races as you envision Gen. Lytle's command trying to decide whether to save their dying commander or flee as the Rebs pound up that smoke-filled hill. Continued below...
This account of the Battle of Chickamauga is first rate and thrilling. The profusion of regimental and brigade disposition maps are particularly useful for any serious visit to the battlefield. There are some intriguing ideas introduced as well. Forrest's role in the early stages of the battle is fascinating to read and to contemplate. Also revealing are the ammunition problems that plagued the mounted units; a problem that would hinder Forrest's command at Spring Hill a year later.
Recommended Reading: Six Armies in Tennessee: The Chickamauga and Chattanooga Campaigns (Great Campaigns of the Civil War). Description: When Vicksburg fell to Union forces under General Grant in July 1863, the balance turned against the Confederacy in the trans-Appalachian theater. The Federal success along the river opened the way for advances into central and eastern Tennessee, which culminated in the bloody battle of Chickamauga and then a struggle for Chattanooga. Continued below...
Chickamauga is usually counted as a Confederate victory, albeit a costly one. That battle—indeed the entire campaign—is marked by muddle and blunders occasionally relieved by strokes of brilliant generalship and high courage. The campaign ended significant Confederate presence in Tennessee and left the Union poised to advance upon Atlanta and the Confederacy on the brink of defeat in the western theater.
Recommended Viewing: The Battle of Chickamauga (DVD) (Special Widescreen Edition). Description: WINNER OF THE 2008 SILVER TELLY AWARD, The Top Prize At The Ceremony! The Battle of Chickamauga proved to be one of the fiercest engagements of the American Civil War. Over a period of two days in September 1863, more than 100,000 men struggled for control of the south's most strategic transportation hub, the city of Chattanooga. Along the hills and valleys surrounding the Chickamauga Creek, over 34,000 casualties would be suffered, and the Confederate Army of Tennessee would achieve their last, great victory. Only one battle would surpass the bloodshed and carnage of bloody Chickamauga – Gettysburg. Continued below…
Shot on location using High Definition cameras, this 70-minute documentary film dramatically recreates the battle by including more than 50 fully animated maps, period photographs, historical documents, and re-enactors. This Special Edition DVD also contains over 30 minutes of bonus features, including an in-depth tour of the Chickamauga-Chattanooga National Military Park's very own Fuller Gun Collection. Absolutely a must have for the Civil War buff. FIVE STARS by americancivilwarhistory.org