The Seven Clans of Cherokee
Cherokee Seven Clans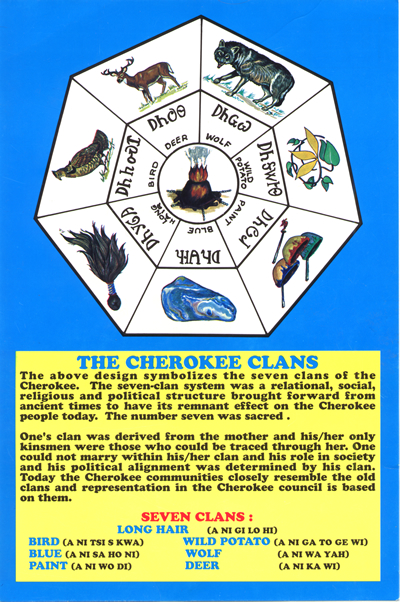 7 Cherokee Clans
The Cherokee Clans are traditional social organizations of Cherokee society, and currently seven clans are recognized by the Cherokee. Customs of the Cherokee clans have evolved since ancient times; however, traditionalists still observe clan customs regarding marriage and certain social events.
Most of the ancient Cherokee villages were situated along streams in scattered areas throughout the
Appalachian Mountains
. The life of the traditional Cherokee was guided by a faith in supernatural forces that linked humans to all other living things. Values rested on a relationship of people and place, family and clan, and community and council. Historically, villages operated as autonomous units, joined together for ceremonials and wars. Villages with their seven clans were laid out around a large town or council house with small individual dwellings surrounding these centers.

The Cherokee society is historically a matrilineal society; meaning clanship is passed through the mother. Among the Cherokee, women were considered the head of the household, with the home and children belonging to her should she separate from a husband. The knowledge of a person's clan is important for many reasons; one of those reasons being that among Cherokee traditionalists today, it is forbidden to marry within your clan, as clan members are considered brothers and sisters. Knowledge of a person's clan is also important when seeking spiritual guidance and in traditional medicine ceremonies, as it is necessary to name the clan. Seating at ceremonial stomp dances is also delineated by clan.
In ancient times, for Cherokees born outside of a clan or outsiders to be taken into the tribe, they had to be adopted into a clan by a clan mother. For a woman who was married to a Cherokee man and given birth to a Cherokee child, she could be taken into a new clan. However, her husband had to leave his clan and live with his wife in her new clan. Men who were not Cherokee but married into a Cherokee household had to be adopted into a different clan by a clan mother because he could not take his wife's clan.

Blue (A NI SA HO NI), historically this clan made medicine from a blue-colored plant to keep the children well. They are also known as the Panther or Wild Cat Clan.

Long Hair (A NI GI LO HI), are also known as The Twister, Hair Hanging Down or Wind Clan. They wore elaborate hairdos and walked with a proud, twisting gait. Clan members are regarded as peacemakers and Peace Chiefs would often be from this clan. Prisoners of war, orphans of other tribes, and others with no Cherokee tribe were often adopted into this clan, thus a common interpretation of the name 'Strangers.'
Bird (A NI TSI S KWA), were historically known as messengers. The belief that birds are messengers between earth and heaven, or the People and Creator, gave the members of this clan the responsibility of caring for the birds.
Paint (A NI WO DI), were historically known as a prominent healers medicine people. Medicine is often 'painted' on a patient after harvesting, mixing and performing other aspects of the ceremony. They made red paint and prepared teas for vapor therapy specific to each ailment.
Deer (A NI KA WI), were historically known as fast runners and hunters. Even though they hunted game for subsistence, they respected and cared for the animals while they were living among them. They were also known as messengers on an earthly level, delivering messengers from village to village, or person to person.
Wild Potato (A NI GA TO GE WI) historically, members of this clan were known to be 'keepers of the land' and gatherers of the wild potato in swamps along streams. They are also known as the Bear, Raccoon, or Blind Savannah Clan.
Seven Cherokee Clans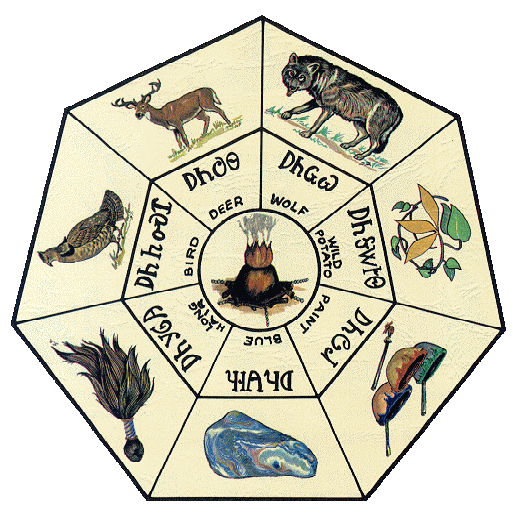 Cherokee Indian Clan Organization
Wolf (A NI WA YAH), is the largest and most prominent clan throughout time. During the time of the Peace Chief and War Chief government setting, the War Chief would come from this clan. Wolves are known as protectors.
Bibliography
Mooney, James. Myths of the Cherokee. Mineola, NY: Dover Publications, 1995: 507-548; Cherokee Nation Cultural Resource Center; Cherokee, Graphic Arts Center Publishing; cherokee-nc.com
Recommended Reading: The Cherokee Nation: A History. Description: Conley's book, "The Cherokee Nation: A History" is an eminently readable, concise but thoughtful account of the Cherokee people from prehistoric times to the present day. The book is formatted in such a way as to make it an ideal text for high school and college classes. At the end of each chapter is a source list and suggestions for further reading. Also at the end of each chapter is an unusual but helpful feature- a glossary of key terms. The book contains interesting maps, photographs and drawings, along with a list of chiefs for the various factions of the Cherokee tribe and nation. Continued below...
In addition to being easily understood, a principal strength of the book is that the author questions some traditional beliefs and sources about the Cherokee past without appearing to be a revisionist or an individual with an agenda in his writing. One such example is when Conley tells the story of Alexander Cuming, an Englishman who took seven Cherokee men with him to England in 1730. One of the Cherokee, Oukanekah, is recorded as having said to the King of England: "We look upon the Great King George as the Sun, and as our Father, and upon ourselves as his children. For though we are red, and you are white our hands and hearts are joined together..." Conley wonders if Oukanekah actually said those words and points out that the only version we have of this story is the English version. There is nothing to indicate if Oukanekah spoke in English or Cherokee, or if his words were recorded at the time they were spoken or were written down later. Conley also points out that in Cherokee culture, the Sun was considered female, so it is curious that King George would be looked upon as the Sun. The "redness" of Native American skin was a European perception. The Cherokee would have described themselves as brown. But Conley does not overly dwell on these things. He continues to tell the story using the sources available. The skill of Conley in communicating his ideas never diminishes. This book is highly recommended as a good place to start the study of Cherokee history. It serves as excellent reference material and belongs in the library of anyone serious about the study of Native Americans.
Recommended Reading: James Mooney's History, Myths, and Sacred Formulas of the Cherokees (768 pages). Description: This incredible volume collects the works of the early anthropologist James Mooney who did extensive studies of the Eastern Cherokee Nation (those who remained in Appalachia) at the turn of the century. The introduction is by Mooney's biographer and gives a nice overview of both Mooney and the Cherokee Nation, as well as notes on Mooney's sources. It then goes straight into the first book "Myths of the Cherokee", which starts with a history of the Cherokee Nation. Continued below...
It progresses from the earliest days, through de Soto, the Indian wars, Tecumseh, the Trail of Tears, the Civil War and ultimately to 1900. Continuing, it explores Cherokee mythology and storytellers. This book is truly monumental in its scope and covers origin myths, animal stories, Kanati and Selu, the Nunnehi and Yunwi'Tsundi (little people), Tlanuwa (thunderbirds), Uktena (horned water snake), interactions with other Nations and numerous other myths, as well as local legends from various parts of the Southeast (North Carolina, Tennessee, Georgia, etc). There is also a section of herbal lore. Mooney closes with a glossary of Cherokee terms (in the Latin alphabet rather than the Sequoya Syllabary) and abundant notes. We advance to the next book, Sacred Formulaes of the Cherokee, which covers a number of magical texts amongst the Cherokee Nation. This book does a wonderful job talking about such manuals, mentioning how they were obtained, going into depth about the Cherokee worldview and beliefs on magic, concepts of disease, healing ceremonies, practices such as bleeding, rubbing and bathing, Shamanism, the use of wording, explanations of the formulae and so forth. It then gives an amazingly varied collection of Cherokee formulae, first in the original Cherokee (again, in the Latin alphabet) and then translated into English. Everything from healing to killing witches, to medicine for stick ball games, war and warfare. Both books include numerous photographs and illustrations of famous historical figures, Cherokee manuscripts and petroglyphs and a map of Cherokee lands. Again, this is a truly massive book and even today is considered one of the essential writings of Cherokee religion. Anyone with an interest in the subject, whether anthropologist, descendant of the Cherokee or just a curious person interested in Native culture, should definitely give this book a read. I highly recommend it.
Recommended Reading: History of the Cherokee Indians and Their Legends and Folklore (680 pages). Midwest Book Review: Originally published in 1921, History of the Cherokee Indians reprints a reference originally created "for the purpose of perpetuating some of the facts relative to the Cherokee tribe, that might otherwise be lost," in the words of author Emmet Starr. The result is a straightforward history of the Cherokee tribe with especial attention upon the 1800's, an assortment of primary source writings, and thoroughly extensive genealogies of old Cherokee families. Continued below…
Genealogists and anyone tracing Cherokee ancestry are sure to find History of the Cherokee Indians especially illuminating; other readers curious about a more general history of the tribe will also find a wealth of insightful information about the Cherokee's conflicts with other tribes, adoption of its constitution, emigrations, treaties, and much more. A handful of black-and-white photographs illustrate this solid historical and genealogical accounting.
Recommended Reading: A Cherokee Encyclopedia (Hardcover). Description: A Cherokee Encyclopedia is a quick reference guide for many of the people, places, and things connected to the United Keetoowah Band of Cherokees, as well as for the other officially recognized Cherokee groups, the Cherokee Nation and the Eastern Band of Cherokees. Continued below...
From A Cherokee Encyclopedia: "Crowe, Amanda: Amanda Crowe was born in 1928 in the Qualla Cherokee community in North Carolina. She was drawing and carving at the age of 4 and selling her work at age 8. She received her MFA from the Chicago Arts Institute in 1952 and then studied in Mexico at the Instituto Allende in San Miguel under a John Quincy Adams fellowship. She had been away from home for 12 years when the Cherokee Historical Association invited her back to teach art and woodcarving at the Cherokee High School. . . ."
"Fields, Richard: Richard Fields was Chief of the Texas Cherokees from 1821 until his death in 1827. Assisted by Bowl and others, he spent much time in Mexico City, first with the Spanish government and later with the government of Mexico, trying to acquire a clear title to their land. They also had to contend with rumors started by white Texans regarding their intended alliances with Comanches, Tawakonis, and other Indian tribes to attack San Antonio. . . ."
About the Author: Robert J. Conley is the author of over seventy books. The Wordcraft Circle of Native Writers and Storytellers named him Wordcrafter of the Year for 1997. He has won numerous Spur Awards from the Western Writers of America and was presented with the Cherokee Medal of Honor in 2000. An enrolled member of the United Keetoowah Band of Cherokees, Conley lives with his wife, Evelyn, in Norman, Oklahoma.
Recommended Reading: Cherokee Proud, Second Edition, by Tony Mack McClure. Description: Absolutely the "Bible" of Cherokee Genealogy. New, 336 pages, 2nd Edition. If the information in this remarkable new book doesn't lead a person to proof of their Cherokee roots, nothing can! "It is an A-to-Z on organizing and locating the requirements / qualifications for membership." Continued below...
Are you Cherokee? Are you the individual that has always been told that you are a Cherokee, but have no facts or records to prove it? To claim Cherokee membership means that you must prove it – you must have the facts, so toss the doubt away, get the facts, and claim what is rightfully your heritage by blood quantum. Now, are you ready to prove that you are a Cherokee? It's not difficult if you take the time to locate the facts. Included are proven resources for tracing your family genealogy, the family tree, roots, bloodline, and for researching your ancestors to prove that you meet the blood requirements (qualifications) for Cherokee membership and tribal enrollment. Those that qualify as "American Indians are American Indians" and are entitled to the rights and benefits of the tribe! Also includes a proven "how to dos" written by the foremost expert in Cherokee history, genealogy and heritage. Cherokee membership is not like joining a gym or paying dues, it's your blood, so claim it. Are you remotely interested in knowing that you are a "Cherokee Indian" or are you the individual that enjoys genealogy? Do you want to locate and preserve your Native American ancestry? Finding information about ancestors for genealogy and heritage is also a lot of fun. Moreover, you are preserving your own family history and heritage with your relatives and loved ones for generations and generations… Take a look at exactly what is required to locate and organize and present your information to prove that you meet the qualifications as a member of the Cherokee tribe. Cherokee Proud, by Tony McClure, is referred to as the "Bible for Cherokee Genealogy." Cherokee Proud has also been rated a SOLID FIVE STARS by every person that has read and rated it. To see if you meet the 'Cherokee qualification and requirement for membership', then look no further -- purchase Cherokee Proud. Read the reviews and see what people and organizations are saying about it.
Reviews
"Cherokee Proud is the very best book I have ever seen on tracing Cherokee genealogy." -- RICHARD PANGBURN, acclaimed author of Indian Blood, Vol. I & II found in most libraries
"McClure unabashedly loosens his journalistic standards for portions of this book which reach him too emotionally. Understood. Fascinating and enlightening."
BACK COVER: Among the people of this country are individuals in whose blood runs the proud heritage of a noble and resilient people whose ways and talents rank with the finest civilizations the world has known. They are the " Tsalagi ". . . the Cherokee. This book will help you learn if you are one of them. -- BOOK READER
"The contents of Cherokee Proud are exceptional - valuable information that can be used by so many readers and researchers who have Native American (Cherokee) ancestry." -- DON SHADBURN, Famous Georgia historian and noted author of Unhallowed Intrusion and Cherokee Planters of Georgia
"This Cherokee guide is the best yet!" -- LAWTON CONSTITUTION
About the Author: Well known and acclaimed Cherokee author Dr. Tony Mack McClure, a native of Tennessee, is a certified member of the Native American Journalists Association, Wordcraft Circle of Native Writers and Storytellers, and Committeeman for the Tennessee Chapter of the National Trail of Tears Association. His work has appeared in numerous magazines, over 250 newspapers, on all major television networks and many cable systems.
Recommended Reading: Cherokee Heritage Trails Guidebook, Barbara R. Duncan and Brett Riggs, The University of North Carolina Press (April 14, 2003) (432 pages). Description: Celebrating the rich heritage of the Eastern Band of Cherokee Indians, this guide introduces readers to important sites throughout the Cherokee homeland in western North Carolina, eastern Tennessee, and north Georgia. The book presents Cherokee stories, folk arts, and historical information as well as visiting information for Cherokee historic sites.