Thomas' Legion
American Civil War HOMEPAGE
American Civil War
Causes of the Civil War : What Caused the Civil War
Organization of Union and Confederate Armies: Infantry, Cavalry, Artillery
Civil War Navy: Union Navy and Confederate Navy
American Civil War: The Soldier's Life
Civil War Turning Points
American Civil War: Casualties, Battles and Battlefields
Civil War Casualties, Fatalities & Statistics
Civil War Generals
American Civil War Desertion and Deserters: Union and Confederate
Civil War Prisoner of War: Union and Confederate Prison History
Civil War Reconstruction Era and Aftermath
American Civil War Genealogy and Research
Civil War
American Civil War Pictures - Photographs
African Americans and American Civil War History
American Civil War Store
American Civil War Polls
NORTH CAROLINA HISTORY
North Carolina Civil War History
North Carolina American Civil War Statistics, Battles, History
North Carolina Civil War History and Battles
North Carolina Civil War Regiments and Battles
North Carolina Coast: American Civil War
HISTORY OF WESTERN NORTH CAROLINA
Western North Carolina and the American Civil War
Western North Carolina: Civil War Troops, Regiments, Units
North Carolina: American Civil War Photos
Cherokee Chief William Holland Thomas
HISTORY OF THE CHEROKEE INDIANS
Cherokee Indian Heritage, History, Culture, Customs, Ceremonies, and Religion
Cherokee Indians: American Civil War
History of the Eastern Band of Cherokee Indian Nation
Cherokee War Rituals, Culture, Festivals, Government, and Beliefs
Researching your Cherokee Heritage
Civil War Diary, Memoirs, Letters, and Newspapers

Map of Cherokee North Carolina
Cherokee Map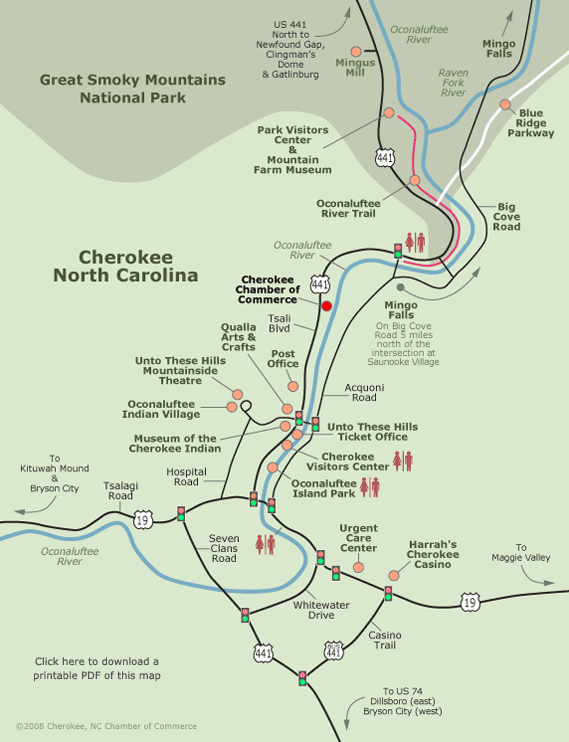 Courtesy Cherokee, North Carolina, Chamber of Commerce
Recommended Reading: Touring the Western North Carolina Backroads (Touring the Backroads). Editorial Review: This guidebook, unlike most, is so encyclopedic in scope that I give it as a gift to newcomers to the area. It is also an invaluable reference for the visitor who wants to see more than the fabulous Biltmore Estate. Even though I am a native of the area, I learned nearly everything I know about Western North Carolina from this book alone and it is my primary reference. I am still amazed at how much fact, history and folklore [just enough to bring alive the curve of the road, the odd landmark, the abandoned building] is packed in its 300 pages. The author, who must have collapsed from exhaustion when she finished it, takes you on a detailed tour, laid out by the tenth of the mile, of carefully drawn sections of backroads that you can follow leisurely without getting lost. Continued below...
The author is completely absent from the text. The lucid style will please readers who want the facts, not editorial comment. This book, as well as the others in this publisher's backroads series, makes an excellent gift for anyone, especially the many seniors who have relocated, or are considering relocating to this fascinating region. "It is also a valuable reference for natives…"
Recommended Reading: Scenic Driving North Carolina, 2nd, by Laurence Parent (Scenic Driving Series). Description: Pack up the car and enjoy thirty drives through some of the most spectacular scenery in the Tar Heel State. This indispensable highway companion maps out trips for exploring scenic byways and side roads, from the deep forests and breathtaking views of the Blue Ridge Parkway to the majestic lighthouses and historic villages of the Outer Banks, from the lush rolling country of the Piedmont to the rugged terrain of the Appalachian Mountains. Continued below…
Inside you'll find: Itineraries ranging from 10 miles to more than 115 miles in length; Route maps for each drive; Where to find treasures such as windswept dunes, mountain streams, magnificent fall colors, roaring waterfalls, and local wildlife; Historical information and suggested side trips; Tips on camping, travel services, and best driving seasons. About the Author: Laurence Parent is a freelance photographer and writer specializing in landscape, travel, and nature subjects. He has written twenty-one books, including seven FalconGuides. He resides in Wimberley, Texas.
Recommended Reading: North Carolina Atlas & Gazetteer (North Carolina Atlas and Gazetteer). Description: This is not your ordinary map! This Atlas is filled with comprehensive and detailed maps. It covers all three Regions of North Carolina: Coastal Plain, Piedmont, and Mountains. It is the first choice for outdoor enthusiasts – sports, hiking, fishing, rock climbing, skiing, boating, bird watching, tubing, kayaking, hunting, etc. "Beautiful, detailed and large-format…" (1) Physical land features: topographic contours, water resources, vegetation, etc. (2) Off-road options: trails, abandoned railroads, ferries. (3) Recreation: Parks, outdoor sports, points of interest. It is perfect for home and office reference, the casual and business traveler, and every vehicle. Continued below...
Gazetteer information even includes: campgrounds, attractions, historic sites & museums, recreation areas, trails, freshwater fishing sites & boat launches, canoe trips or scenic drives. Reviews: "I am a full-time fishing guide in the mountains of North Carolina and I have found this book to be the absolute best reference material for finding trout streams in our mountains. If you do any type of outdoors activities you will benefit from this book." "Instead of purchasing numerous cumbersome North Carolina maps and atlases, I bought the North Carolina Atlas & Gazetteer and I am very pleased – it is definitive, complete, and all-in-one." "My wife and I recently retired and started traveling, as we always dreamed about doing, and the numerous detailed pages in this Atlas saved us time and money while traveling across the beautiful state of North Carolina…we were able to find those out of the way flea-markets, historic landmarks, and small town museums. I highly recommend it."
Recommended Reading: The Cherokee Nation: A History. Description: Conley's book, "The Cherokee Nation: A History" is an eminently readable, concise but thoughtful account of the Cherokee people from prehistoric times to the present day. The book is formatted in such a way as to make it an ideal text for high school and college classes. At the end of each chapter is a source list and suggestions for further reading. Also at the end of each chapter is an unusual but helpful feature- a glossary of key terms. The book contains interesting maps, photographs and drawings, along with a list of chiefs for the various factions of the Cherokee tribe and nation. Continued below...
In addition to being easily understood, a principal strength of the book is that the author questions some traditional beliefs and sources about the Cherokee past without appearing to be a revisionist or an individual with an agenda in his writing. One such example is when Conley tells the story of Alexander Cuming, an Englishman who took seven Cherokee men with him to England in 1730. One of the Cherokee, Oukanekah, is recorded as having said to the King of England: "We look upon the Great King George as the Sun, and as our Father, and upon ourselves as his children. For though we are red, and you are white our hands and hearts are joined together..." Conley wonders if Oukanekah actually said those words and points out that the only version we have of this story is the English version. There is nothing to indicate if Oukanekah spoke in English or Cherokee, or if his words were recorded at the time they were spoken or were written down later. Conley also points out that in Cherokee culture, the Sun was considered female, so it is curious that King George would be looked upon as the Sun. The "redness" of Native American skin was a European perception. The Cherokee would have described themselves as brown. But Conley does not overly dwell on these things. He continues to tell the story using the sources available. The skill of Conley in communicating his ideas never diminishes. This book is highly recommended as a good place to start the study of Cherokee history. It serves as excellent reference material and belongs in the library of anyone serious about the study of Native Americans.
Recommended Reading: Trail of Tears: The Rise and Fall of the Cherokee Nation. Description: One of the many ironies of U.S. government policy toward Indians in the early 1800s is that it persisted in removing to the West those who had most successfully adapted to European values. As whites encroached on Cherokee land, many Native leaders responded by educating their children, learning English, and developing plantations. Such a leader was Ridge, who had fought with Andrew Jackson against the British. Continued below...
As he and other Cherokee leaders grappled with the issue of moving, the land-hungry Georgia legislators, with the aid of Jackson, succeeded in ousting the Cherokee from their land, forcing them to make the arduous journey West on the infamous "Trail of Tears." ...A treasured addition for the individual remotely interested in American Indian history as well as general American history.