26th North Carolina Infantry Regiment and the Boy Colonel
Summary of Colonel Henry "Harry" King Burgwyn, Jr.
Burgwyn's Home Stood 4 Miles South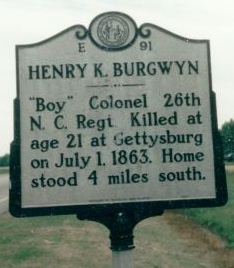 US 158, West of Jackson, Northampton County, NC
Henry "Harry" King Burgwyn, Jr. was known as the "Boy Colonel" because he attained that rank at the age of twenty. He was the youngest regimental commanding colonel in the Army of Northern Virginia and perhaps the youngest colonel in the Confederate Army. As a soldier, Burgwyn was a natural. Unfortunately, he never lived to see his twenty-second birthday.
Burgwyn was the son of Northampton County planter Henry King Burgwyn Sr. and New England native Anna Greenough. He was born in Jamaica Plains, Massachusetts, at his mother's ancestral home. Capt. John G. Foster privately taught Burgwyn at the U.S. Military Academy since he was too young at fifteen to enter the institution. In 1857, Burgwyn enrolled at the University of North Carolina; he graduated in 1859. To further his education, he entered the prestigious Virginia Military Institute.
He stayed briefly in Richmond with other VMI cadets following the start of the Civil War. In North Carolina as a captain, he instructed the Lafayette Light Infantry in drill at Camp Ellis, located at the original State Fairgrounds, and was sent to the mountains to raise a company. As a major, Burgwyn commanded Camp Crabtree near Raleigh. In August 1861, the Twenty-sixth regiment's company officers elected the nineteen-year-old Burgwyn as lieutenant colonel, making him second in command behind Col. Zebulon B. Vance. Burgwyn's regiment took part in operations in eastern North Carolina and in Virginia. With Vance's election as North Carolina's governor in August 1862, Burgwyn was promoted to colonel.
From August 1862 to May 1863, Burgwyn's regiment fought in eastern North Carolina. In May the Twenty-sixth joined the Army of Northern Virginia. On July 1, 1863, at Gettysburg, the Twenty-sixth regiment took part in an assault that resulted in the death of Burgwyn. He died and was buried at Gettysburg. In June 1867, however, Burgwyn was reinterred at Oakwood Cemetery in Raleigh.
References: Archie K. Davis, Boy Colonel of the Confederacy (1985); Samuel A. Ashe, ed., Biographical History of North Carolina, VIII, 67-73; Walter Clark, ed., Histories of the Several Regiments and Battalions from North Carolina in the Great War, 1861-65, Vol. II (1901); William S. Powell, ed., Dictionary of North Carolina Biography, I, 276-277—sketch submitted by Clyde Wilson.
Highly Recommended Reading: Boy Colonel of the Confederacy. Description: Henry King Burgwyn, Jr. (1841-63), the youngest colonel in the Army of Northern Virginia and one of the youngest colonels of the American Civil War, died at the age of twenty-one while leading the Twenty-sixth North Carolina Infantry Regiment into action at the Battle of Gettysburg. In this sensitive biography, originally published by UNC Press in 1985, Archie Davis provides a revealing portrait of the young man's character and a striking example of a soldier who selflessly fulfilled his duty. Continued below...
Drawing on Burgwyn's own letters and diary, Davis also offers a fascinating glimpse into North Carolina society during the antebellum period and the American Civil War.
Advance to:
Recommended Reading: Covered With Glory: The 26th North Carolina Infantry at Gettysburg. Description: Award-winning historian, Rod Gragg, delivers a masterpiece with his renowned study of the Fighting 26th. Rated a solid 5 STARS (highest possible rating), Covered With Glory reflects vividly the fighting history of the 26th, led by General Robert E. Lee's youngest regimental colonel, 21-year-old Colonel Henry K. Burgwyn, Jr. Student, Scholar, and Civil War Buff, this is a must have addition for your library. Continued below…
From Library Journal: Award-winning historian Gragg offers yet another Civil War title. The 26th North Carolina saw action early in the war at New Bern and Malvern Hill. On the first day at Gettysburg, it fought against the 24th Michigan in McPherson's Woods. On the third and final day, it participated in the infamous Pickett's Charge and suffered an 85 percent casualty rate, the highest of any regiment in the Civil War. Besides recounting the enormous loss of life and the heroic deeds of many men, Gragg reveals the human side of battle. Family diaries and letters describe the difficulties most soldiers faced in coping with military life. The author uses an impressive list of other books and historical sources. What emerges is a detailed but readable history of a regiment whose sacrifices and exploits merit studying. Recommended for its scholarship and depth of coverage to all academic and large public libraries and to special collections.
Recommended Reading: Lee's Tar Heels: The Pettigrew-Kirkland-MacRae Brigade (Hardcover). Description: The Pettigrew-Kirkland-MacRae Brigade was one of North Carolina's best-known and most successful units during the Civil War. Formed in 1862, the brigade spent nearly a year protecting supply lines before being thrust into its first major combat at Gettysburg. There, James Johnston Pettigrew's men pushed back the Union's famed Iron Brigade in vicious fighting on July 1 and played a key role in Pickett's Charge on July 3, in the process earning a reputation as one of the hardest-fighting units in Robert E. Lee's Army of Northern Virginia. Continued below…
Despite suffering heavy losses during the Gettysburg campaign, the brigade went on to prove its valor in a host of other engagements. It marched with Lee to Appomattox and was among the last Confederate units to lay down arms in the surrender ceremony. Earl Hess tells the story of the men of the Pettigrew-Kirkland-MacRae Brigade, and especially the famous 26th North Carolina, chronicling the brigade's formation and growth under Pettigrew and its subsequent exploits under William W. Kirkland and William MacRae. Beyond recounting the brigade's military engagements, Hess draws on letters, diaries, memoirs, and service records to explore the camp life, medical care, social backgrounds, and political attitudes of these gallant Tar Heels. He also addresses the continuing debate between North Carolinians and Virginians over the failure of Pickett's Charge. "[A] welcome addition for the buff, student of Gettysburg, and the casual as well as serious reader of American history." americancivilwarhistory.org
Recommended Reading:
Brigades of Gettysburg: The Union and Confederate Brigades at the Battle of Gettysburg
(Hardcover) (

704 Pages

).
Description:
While the battle of Gettysburg is certainly the most-studied battle in American history, a comprehensive treatment of the part played by each unit has been ignored. Brigades of Gettysburg fills this void by presenting a complete account of every brigade unit at Gettysburg

and providing a fresh perspective of the battle. Using the words of enlisted men and officers, the author-well-known Civil War historian Bradley Gottfried-weaves a fascinating narrative of the role played by

every brigade at the famous three-day battle, as well as a detailed description of each brigade unit. Organized by order of battle, each brigade is covered in complete and exhaustive detail: where it fought, who commanded, what constituted the unit, and how it performed in battle.

Continued below...
Innovative in its approach and comprehensive in its coverage, Brigades of Gettysburg is certain to be a classic and indispensable reference for the battle of Gettysburg for years to come.
Recommended Viewing: The Civil War - A Film by Ken Burns. Review: The Civil War - A Film by Ken Burns is the most successful public-television miniseries in American history. The 11-hour Civil War didn't just captivate a nation, reteaching to us our history in narrative terms; it actually also invented a new film language taken from its creator. When people describe documentaries using the "Ken Burns approach," its style is understood: voice-over narrators reading letters and documents dramatically and stating the writer's name at their conclusion, fresh live footage of places juxtaposed with still images (photographs, paintings, maps, prints), anecdotal interviews, and romantic musical scores taken from the era he depicts. Continued below...
The Civil War uses all of these devices to evoke atmosphere and resurrect an event that many knew only from stale history books. While Burns is a historian, a researcher, and a documentarian, he's above all a gifted storyteller, and it's his narrative powers that give this chronicle its beauty, overwhelming emotion, and devastating horror. Using the words of old letters, eloquently read by a variety of celebrities, the stories of historians like Shelby Foote and rare, stained photos, Burns allows us not only to relearn and finally understand our history, but also to feel and experience it. "Hailed as a film masterpiece and landmark in historical storytelling." "[S]hould be a requirement for every student."
Recommended Reading: The Life of Johnny Reb: The Common Soldier of the Confederacy (444 pages) (Louisiana State University Press) (Updated edition: November 2007) Description: The Life of Johnny Reb does not merely describe the battles and skirmishes fought by the Confederate foot soldier. Rather, it provides an intimate history of a soldier's daily life--the songs he sang, the foods he ate, the hopes and fears he experienced, the reasons he fought. Wiley examined countless letters, diaries, newspaper accounts, and official records to construct this frequently poignant, sometimes humorous account of the life of Johnny Reb. In a new foreword for this updated edition, Civil War expert James I. Robertson, Jr., explores the exemplary career of Bell Irvin Wiley, who championed the common folk, whom he saw as ensnared in the great conflict of the 1860s. Continued below...
About Johnny Reb:
"A Civil War classic."--Florida Historical Quarterly
"This book deserves to be on the shelf of every Civil War modeler and enthusiast."--Model Retailer
"[Wiley] has painted with skill a picture of the life of the Confederate private. . . . It is a picture that is not only by far the most complete we have ever had but perhaps the best of its kind we ever shall have."--Saturday Review of Literature
Try the Search Engine for Related Studies: Who was the youngest soldier in the Civil War, Name of the youngest Civil War soldier killed, Most killed in a Civil War battle total casualties died dead History Details youngest Confederate Colonel