Colonel Henry King Burgwyn
From the Times-Dispatch, May 20, 1906


BRAVE CAROLINIAN WHO FELL AT GETTYSBURG


How Colonel Henry King Burgwyn Lost His Life.


The presence at Raleigh, N.C., of Colonel William H. S. Burgwyn, of Northampton County, who delivered the memorial address of May 10, called attention to the fate of his brother, Colonel Henry King Burgwyn, the gallant young commander of the Twenty-sixth North Carolina Infantry, who lost his life at Gettysburg. It happened among the Confederate veterans who attended the Memorial Day exercises was William M. Cheek, of Lundley, Chatham county, who was a private in Company E of the Twenty-sixth Regiment, and who saw Colonel Burgwyn when the latter was shot. Mr. Cheek said: "It was in the first day's fight at Gettysburg. Our regiment had been formed in line of battle and advanced a considerable distance towards the Federals lines. Our colors were very prominent in the center. Time after time they were shot down by the hot fire of infantry and artillery, and in all they fell fifteen times, sometimes the staff being broken and sometimes a color-bearer being shot down.
"The color-sergeant was killed quite early in the advance and then a private of F Company took the flag. He was shot once, but rose and went on, saying, 'Come on, boys!' and as the words left his lips was again shot down, when the flag was taken by Captain McCreary, who was killed a moment or two later. Then Colonel Burgwyn himself took the colors and as we were advancing over the brow of a little hill and he was a few feet in advance of the center of the regiment, he was shot as he partly turned to give an order, a bullet passing through his abdomen. He fell backwards, the regiment continuing its advance, Lieutenant-Colonel John R. Lane taking command and at the same time taking the flag from Colonel Burgwyn. In a moment, it seemed, he was shot, and then Captain W. S. Brewer, of my company, took the flag and carried it through the remainder of the advance, Major John Jones having then assumed command of the regiment. Our regiment was recalled and retired. I was knocked down by the explosion of a shell, which injured my eyesight somewhat, but soon rose and as myself and some comrades went back, I saw Colonel Burgwyn being carried off the field by two soldiers, named Ellington and Staton, who were using one of their blankets for that purpose.
Colonel Henry Burgwyn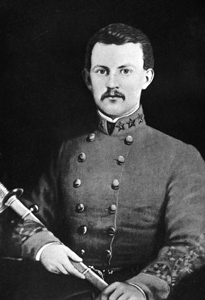 26th North Carolina
"Colonel Burgwyn asked me, whom he recognized as being a member of his command, to help carry him off the field, and I at once gave my aid. We carried him some distance towards the place where our line of battle had been formed, and as we were thus moving him a lieutenant of some South Carolina regiment came up and took hold of the blanket to help us. Colonel Burgwyn did not seem to suffer much, but asked the lieutenant to pour some water on his wound. He was put down upon the ground while the water was poured from canteens upon him. His coat was taken off and I stooped to take his watch, which was held around his neck by a silk cord. As I did so the South Carolina lieutenant seized the watch, broke the cord, put the watch in his pocket and started off with it. I demanded the watch, telling the officer that he should not thus take away the watch of my colonel and that I would kill him as sure as powder would burn, with these words cocking my rifle and taking aim at him.
"I made him come back and give up the watch, at the same time telling him he was nothing but a thief, and then ordering him to leave, which he did. In a few moments, Colonel Burgwyn said to me that he would never forget me, and I shall never forget the look he gave me as he spoke these words. We then picked him up again and carried him very close to the place where we had formed in line of battle. Captain Young, of General Pettigrew's staff, came up and expressed much sympathy with Colonel Burgwyn. The latter said that he was very grateful for the sympathy, and added, 'The Lord's will be done. We have gained the greatest victory in the war. I have no regret at my approaching death. I fell in the defense of my country.'
"About that time a shell exploded very near us and took off the entire top of the hat of Captain Brewer, who had joined our party. I left and went to search for one of our litters, in order to place Colonel Burgwyn upon it, so as to carry him more comfortably and conveniently. I found the litter with some difficulty, and as the bearers and myself came up to the spot where Colonel Burgwyn was lying on the ground, we found that he was dying. I sat down and took his hand in my lap. He had very little to say, but I remember that his last words were that he was entirely satisfied with everything, and "The Lord's will be done.' Thus he died, very quietly and resigned. I never saw a braver man than he. He was always cool under fire and knew exactly what to do, and his men were devoted to him.
"He was the youngest colonel I ever saw in all my experience as a soldier. If he had lived he would have been given high rank, I feel sure." After Mr. Cheek had given this interesting story, now told for the first time of the fate of his gallant colonel, he was shown and viewed with much [e]motion the sword, sash and gauntlets which Colonel Burgwyn wore during the terrible first day at Gettysburg; that greatest of battles of all the Civil War, which marked what came to be known as the "high-water-mark of the war," and in which the Twenty-sixth Regiment suffered a greater loss than any other regiment, either Federal or Confederate, during the entire four years' struggle.
Battle of Gettysburg Map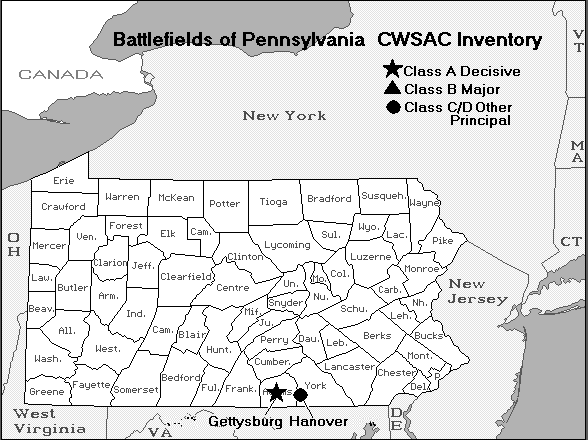 26th North Carolina at Battle of Gettysburg
Fred A. Olds.


(Source: Southern Historical Society Papers, Vol. 36, pp.245-247)
Recommended Reading: Boy Colonel of the Confederacy. Description: Henry King Burgwyn, Jr. (1841-63), the youngest colonel in the Army of Northern Virginia and one of the youngest colonels of the American Civil War, died at the age of twenty-one while leading the Twenty-sixth North Carolina Infantry Regiment into action at the Battle of Gettysburg. In this sensitive biography, originally published by UNC Press in 1985, Archie Davis provides a revealing portrait of the young man's character and a striking example of a soldier who selflessly fulfilled his duty. Continued below...
Drawing on Burgwyn's own letters and diary, Davis also offers a fascinating glimpse into North Carolina society during the antebellum period and the American Civil War.
Recommended Reading: Covered With Glory: The 26th North Carolina Infantry at Gettysburg. Description: Award-winning historian, Rod Gragg, delivers a masterpiece with his renowned study of the Fighting 26th. Rated a solid 5 STARS (highest possible rating), Covered With Glory reflects vividly the fighting history of the 26th, led by General Robert E. Lee's youngest regimental colonel, 21-year-old Colonel Henry K. Burgwyn, Jr. Student, Scholar, and Civil War Buff, this is a must have addition for your library. Continued below…
From Library Journal: Award-winning historian Gragg offers yet another Civil War title. The 26th North Carolina saw action early in the war at New Bern and Malvern Hill. On the first day at Gettysburg, it fought against the 24th Michigan in McPherson's Woods. On the third and final day, it participated in the infamous Pickett's Charge and suffered an 85 percent casualty rate, the highest of any regiment in the Civil War. Besides recounting the enormous loss of life and the heroic deeds of many men, Gragg reveals the human side of battle. Family diaries and letters describe the difficulties most soldiers faced in coping with military life. The author uses an impressive list of other books and historical sources. What emerges is a detailed but readable history of a regiment whose sacrifices and exploits merit studying. Recommended for its scholarship and depth of coverage to all academic and large public libraries and to special collections.
Recommended Reading: Lee's Tar Heels: The Pettigrew-Kirkland-MacRae Brigade (Hardcover). Description: The Pettigrew-Kirkland-MacRae Brigade was one of North Carolina's best-known and most successful units during the Civil War. Formed in 1862, the brigade spent nearly a year protecting supply lines before being thrust into its first major combat at Gettysburg. There, James Johnston Pettigrew's men pushed back the Union's famed Iron Brigade in vicious fighting on July 1 and played a key role in Pickett's Charge on July 3, in the process earning a reputation as one of the hardest-fighting units in Robert E. Lee's Army of Northern Virginia. Continued below…
Despite suffering heavy losses during the Gettysburg campaign, the brigade went on to prove its valor in a host of other engagements. It marched with Lee to Appomattox and was among the last Confederate units to lay down arms in the surrender ceremony. Earl Hess tells the story of the men of the Pettigrew-Kirkland-MacRae Brigade, and especially the famous 26th North Carolina, chronicling the brigade's formation and growth under Pettigrew and its subsequent exploits under William W. Kirkland and William MacRae. Beyond recounting the brigade's military engagements, Hess draws on letters, diaries, memoirs, and service records to explore the camp life, medical care, social backgrounds, and political attitudes of these gallant Tar Heels. He also addresses the continuing debate between North Carolinians and Virginians over the failure of Pickett's Charge. "[A] welcome addition for the buff, student of Gettysburg, and the casual as well as serious reader of American history." americancivilwarhistory.org
Recommended Reading: Gettysburg, by Stephen W. Sears (640 pages) (November 3, 2004). Description: Sears delivers another masterpiece with this comprehensive study of America's most studied Civil War battle. Beginning with Lee's meeting with Davis in May 1863, where he argued in favor of marching north, to take pressure off both Vicksburg and Confederate logistics. It ends with the battered Army of Northern Virginia re-crossing the Potomac just two months later and with Meade unwilling to drive his equally battered Army of the Potomac into a desperate pursuit. In between is the balanced, clear and detailed story of how tens-of-thousands of men became casualties, and how Confederate independence on that battlefield was put forever out of reach. The author is fair and balanced. Continued below...
He discusses the shortcomings of Dan Sickles, who advanced against orders on the second day; Oliver Howard, whose Corps broke and was routed on the first day; and Richard Ewell, who decided not to take Culp's Hill on the first night, when that might have been decisive. Sears also makes a strong argument that Lee was not fully in control of his army on the march or in the battle, a view conceived in his gripping narrative of Pickett's Charge, which makes many aspects of that nightmare much clearer than previous studies. A must have for the Civil War buff and anyone remotely interested in American history.
Recommended Reading: ONE CONTINUOUS FIGHT: The Retreat from Gettysburg and the Pursuit of Lee's Army of Northern Virginia, July 4-14, 1863 (Hardcover). Description: The titanic three-day battle of Gettysburg left 50,000 casualties in its wake, a battered Southern army far from its base of supplies, and a rich historiographic legacy. Thousands of books and articles cover nearly every aspect of the battle, but not a single volume focuses on the military aspects of the monumentally important movements of the armies to and across the Potomac River. One Continuous Fight: The Retreat from Gettysburg and the Pursuit of Lee's Army of Northern Virginia, July 4-14, 1863 is the first detailed military history of Lee's retreat and the Union effort to catch and destroy the wounded Army of Northern Virginia. Against steep odds and encumbered with thousands of casualties, Confederate commander Robert E. Lee's post-battle task was to successfully withdraw his army across the Potomac River. Union commander George G. Meade's equally difficult assignment was to intercept the effort and destroy his enemy. The responsibility for defending the exposed Southern columns belonged to cavalry chieftain James Ewell Brown (JEB) Stuart. If Stuart fumbled his famous ride north to Gettysburg, his generalship during the retreat more than redeemed his flagging reputation. The ten days of retreat triggered nearly two dozen skirmishes and major engagements, including fighting at Granite Hill, Monterey Pass, Hagerstown, Williamsport, Funkstown, Boonsboro, and Falling Waters. Continued below...
President Abraham Lincoln was thankful for the early July battlefield victory, but disappointed that General Meade was unable to surround and crush the Confederates before they found safety on the far side of the Potomac. Exactly what Meade did to try to intercept the fleeing Confederates, and how the Southerners managed to defend their army and ponderous 17-mile long wagon train of wounded until crossing into western Virginia on the early morning of July 14, is the subject of this study. One Continuous Fight draws upon a massive array of documents, letters, diaries, newspaper accounts, and published primary and secondary sources. These long-ignored foundational sources allow the authors, each widely known for their expertise in Civil War cavalry operations, to describe carefully each engagement. The result is a rich and comprehensive study loaded with incisive tactical commentary, new perspectives on the strategic role of the Southern and Northern cavalry, and fresh insights on every engagement, large and small, fought during the retreat. The retreat from Gettysburg was so punctuated with fighting that a soldier felt compelled to describe it as "One Continuous Fight." Until now, few students fully realized the accuracy of that description. Complimented with 18 original maps, dozens of photos, and a complete driving tour with GPS coordinates of the entire retreat, One Continuous Fight is an essential book for every student of the American Civil War in general, and for the student of Gettysburg in particular. About the Authors: Eric J. Wittenberg has written widely on Civil War cavalry operations. His books include Glory Enough for All (2002), The Union Cavalry Comes of Age (2003), and The Battle of Monroe's Crossroads and the Civil War's Final Campaign (2005). He lives in Columbus, Ohio. J. David Petruzzi is the author of several magazine articles on Eastern Theater cavalry operations, conducts tours of cavalry sites of the Gettysburg Campaign, and is the author of the popular "Buford's Boys." A long time student of the Gettysburg Campaign, Michael Nugent is a retired US Army Armored Cavalry Officer and the descendant of a Civil War Cavalry soldier. He has previously written for several military publications. Nugent lives in Wells, Maine.
Recommended Reading: Gettysburg: A Testing of Courage. Description: America's Civil War raged for more than four years, but it is the three days of fighting in the Pennsylvania countryside in July 1863 that continues to fascinate, appall, and inspire new generations with its unparalleled saga of sacrifice and courage. From Chancellorsville, where General Robert E. Lee launched his high-risk campaign into the North, to the Confederates' last daring and ultimately-doomed act, forever known as Pickett's Charge, the battle of Gettysburg gave the Union army a victory that turned back the boldest and perhaps greatest chance for a Southern nation. Continued below...
Now, acclaimed historian Noah Andre Trudeau brings the most up-to-date research available to a brilliant, sweeping, and comprehensive history of the battle of Gettysburg that sheds fresh light on virtually every aspect of it. Deftly balancing his own narrative style with revealing firsthand accounts, Trudeau brings this engrossing human tale to life as never before.