CSS Virginia
CSS Virginia (1862-1862) (ex-USS Merrimack)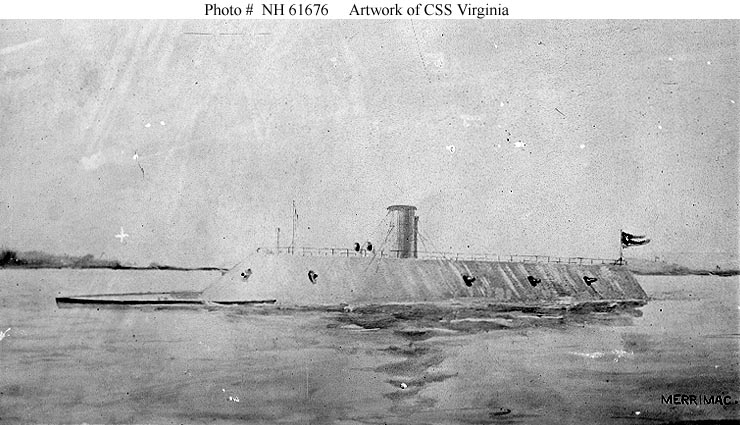 U.S. Naval Historical Center
CSS Virginia was built at Boston Navy Yard as the frigate Merrimack, and commissioned 20 February 1856, Capt. G. J. Pendergrast, USN, in command.
Departing Boston she cruised in West Indies and European waters in 1856-57. Following brief repairs she sailed in October 1857 as flagship of the Pacific Squadron, cruising the Pacific coasts of South and Central America until November 1859. Returning east, she decommissioned at Norfolk 16 February 1860. On 20 April 1861, in the confusion following the outbreak of the Civil War, retiring Union forces burned Merrimack to the water line and sank her to preclude capture by the Virginia militia.
The Confederates, in desperate need of ships to challenge the Union Navy's superiority at sea, raised Merrimack and rebuilt the hulk as an ironclad ram, according to a design prepared by naval constructor Lt. J. M. Brooke, CSN. Commissioned as CSS Virginia on 17 February 1862, the ironclad was one of a series of efforts--including blockade runners and submersibles--intended to whittle away at the effectiveness of the Union Navy's blockade of the Confederacy.
Despite an all-out effort to complete her, Virginia still had workmen on board when she sailed out into Hampton Roads on 8 March 1862. Supported by CSS Raleigh and Beaufort, and accompanied by Patrick [Henry], Jamestown, and Teaser, the Confederate warships challenged the Union forces there. Flag Officer F. Buchanan, CSN, commanding Virginia, singled out as first victim the sailing sloop Cumberland, anchored west of Newport News, in part to test Virginia's armor against a 70-pounder rifle. In taking position Virginia passed Congress and exchanged broadsides, suffering no injury while causing considerable damage to the Union frigate. She crossed Cumberland's bows, raking her with a lethal fire, and finished off the wooden warship with a thrust of her iron ram to conserve scarce gunpowder. Cumberland sank with colors flying, taking 121 men (one third of her crew), and part of Virginia's ram down with her. (See CSS Virginia destroys USS Cumberland and USS Congress.)
Virginia then turned her attention to Congress, which grounded while attempting to close. Opening fire from a distance, and assisted by the lighter ships of the James River Squadron, Virginia forced Congress to haul down her colors. As CSS Beaufort and Raleigh approached Congress to receive the surrender of her crew, Federal troops ashore, not understanding the situation, opened a withering fire and wounded Buchanan, who retaliated by ordering hot shot and incendiary shell fired into Congress. The latter, ablaze and unable to bring a single gun to bear, hauled down her flag for the last time. She burned far into the night and exploded about midnight.
Virginia did not emerge unscathed. Her riddled stack limited her speed--and she was already slow to begin with--two of her large guns were out of order, several armor plates were loose, and her ram had been lost in Cumberland. Nevertheless, the ironclad went on to attack Minnesota (Report of the Steam Frigate USS Minnesota), but because of depth of water could not close the range to do that steam frigate serious damage. Virginia then turned back and anchored that night at Sewell's Point for repairs. Flag Officer Buchanan was taken ashore to the hospital and Lt. C. ap R. Jones, CSN, who had conned the ironclad after Buchanan had been wounded, assumed command.
On the following morning Virginia returned to battle. During the previous night, however, the Union ironclad Monitor had arrived in Hampton Roads after a hazardous trip from New York. The two warships fought a long, inconclusive battle on 9 March--the first ever fought between powered ironclads--and Virginia was forced to retire from the area.
On 25 March, Flag Officer J. Tattnall, CSN, took command of Virginia and, with the ironclad as his flagship, sought to deny the James River to Union forces. Although the ironclad helped checkmate Union forces for the next several weeks, the Confederates eventually failed to prevent Federal landings at Yorktown or Union operations on the Peninsula. Forced to evacuate Norfolk, the Confederates tried to take Virginia up the James River but her draft was too deep. The crew ran her ashore near Craney Island, fired and destroyed her on 11 May 1862.
[Before Virginia II was built, CSS Richmond was constantly referred to by Union Officers in their dispatches as Virginia II, Virginia No. 2 or Merrimack No. 2 and sometimes Young Merrimack, New Merrimack or Young Virginia. The preceding Virginia (ex-Merrimack) henceforth became Virginia I.]
CSS Virginia (Ironclad Ram)
Reference: Department of the Navy, Naval History & Heritage Command, 805 Kidder Breese SE, Washington Navy Yard, Washington D.C., 20374-5060
Recommended Reading: Ironclad Down: USS Merrimack-CSS Virginia from Design to Destruction (Hardcover). Description: The result of more than fifteen years of research, Ironclad Down is a treasure trove of detailed information about one of history s most famous vessels. Describing the fascinating people--Stephen Russell Mallory, John Mercer Brooke, John Luke Porter, et al.--who conceived, designed and built one of the world's first ironclads as well as describing the ship itself, Carl Park offers both the most thoroughly detailed, in-depth analysis to date of the actual architecture of the Virginia and a fascinating, colorful chapter of Civil War history.
Advance to:
Recommended Reading: Confederate Ironclad vs Union Ironclad: Hampton Roads 1862 (Duel). Description: The Ironclad was a revolutionary weapon of war. Although iron was used for protection in the Far East during the 16th century, it was the 19th century and the American Civil War that heralded the first modern armored self-propelled warships. With the parallel pressures of civil war and the industrial revolution, technology advanced at a breakneck speed. It was the South who first utilized ironclads as they attempted to protect their ports from the Northern blockade. Impressed with their superior resistance to fire and their ability to ram vulnerable wooden ships, the North began to develop its own rival fleet of ironclads. Eventually these two products of this first modern arms race dueled at the battle of Hampton Roads in a clash that would change the face of naval warfare. Continued below…
Fully illustrated with cutting-edge digital artwork, rare photographs and first-person perspective gun sight views, this book allows the reader to discover the revolutionary and radically different designs of the two rival Ironclads - the CSS Virginia and USS Monitor - through an analysis of each ship's weaponry, ammunition and steerage. Compare the contrasting training of the crews and re-live the horrors of the battle at sea in a war which split a nation, communities and even families. About the Author: Ron Field is Head of History at the Cotswold School in Bourton-on-the-Water. He was awarded a Fulbright Scholarship in 1982 and taught history at Piedmont High School in California from 1982 to 1983. He was associate editor of the Confederate Historical Society of Great Britain, from 1983 to 1992. He is an internationally acknowledged expert on US Civil War military history, and was elected a Fellow of the Company of Military Historians, based in Washington, DC, in 2005. The author lives in Cheltenham, UK.
Recommended Reading: The Battle of Hampton Roads: New Perspectives on the USS Monitor and the CSS Virginia (Mariner's Museum). Description: On March 8 and 9, 1862, a sea battle off the Virginia coast changed naval warfare forever. It began when the Confederate States Navy's CSS Virginia led a task force to break the Union blockade of Hampton Roads. The Virginia sank the USS Cumberland and forced the frigate Congress to surrender. Damaged by shore batteries, the Virginia retreated, returning the next day to find her way blocked by the newly arrived USS Monitor. The clash of ironclads was underway. Continued below…
After fighting for nine hours, both ships withdrew, neither seriously damaged, with both sides claiming victory. Although the battle may have been a draw and the Monitor sank in a storm later that year, this first encounter between powered, ironclad warships spelled the end of wooden warships—and the dawn of a new navy. This book takes a new look at this historic battle. The ten original essays, written by leading historians, explore every aspect of the battle—from the building of the warships and life aboard these "iron coffins" to tactics, strategy, and the debates about who really won the battle of Hampton Roads. Co-published with The Mariners' Museum, home to the USS Monitor Center, this authoritative guide to the military, political, technological, and cultural dimensions of this historic battle also features a portfolio of classic lithographs, drawings, and paintings. Harold Holzer is one of the country's leading experts on the Civil War.
Recommended Reading: A History of Ironclads: The Power of Iron over Wood. Description: This landmark book documents the dramatic history of Civil War ironclads and reveals how ironclad warships revolutionized naval warfare. Author John V. Quarstein explores in depth the impact of ironclads during the Civil War and their colossal effect on naval history. The Battle of Hampton Roads was one of history's greatest naval engagements. Over the course of two days in March 1862, this Civil War conflict decided the fate of all the world's navies. It was the first battle between ironclad warships, and the 25,000 sailors, soldiers and civilians who witnessed the battle vividly understood what history would soon confirm: wars waged on the seas would never be the same. Continued below…
About the Author: John V. Quarstein is an award-winning author and historian. He is director of the Virginia War Museum in Newport News and chief historical advisor for The Mariners' Museum's new USS Monitor Center (opened March 2007). Quarstein has authored eleven books and dozens of articles on American, military and Civil War history, and has appeared in documentaries for PBS, BBC, The History Channel and Discovery Channel.
Recommended Reading: Iron Afloat: The Story of the Confederate Armorclads. Description: William N. Still's book is rightfully referred to as the standard of Confederate Naval history. Accurate and objective accounts of the major and even minor engagements with Union forces are combined with extensive background information. This edition has an enlarged section of historical drawings and sketches. Mr. Still explains the political background that gave rise to the Confederate Ironclad program and his research is impeccable. An exhaustive literature listing rounds out this excellent book. While strictly scientific, the inclusion of historical eyewitness accounts and the always fluent style make this book a joy to read. This book is a great starting point.
Recommended Reading: Last Flag Down: The Epic Journey of the Last Confederate Warship. From Publishers Weekly: Thriller writer Baldwin (The Eleventh Plague et al.) joins forces with the prolific Powers (coauthor of Flags of Our Fathers et al.) to come up with a fast-reading Civil War true adventure saga centered a on young CSA navy lieutenant. The 24-year-old Conway Whittle, an ancestor of Baldwin's, was assigned as first lieutenant and executive officer on the Confederate raider Shenandoah late in the war. The ship sailed from London disguised as a merchant vessel and underwent a memorable cruise round the globe, attacking and destroying Yankee merchant ships and whalers. Continued below...
Whittle and company kept up their daring sea raids until August of 1865, when they learned that the war had ended five months earlier. The ship returned to
England
, having flown the last Confederate flag at sea in defiance of the U.S. Baldwin and Powers recount their tale in a lively, evocative style and may be forgiven for being overly fond of their hero. Whittle, they say, "was as good a man as history seems able to produce: a warrior of courage inconceivable to most people; a naval officer of surpassing calm and intelligence; a seeker after Christian redemption; a steadfast lover; a student of human nature; a gentle soul; a custodian of virtue."
Recommended Reading: Wolf of the Deep: Raphael Semmes and the Notorious Confederate Raider CSS Alabama (Hardcover). From Publishers Weekly: When you think of Confederate Civil War heroes, the names Lee, Jackson, Stuart and Longstreet, among others, come to mind. Historian Fox (The Mirror Makers, et al.) makes a convincing case that Confederate Navy Capt. Raphael Semmes should be added to that list, at least because of his brilliant seafaring skills. Fox's fact-filled, cleanly written account of Semmes's life focuses on his amazing 22-month stint as captain of the most famous Confederate privateer, the Alabama. Under Semmes's command, the Alabama roamed the world's waterways for nearly two years, seizing or sinking nearly 70 Union merchant schooners, whalers and other commercial ships to counteract the Yankee blockade of Southern ports, until June 1864, when the Alabama was sunk by the U.S.S. Kearsage. Continued below...
Born in 1809 into a slave-owning, tobacco-farming family in southern Maryland, Semmes was orphaned at an early age, grew up in Washington, D.C. and joined the U.S. Navy at 17, remaining a staunch Southern partisan who espoused racist views and strongly believed in slavery. After serving without any particular distinction for 35 years, he made his mark with the Confederate navy. This well-conceived and executed military biography will have extra appeal for those who are familiar with nautical terms.