The Underground Railroad Map and Routes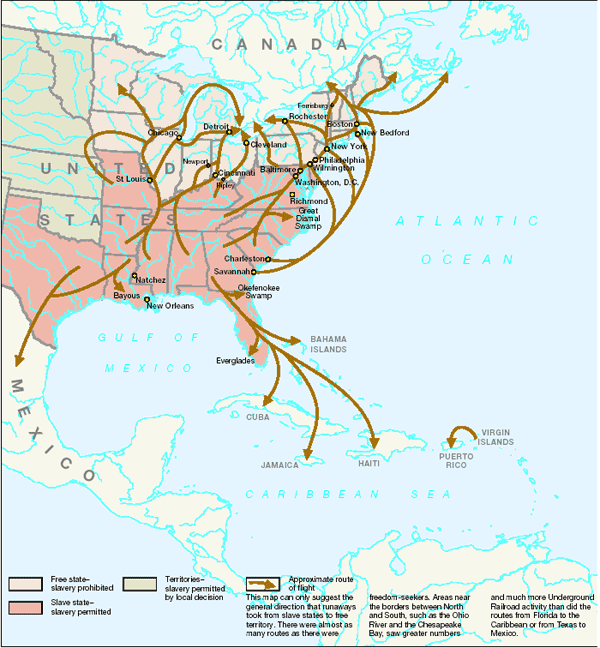 (The Underground Railroad Map and Routes)
Related Reading:
Recommended Reading: Passages to Freedom: The Underground Railroad in History and Memory. Publishers Weekly: Myth and metaphor, the Underground Railroad was also real in the lives of escaping slaves, in the activities (legal and illegal) of black and white people, free and slave, who aided and abetted them and in the structures in which they found refuge. Bountifully illustrated with 78 color and 174 black-and-white photos and other images, this collection also comprises highly, readable essays by 15 distinguished historians. The first section, "Slavery and Abolition," lays a historical foundation with cogent accounts of slavery in the colonial years and in the 19th century and of the antislavery movement. Continued below…
The Fugitive Slave Act of 1850, the Civil War, William Still and Harriet Tubman are all carefully treated. Short-term stay escapes and long-term fugitive communities within slave territory, escape by water, escape into Northern free black communities, escape to South Florida and escape to Western Canada are all freshly covered, as are "current uses of the Underground Railroad in modern thought, tourism, and public history." Eddie S. Glaude Jr. discusses the African-American appropriation of the Exodus story, with the U.S. being Egypt rather than the Promised Land. …A coherently arranged collection with two thought-provoking essays exploring the role of history and memory and probing the current attention to the Underground Railroad that "says much about who we are as well as who we say we want to be."
Recommended Reading: Bound for Canaan: The Epic Story of the Underground Railroad, America's First Civil Rights Movement. From Publishers Weekly: Though the Underground Railroad is one of the touchstones of American collective memory, there's been no comprehensive, accessible history of the secret movement that delivered more than 100,000 runaway slaves to freedom in the Northern states and Canada. Journalist Bordewich (Killing the White Man's Indian) fills this gap with a clear, utterly compelling survey of the Railroad from its earliest days in Revolution-era America through the Civil War and the extension of the vote to African Americans in 1870. Using an impressive array of archival and contemporary sources (letters, autobiographies, tax records and slave narratives, as well as new scholarship), Bordewich reveals the Railroad to be much more complicated--and much more remarkable--than is usually understood. Continued below…
As a progressive movement that integrated people across races and was underwritten by secular political theories but carried out by fervently religious citizens in the midst of a national spiritual awakening, the clandestine network was among the most fascinatingly diverse groups ever to unite behind a common American cause. What makes Bordewich's work transcend the confines of detached social history is his emphasis on the real lives and stories of the Railroad's participants. Religious extremists, left-wing radicals and virulent racists all emerge as fully realized characters, flawed but determined people doing what they believed was right, and every chapter has at least one moment--a detail, a vignette, a description--that will transport readers to the world Bordewich describes. The men and women of this remarkable account will remain with readers for a long time to come.
Recommended Reading: The Underground Railroad: Authentic Narratives and First-Hand Accounts. Description: A "conductor" based in Philadelphia, Still (1821–1902) helped guide fugitive slaves to safety in the years before the Civil War. He also created this unforgettable history, a collection of carefully preserved letters, newspaper articles, and firsthand accounts about refugees' hardships, narrow escapes, and deadly struggles. Over 50 illustrations. "Highly recommended."
Recommended Reading: The Underground Railroad from Slavery to Freedom: A Comprehensive History (Dover African-American Books). Description: This pioneering work was the first documented survey of a system that helped fugitive slaves escape from areas in the antebellum South to regions as far north as Canada. Comprising fifty years of research, the text includes interviews and excerpts from diaries, letters, biographies, memoirs, speeches, and other firsthand accounts.
Recommended Viewing: Africans in America: America's Journey Through Slavery, Starring: Angela Bassett, Jeremy Rabb, Andre Braugher, Eric Foner, and Kemp Harris. Review: "Everything you thought you knew about slavery is about to be challenged." So says WGBH about its six-hour series Africans in America, and they are absolutely right. Interviews with historians and luminaries such as General Colin Powell, dramatic re-creations of important events, and beautiful photography create a vivid and compelling story of over 400 years of tragedy. Continued below...
Ten million Africans died on the journey to
America
alone; they and the countless numbers whose lives were wasted in servitude find a voice in Angela Bassett's outstanding narration. At once scholarly and moving, Africans in
America
should be required viewing for anyone interested in the American condition.
Recommended Reading: Amazing Grace: William Wilberforce and the Heroic Campaign to End Slavery. Description: Amazing Grace tells the story of the remarkable life of the British abolitionist William Wilberforce (1759-1833). This accessible biography chronicles Wilberforce's extraordinary role as a human rights activist, cultural reformer, and member of Parliament. At the center of this heroic life was a passionate twenty-year fight to abolish the British slave trade, a battle Wilberforce won in 1807, as well as efforts to abolish slavery itself in the British colonies, a victory achieved just three days before his death in 1833. Continued below...
Metaxas discovers in this unsung hero a man of whom it can truly be said: he changed the world. Before Wilberforce, few thought slavery was wrong. After Wilberforce, most societies in the world came to see it as a great moral wrong. To mark the 200th anniversary of the abolition of the British slave trade, HarperSanFrancisco and Bristol Bay Productions have joined together to commemorate the life of William Wilberforce with the feature-length film Amazing Grace and this companion biography, which provides a fuller account of the amazing life of this great man than can be captured on film. This account of Wilberforce's life will help many become acquainted with an exceptional man who was a hero to Abraham Lincoln and an inspiration to the anti-slavery movement in America. From the Back Cover: Amazing Grace is the biography of William Wilberforce, a British statesman and reformer from the early part of the 19th century. It chronicles his extraordinary contributions to the world, primarily his 20-year fight to abolish the British slave trade, which he won in 1807. He was also instrumental in passing legislation to abolish slavery in the British colonies, a victory he won just three days before his death in 1833. He was a hero to Abraham Lincoln and an inspiration to the anti-slavery movement in America. America needs to become reacquainted with this moral hero. This biography of one of the foremost abolitionists of Britain's anti-slavery movement is the official tie-in book to the film Amazing Grace by Walden Media. The hardcover edition spent four weeks on the New York Times bestseller list.
Recommended Reading: Abolitionist Politics and the Coming of the Civil War. Description: Before the Civil War, slaveholders made themselves into the most powerful, most deeply rooted, and best organized private interest group within the United States. Not only did slavery represent the national economy's second largest capital investment, exceeded only by investment in real estate, but guarantees of its perpetuation were studded throughout the U.S. Constitution. The vast majority of white Americans, in North and South, accepted the institution, and pro-slavery presidents and congressmen consistently promoted its interests. Continued below…
In Abolitionist Politics and the Coming of the Civil War, James Brewer Stewart explains how a small group of radical activists, the abolitionist movement, played a pivotal role in turning American politics against this formidable system. He examines what influence the movement had in creating the political crises that led to civil war and evaluates the extent to which a small number of zealous reformers made a truly significant political difference when demanding that their nation face up to its most excruciating moral problem. In making these assessments, Stewart addresses a series of more specific questions: What were the abolitionists actually up against when seeking the overthrow of slavery and white supremacy? What motivated and sustained them during their long and difficult struggles? What larger historical contexts (religious, social, economic, cultural, and political) influenced their choices and determined their behavior? What roles did extraordinary leaders play in shaping the movement, and what were the contributions of abolitionism's unheralded foot soldiers? What factors ultimately determined, for better or worse, the abolitionists' impact on American politics and the realization of their equalitarian goals?
This page offers links, books, and material for studying: The Underground Railroad Map, Underground Railroad Routes, Underground Railroad Maps, Underground Railroad Slave Escape Routes, Underground Railroad Details, Underground Railroad History, and Underground Mapped Routes.