Mr. and Mrs. Jacob George:
Parents of Medal of Honor Recipient Charles George
Mr. and Mrs. Jacob George Holding Charles George's 'Congressional Medal of Honor,' October 1, 1954.
Mr. and Mrs. Jacob George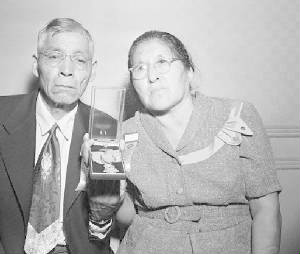 Mr. and Mrs. Jacob George
Charles George is the only Eastern Band of Cherokee Nation member to receive the United States' highest honor - The Medal of Honor.
Mr. and Mrs. Jacob George of the Eastern Band of Cherokee Indian Nation in North Carolina, proudly hold the Medal of Honor that was awarded posthumously to their son Charles George. The Georges are guests of honor of the Division which begins its annual three day reunion at the Hotel New York. The late Charles George, their son, died as a result of throwing himself on a hand grenade and shielding it with his body. His act saved the lives of two comrades. (In addition, the award presentation marks the first time that the deceased G.I.'s parents have traveled outside the Cherokee Nation.)
Source: Department of Veterans Affairs, United States Army
Recommended Reading: The Cherokee Nation: A History. Description: Conley's book, "The Cherokee Nation: A History" is an eminently readable, concise but thoughtful account of the Cherokee people from prehistoric times to the present day. The book is formatted in such a way as to make it an ideal text for high school and college classes. At the end of each chapter is a source list and suggestions for further reading. Also at the end of each chapter is an unusual but helpful feature- a glossary of key terms. The book contains interesting maps, photographs and drawings, along with a list of chiefs for the various factions of the Cherokee tribe and nation. Continued below...
In addition to being easily understood, a principal strength of the book is that the author questions some traditional beliefs and sources about the Cherokee past without appearing to be a revisionist or an individual with an agenda in his writing. One such example is when Conley tells the story of Alexander Cuming, an Englishman who took seven Cherokee men with him to England in 1730. One of the Cherokee, Oukanekah, is recorded as having said to the King of England: "We look upon the Great King George as the Sun, and as our Father, and upon ourselves as his children. For though we are red, and you are white our hands and hearts are joined together..." Conley wonders if Oukanekah actually said those words and points out that the only version we have of this story is the English version. There is nothing to indicate if Oukanekah spoke in English or Cherokee, or if his words were recorded at the time they were spoken or were written down later. Conley also points out that in Cherokee culture, the Sun was considered female, so it is curious that King George would be looked upon as the Sun. The "redness" of Native American skin was a European perception. The Cherokee would have described themselves as brown. But Conley does not overly dwell on these things. He continues to tell the story using the sources available. The skill of Conley in communicating his ideas never diminishes. This book is highly recommended as a good place to start the study of Cherokee history. It serves as excellent reference material and belongs in the library of anyone serious about the study of Native Americans.
Recommended Reading: Trail of Tears (Hardcover). Description: Insightful, rarely told history of Indian courage in the face of White expansionism in the 19th century. Truth-telling tale of the ruthless brutality that forced the Native American population into resettlement camps and reservations, with a look at the few white Americans who fought to help them. This is an amazing book. Continued below...
Tireless research and the author's gift of vision and words produce a magnificently readable narrative of the American Indian Removals. It is very balanced with no point of view overlooked. Include many surprising appearances and plenty of twists which will make you laugh out loud and break your heart. A very human book and an absolute must-read for anyone who wants to learn history through the eyes and ears (and hearts) of those that experienced it. You won't be able to put it down.
Recommended Reading: Nations Remembered: An Oral History of the Five Civilized Tribes, 1865-1907 (Contributions in Ethnic Studies) (Hardcover). Description: This work offers a view of Cherokee, Choctaw, Creek, Chickasaw, and Seminole life rarely glimpsed by the scholar or general public.... An impeccably researched and readable document that will appeal to specialist and generalist alike.
Recommended Reading: Christy (Mass Market Paperback) (576 pages). Description: When Christy Huddleston leaves a life of privilege and ease to teach in the impoverished Smoky Mountains, her faith is severely tested by her pupils, the love of two men, and the curious customs of the mountain people in her community. Yet, she grows to love these people and the simple, fulfilling lifestyle to be found in the heart of God's country. First released in 1967, Christy is based on the life of author Catherine Marshall's mother and was the inspiration for the recent television series of the same name. Beautifully told, this is a charming, timeless tale of love and faith that will appeal to romance readers of all ages.