Frederick Douglass, Abolitionist Frederick Douglass Slave History Biography Picture Photo Autobiography Slave Narrative Slavery Famous Antislavery Civil Rights Equal Movement African American Black Leader Social Reformer
Frederick Douglass
(February 1818 – February 20, 1895)
Slave, American Abolitionist, Editor, Orator, Author, U.S. Statesman and Reformer
Frederick Douglass (c. 1879)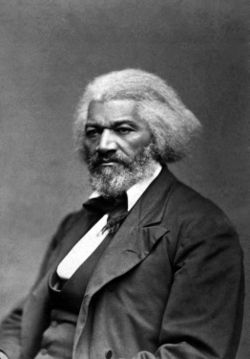 Frederick Douglass (c. 1879)
Frederick Douglass (February 1818 – February 20, 1895) was an American abolitionist, editor, orator, author, statesman and reformer. Referred to as "The Sage of Anacostia" and "The Lion of Anacostia", Douglass is one of the most prominent figures in African American history and a formidable public presence. He was a firm believer in the equality of all people, whether black, female, Native American, or recent immigrant. He was fond of saying, "I would unite with anybody to do right and with nobody to do wrong."
The most famous African American opponent of slavery, Frederick Douglass's career spanned nearly the entire nineteenth century and touched on issues of race and gender that resonated a century beyond his death. He first burst onto the abolitionist scene with his thrilling oration at antislavery meetings. The popularity of his speaking led to the publication of Narrative of the Life of Frederick Douglass, the first of his three autobiographies, in which he told the harrowing tale of his childhood as a slave. He twice toured England and published a series of newspapers to support the antislavery cause, gradually shifting his tactics from the non-political and non-violent methods of the abolitionists centered around William Lloyd Garrison in Boston, Massachusetts, to support of the Republican party of Abraham Lincoln and active recruitment of African American soldiers for the Union Army, including two of his own sons, during the Civil War.
At this point, Frederick Douglass tends to fade from the standard narrative of history. Yet, his career continued and he continued to struggle for African-American equality. He held various positions in the federal government, including assistant secretary to Santo Domingo, president of Freedmen's Bank, and U.S. marshal for the District of Columbia. From 1889 to 1891, Douglass served as the first U.S. minister to Haiti, and received criticism for having too much sympathy for the Haitians. He resigned over American designs to colonize the nation. Throughout this period, he maintained an active speaking schedule. His meeting with Ida B. Wells-Barnett reawakened him to the continued violence and oppression being perpetrated upon black people in the south, and motivated him to join her in her anti-lynching campaign and write his final speech "The Lessons of the Hour."
Douglass had also participated in the movement for women's equality from its beginnings at the Seneca Falls meeting in 1848. The slogan for his second newspaper was "All rights for all," and women's rights advocates numbered among his close friends. Although he had parted ways with many of them over the exclusion of women from the fifteenth amendment, he continued to advocate women's suffrage and equality literally until his dying day. After attending a women's rights rally in Washington, D.C. on February 20, 1895, Douglass returned home to his house in Anacostia where he died.
Source: Institute for American Thought, Indiana University-Purdue University at Indianapolis; Photo courtesy National Archives.
Recommended Reading: The Narrative of the Life of Frederick Douglass, An American Slave (Barnes & Noble Classics Series). Description: No book except perhaps Uncle Tom's Cabin had as powerful an impact on the abolitionist movement as Narrative of the Life of Frederick Douglass. But while Stowe wrote about imaginary characters, Douglass's book is a record of his own remarkable life: An indispensable autobiography! Born a slave in 1818 on a plantation in Maryland, Douglass taught himself to read and write. In 1845, seven years after escaping to the North, he published Narrative, the first of three autobiographies. Continued below...
This book calmly but dramatically recounts the horrors and the accomplishments of his early years—the daily, casual brutality of the white masters; his painful efforts to educate himself; his decision to find freedom or die; and his harrowing but successful escape. An astonishing orator and a skillful writer, Douglass became a newspaper editor, a political activist, and an eloquent spokesperson for the civil rights of African Americans. He lived through the Civil War, the end of slavery, and the beginning of segregation. He was celebrated internationally as the leading black intellectual of his day...and his story still resonates. Narrative of Frederick Douglass, An American Slave, by Frederick Douglass, is part of the Barnes & Noble Classics series, which offers quality editions at affordable prices to the student and the general reader, including new scholarship, thoughtful design, and pages of carefully crafted extras. Here are some of the remarkable features of Barnes & Noble Classics: New introductions commissioned from today's top writers and scholars; Biographies of the authors; Chronologies of contemporary historical, biographical, and cultural events; Footnotes and endnotes; Selective discussions of imitations, parodies, poems, books, plays, paintings, operas, statuary, and films inspired by the work; Comments by other famous authors; Study questions to challenge the reader's viewpoints and expectations; Bibliographies for further reading; Indices & Glossaries, when appropriate. All editions are beautifully designed and are printed to superior specifications; some include illustrations of historical interest. Barnes & Noble Classics pulls together a constellation of influences—biographical, historical, and literary—to enrich each reader's understanding of these enduring works. AWARDED 5 STARS by americancivilwarhistory.org
Related Reading:
Recommended Reading: Frederick Douglass : Autobiographies : Narrative of the Life of Frederick Douglass, an American Slave / My Bondage and My Freedom / Life and Times of Frederick Douglass (Library of America) (Hardcover: 1100 pages). Review From Library Journal: Douglass (1818-95), a former slave, rose to become an abolitionist, writer, and orator. In this collection of his autobiographical writings, edited by Gates (humanities, Harvard Univ.), he gives an extensive overview of his life. The work includes Narrative of the Life of Frederick Douglass, an American Slave (1845); My Bondage and My Freedom (1855); and Life and Times of Frederick Douglass (1881). Continued below...
In Narrative, Douglass comments on his birth, his parentage, his two masters, and the brutality of slavery he witnessed. In Bondage, he reflects on his childhood, life on the plantation, and his runaway plot. Life and Times concludes the trilogy: it covers his early life as a slave, his escape from bondage, and his connection with the antislavery movement. This massive volume containing Douglass's seminal works is highly recommended for black history collections. "[S]tirring portrayal of heroic accomplishments and achievements..."
Recommended Reading: Narrative of the Life of Frederick Douglass: An American Slave, Written by Himself (Enriched Classics) (Mass Market Paperback). Description: Frederick Douglass's powerful autobiographical account of life in bondage and his triumphant escape to freedom. EACH ENRICHED CLASSIC EDITION INCLUDES: A concise introduction that gives readers important background information; A chronology of the author's life and work; A timeline of significant events that provides the book's historical context; An outline of key themes and plot points to help readers form their own interpretations; Detailed explanatory notes; Critical analysis, including contemporary and modern perspectives on the work; Discussion questions to promote lively classroom and book group interaction; A list of recommended related books and films to broaden the reader's experience. Continued below…
Enriched Classics offer readers affordable editions of great works of literature enhanced by helpful notes and insightful commentary. The scholarship provided in Enriched Classics enables readers to appreciate, understand, and enjoy the world's finest books to their full potential.
Recommended Reading: The Life and Times of Frederick Douglass (Dover Value Editions). Description: Raised as a plantation slave, Douglass went on to become a writer, orator, and major participant in the struggle for African-American freedom and equality. In this engrossing narrative he recounts early years of abuse; his dramatic escape to the North and eventual freedom, abolitionist campaigns, and his crusade for full civil rights for former slaves.
Recommended Reading: Douglass: Autobiographies (Library of America College Editions). Description: Frederick Douglass, born a slave, educated himself, escaped, and made himself one of the greatest leaders in American history. His brilliant anti-slavery speeches were so fiercely intelligent, and so startlingly eloquent, that many people didn't believe he had been a slave. To prove them wrong, Douglass decided to write his own story. His autobiographical narratives stunned the world, and have shocked, moved, and inspired readers ever since. Continued below...
Here, complete for the first time in one authoritative volume, are the three powerful and gripping stories, now recognized as classics of American writing. Fascinating firsthand accounts of slavery and abolitionism, John Brown and Abraham Lincoln, Civil War, Reconstruction, and the emerging struggle for civil rights, they are above all the inspiring story of a self-made American: a slave who became adviser to the President, minister to
Haiti
, and the most influential black American of the nineteenth century.
Our Frederick Douglass Homepage includes the following resources: Slave Frederick Douglass, Abolitionist Frederick Douglass Facts, Frederick Douglass Narrative, and a rare photograph.