General Birkett Fry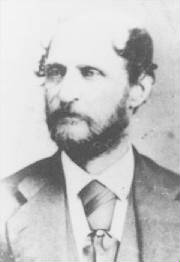 Photo Courtesy National Archives
(June 24, 1822 – January 21, 1891)
Birkett D. Fry, VMI Class of 1843
Biographical Information

Early Life
Birkett Davenport Fry, born June 24, 1822, in Kanawha County, [now] West Virginia; son of Thornton Fry and Eliza Thompson.
VMI record
Entered VMI on July 20, 1840, as a member of the Class of 1843; resigned on June 2, 1841.
Pre-Civil War
Entered West Point in 1842, but left before graduating because of an academic deficiency (math); practiced law; 1st Lieut., United States Army, during

Mexican War

; practiced law in California, 1849-1855; participated in Walker's expedition to Nicaragua; returned to California where he remained until 1859, when he moved to Tallassee, Alabama; managed cotton mill owned by his wife's family.
Marriage
Martha Micou Baker in 1853, the daughter of William and Ann Micou of Augusta, GA.
Civil War
Commissioned Colonel, 13th Alabama Infantry Regiment; wounded in 4 battles: Seven Pines, Antietam, Chancellorsville and Gettysburg; appointed Brigadier General in May 1864 and commanded Walker's and Archer's brigades at Cold Harbor; commanded the military district in Augusta, GA, until end of war.
Post-war
Returned to cotton manufacturing business in Alabama and Richmond, Virginia; died January 21, 1891, Richmond, VA.
With Alabama's secession, Birkett D. Fry enlisted in the Confederate army and was appointed Colonel of the 13th Alabama Infantry. The regiment was transported to Virginia and fought in the Peninsula Campaign. Colonel Fry was wounded in action at the Battle of Seven Pines. He recovered in time to command his regiment in the savage fighting at Antietam, where he was again wounded, suffering a shattered arm. See also Alabama Civil War History.
Fry rejoined his regiment and led it during the 1863 Battle of Chancellorsville, where he suffered a third wound. During the subsequent Gettysburg Campaign, Fry's regiment was among the first Confederate units to deploy into a line of battle and engage the Union cavalry of John Buford on July 1, 1863. His men suffered considerable casualties and were repulsed at McPherson's Ridge by the arrival of the Federal Iron Brigade. With the capture of Brig. Gen. James J. Archer, Fry assumed command of Archer's Brigade of Tennesseans and Alabamans. Held in reserve on July 2, Fry's brigade was a key part of the July 3 attack that became famous as Pickett's Charge. He suffered yet another wound, and fell near the Union lines. Held as a prisoner of war at Fort McHenry in Baltimore, Fry was treated in a local field hospital.
There, rumors circulated that Fry had been involved in the August 1862 murder of Union General Robert L. McCook in Alabama. Fry's West Point classmate, John Gibbon, who ironically commanded the troops that had shot Fry at Gettysburg, vouched for his character and the rumor was silenced.
Exchanged in 1864, Fry rejoined the Army of Northern Virginia in time for the beginning of the Siege of Petersburg. During Philip H. Sheridan's raid on Richmond in early May, Fry was assigned command of Seth Barton's Virginia brigade, leading it during the Battle of Meadow Bridge. He was promoted to brigadier general on May 24, 1864. During the final months of the war, Fry was placed in command of a military district in South Carolina and Georgia.
After surrendering in Augusta, Fry emigrated to Cuba, lodging in Havana hotels with several former prominent Confederates, including Jubal A. Early, John C. Breckinridge, Robert A. Toombs, and John B. Magruder. He returned to the United States in 1868 and resided in Tallassee, Alabama,* as a businessman. Fry later expanded his business career in Florida, and, in 1881, moved to Richmond, Virginia, where he was president of a cotton mill for a decade. Fry died in Richmond and was buried in Oakwood Cemetery in Montgomery, Alabama.
*Fry resided at No. 1, King Street, in a house built for Confederate Officers in charge of the Tallassee Armory. His home has been renovated and is currently occupied as a law office.
(Sources listed at bottom of page.)
Recommended Reading: Generals in Gray: Lives of the Confederate Commanders. Description: When Generals in Gray was published in 1959, scholars and critics immediately hailed it as one of the few indispensable books on the American Civil War. Historian Stanley Horn, for example, wrote, "It is difficult for a reviewer to restrain his enthusiasm in recommending a monumental book of this high quality and value." Continued below.
Here at last is the paperback edition of Ezra J. Warner's magnum opus with its concise, detailed biographical sketches and—in an amazing feat of research—photographs of all 425 Confederate generals.
The only exhaustive guide to the South's command, Generals in Gray belongs on the shelf of anyone interested in the Civil War. RATED 5 STARS!
Recommended Reading: General Lee's Army: From Victory to Collapse (624 pages). Editorial Review (Publishers Weekly): You cannot say that University of North Carolina professor Glatthaar (Partners in Command) did not do his homework in this massive examination of the Civil War–era lives of the men in Robert E. Lee's Army of Northern Virginia. Glatthaar spent nearly 20 years examining and ordering primary source material to ferret out why Lee's men fought, how they lived during the war, how they came close to winning, and why they lost. Continued below...
Glatthaar marshals convincing evidence to challenge the often-expressed notion that the war in the South was a rich man's war and a poor man's fight and that support for slavery was concentrated among the Southern upper class. Lee's army included the rich, poor and middle-class, according to the author, who contends that there was broad support for the war in all economic strata of Confederate society. He also challenges the myth that because Union forces outnumbered and materially outmatched the Confederates, the rebel cause was lost, and articulates Lee and his army's acumen and achievements in the face of this overwhelming opposition. This well-written work provides much food for thought for all Civil War buffs.
Recommended Reading: Battles and Leaders of the Civil War, Volume 6 (Battles & Leaders of the Civil War) (632 pages) (University of Illinois Press) (May 30, 2007). Description: Sifting carefully through reports from newspapers, magazines, personal memoirs, and letters, Peter Cozzens' Volume 6 brings readers more of the best first-person accounts of marches, encampments, skirmishes, and full-blown battles, as seen by participants on both sides of the conflict. Continued below...
Alongside the experiences of lower-ranking officers and enlisted men are accounts from key personalities including General John Gibbon, General John C. Lee, and seven prominent generals from both sides offering views on "why the Confederacy failed." This volume includes one hundred and twenty illustrations, including sixteen previously uncollected maps of battlefields, troop movements, and fortifications.
Recommended Reading: Brigades of Gettysburg: The Union and Confederate Brigades at the Battle of Gettysburg (Hardcover) (704 Pages). Description: While the battle of Gettysburg is certainly the most-studied battle in American history, a comprehensive treatment of the part played by each unit has been ignored. Brigades of Gettysburg fills this void by presenting a complete account of every brigade unit at Gettysburg and providing a fresh perspective of the battle. Continued below.
Using the words of enlisted men and officers, the author-well-known Civil War historian Bradley Gottfried-weaves a fascinating narrative of the role played by

every brigade at the famous three-day battle, as well as a detailed description of each brigade unit. Organized by order of battle, each brigade is covered in complete and exhaustive detail: where it fought, who commanded, what constituted the unit, and how it performed in battle.
Innovative in its approach and comprehensive in its coverage, Brigades of Gettysburg is certain to be a classic and indispensable reference for the battle of Gettysburg for years to come.
Recommended Reading: Civil War High Commands (1040 pages) (Hardcover). Description: Based on nearly five decades of research, this magisterial work is a biographical register and analysis of the people who most directly influenced the course of the Civil War, its high commanders. Numbering 3,396, they include the presidents and their cabinet members, state governors, general officers of the Union and Confederate armies (regular, provisional, volunteers, and militia), and admirals and commodores of the two navies. Civil War High Commands will become a cornerstone reference work on these personalities and the meaning of their commands, and on the Civil War itself. Continued below...
Errors of fact and interpretation concerning the high commanders are legion in the Civil War literature, in reference works as well as in narrative accounts. The present work brings together for the first time in one volume the most reliable facts available, drawn from more than 1,000 sources and including the most recent research. The biographical entries include complete names, birthplaces, important relatives, education, vocations, publications, military grades, wartime assignments, wounds, captures, exchanges, paroles, honors, and place of death and interment.
In addition to its main component, the biographies, the volume also includes a number of essays, tables, and synopses designed to clarify previously obscure matters such as the definition of grades and ranks; the difference between commissions in regular, provisional, volunteer, and militia services; the chronology of military laws and executive decisions before, during, and after the war; and the geographical breakdown of command structures. The book is illustrated with 84 new diagrams of all the insignias used throughout the war and with 129 portraits of the most important high commanders. It is the most comprehensive volume to date...name any Union or Confederate general--and it can be found in here. [T]he photos alone are worth the purchase. RATED FIVE STARS by americancivilwarhistory.org
Sources: Virginia Military Institute; Hess, Earl J., Pickett's Charge: The Last Attack at Gettysburg, Chapel Hill: University of North Carolina Press, 2001; Pérez, Louis A., Jr., Cuba and the United States: Ties of Singular Intimacy, Athens: University of Georgia Press, 2003; Warner, Ezra J., Generals in Gray: Lives of the Confederate Commanders, Baton Rouge: Louisiana State University Press, 1959; Golden, Virginia Noble, A History of Tallassee, Tallassee Mills of Mount Vernon-Woodberry Mills, 1949.