General John Echols
General John Echols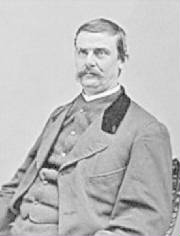 (National Archives)
John Echols
(March 20, 1823 – May 24, 1896)
John Echols, VMI Class of 1843
Biographical Information
Early Life
John Echols, born March 20, 1823, Lynchburg, Virginia; son of Joseph Echols and Eliza Frances Lambeth.
VMI record
attended VMI from August 15, 1840 until August 14, 1841, when he resigned; Honorary graduate, VMI Class of 1843.
Pre-Civil War
graduate Washington College (now Washington and Lee University); studied law at Harvard; practiced law briefly in Shenandoah Valley, then moved to Union, Monroe County [West] Virginia where he was a county prosecutor; in 1860, helped to organize and was leader of the Monroe Guards, a local militia unit. This unit subsequently became part of the 27th Virginia Infantry (Co. D).
Marriage
1st- Mary Jane Caperton
2nd- Mrs. Mary C. Reid
Civil War
Commanded 27th Virginia Infantry Regiment; severely wounded at Kernstown; promoted April 1862 to Brigadier General; brigade commander in Division of General John C. Breckinridge; at Battle of New Market (May 15, 1864) commanded infantry brigade
Post-War
Returned to law practice in Staunton; was President of National Valley Bank, and of Chesapeake, Ohio and Southwestern Railroad Company; died in Staunton, Virginia on May 24, 1896; buried Thornrose Cemetery in Staunton.
Brigadier General John Echols was born March 20, 1823, at Lynchburg, Va., and was educated at the Virginia Military Institute, Washington College and Harvard College. He enjoyed a successful law practice in Staunton, Virginia. Echols was a tall man, standing 6 feet 4 inches, and was an outstanding leader. He displayed a prominent role in the Virginia convention of 1861, and volunteered to serve in the army. He was promptly commissioned lieutenant colonel and ordered by General Lee to recruit the volunteer forces in the vicinity of Staunton, Virginia, for Johnston's army. He was assigned to the Twenty-seventh Virginia Infantry Regiment and commanded the unit at the Battle of First Manassas (aka First Bull Run). The unit was one of the five regiments attached to a brigade commanded by Gen. Thomas Jonathan Jackson. It was at the Battle of First Manassas that the brigade displayed valor in combat and earned the distinctive title of the "Stonewall Brigade." He was afterwards promoted colonel and served with "Stonewall" Jackson in the Shenandoah Valley through the winter and spring of 1861-62. In "Stonewall" Jackson's report of the Battle of Kernstown, he stated that "Col. John Echols with his regiment, with skirmishers thrown forward, kept in advance and opened the infantry engagement, in which it was supported by the Twenty-first. Well did these two regiments do their duty, driving back the enemy twice in quick succession. Soon a severe wound compelled the noble leader of the Twenty-seventh to leave the field." This wound was received on March 23, 1862, and temporarily disabled Echols. His gallantry was recognized and he was promoted to brigadier general in April 1862. Within a few months, he was assigned to command a brigade in the Army of Western Virginia, where he served with distinction. As a brigade commander, he participated in Gen. Loring's occupation of the Kanawha Valley in September 1862. After Loring had withdrawn to the mountains, Echols was assigned to the command of the army of the Department of Western Virginia. He promptly reoccupied Charleston, but was again compelled to retire before superior forces. He resigned his command in the spring of 1863, and during the following summer served at Richmond's court of inquiry to investigate Vicksburg's defeat. He commanded the Confederate forces in the Battle of Droop Mountain, West Virginia; a hard-fought contest, in which his command, though forced to retire, gave an effectual check to the Federal army. In May 1864, he commanded Breckinridge's right wing at the successful Battle of New Market, in the Shenandoah Valley. He transferred with his brigade to Lee's army on the Cold Harbor line, where he again served with distinction. On August 22, 1864, he was honored as commander of the District of Southwestern Virginia, and on March 29, 1865, was ordered to the command of the Western Department of Virginia, relieving General Breckinridge. On April 2, he began a march to unite with Lee and reached Christiansburg on April 10, where he received a telegram announcing Lee's surrender at Appomattox. It was a terrible blow to his reduced army of between 6,000 and 7,000 men, and caused indescribable consternation. At a council of war it was determined that his command would unite with Johnston's army; Echol's army advanced on April 11. Subsequently, he accompanied President Davis to Augusta, Ga. After the Civil War, he resumed his law practice at Staunton and was a member of the Virginia state legislature. He was a key member on the Committee of Nine, a group of state leaders that worked towards Virginia's readmittance into the Union. He was a member of Stonewall Jackson Camp of Confederate veterans, at Staunton; Echols remained faithful to the soldiers of the Confederacy. He continued to be very successful in law and business, and displayed great executive ability. He became president of the Staunton National Valley bank and receiver and general manager of the Chesapeake, Ohio & Southwestern Railroad. The duties of the latter position required Echols to reside in Kentucky. He was twice married, first to a sister of Senator Allen T. Caperton, of West Virginia, and after her death he married Mrs. Mary Cochrane Reid, of New York. He resided in Kentucky for ten years and died at the residence of his son, State Senator Edward Echols, at Staunton, on May 24, 1896.
(Sources listed at bottom of page.)
Recommended Reading: A Brotherhood Of Valor: The Common Soldiers Of The Stonewall Brigade C.S.A. And The Iron Brigade U.S.A. Description: Confederate General Thomas J. Jackson was arguably the greatest commander of the Civil War. Yet, "Stonewall" Jackson owed much of his success to the troops who served under his command. He eagerly gave them their due: "You cannot praise these men of my brigade too much; they have fought, marched, and endured more than I even thought they would." The Stonewall Brigade, composed mainly of Virginians from the Shenandoah Valley, proved its mettle at First Manassas and never let up--even after its esteemed leader was shot down at Chancellorsville. Their equally elite counterparts in the Army of the Potomac were known as the Iron Brigade, hardy westerners drawn from Wisconsin, Indiana, and Michigan. By focusing on these two groups, historian Jeffry Wert retells the story of the Civil War's eastern theater as it was experienced by these ordinary men from North and South. Continued below.
His battle descriptions are riveting, especially when he covers Antietam:
Three times the Georgians charged towards the guns, and three times they were repelled. Union infantry west of the battery ripped apart the attacker's flank, and the artillerists unleashed more canister.... Finally, the Georgians could withstand the punishment no longer, and as more Union infantry piled into the Cornfield, Hood's wrecked division retreated towards West Woods and Dunker Church. When asked later where his command was, Hood replied, "Dead on the field."
But the book is perhaps most notable for the way in which it describes the everyday hardships befalling each side. They often lacked food, shoes, blankets, and other military necessities. When the war began, the men believed deeply in their conflicting causes. Before it was over, writes Wert, "the war itself became their common enemy." Wert is slowly but surely gaining a reputation as one of the finest popular historians writing about the Civil War; A Brotherhood of Valor will undoubtedly advance his claim.
Recommended Reading: The Stonewall Brigade, by James I. Robertson (Author) (304 pages) (Louisiana State University Press). Description: Commanded by Thomas J. Jackson and comprised of the 2nd, 4th, 5th, 27th and 33rd Virginia Infantry Regiments, plus the Rockbridge Artillery Battery, the unit was officially Virginia's First Brigade. This changed forever at the Battle of First Manassas when in the face of a seemingly overwhelming Federal attack, General Bee, an adjacent Confederate brigade commander, reportedly said, "Yonder stands Jackson like a stone wall; let's go to his assistance. Rally behind the Virginians!" Continued below.
This book describes the Stonewall Brigade in combat from first mustering to bitter end, when only 210 ragged and footsore soldiers remained of the 6,000 that served through the war. A nice edition for the buff!
Recommended Reading: Four Years in the Stonewall Brigade (American Civil War Classics) (412 pages) (University of South Carolina Press). Description: From his looting of farmhouses during the Gettysburg campaign and robbing of fallen Union soldiers as opportunity allowed to his five arrests for infractions of military discipline and numerous unapproved leaves, John O. Casler's actions during the Civil War made him as much a rogue as a Rebel. Though he was no model soldier, his forthright confessions of his service years in the Army of Northern Virginia stand among the most sought after and cited accounts by a Confederate soldier. First published in 1893 and significantly revised and expanded in 1906, Casler's Four Years in the Stonewall Brigade recounts the truths of camp life, marches, and combat. Continued below.
Moreover, Casler's recollections provide an unapologetic view of the effects of the harsh life in Stonewall's ranks on an average foot soldier and his fellows. A native of
Gainesboro
,
Virginia
, with an inherent wanderlust and thirst for adventure, Casler enlisted in June 1861 in what became Company A, 33rd Virginia Infantry, and participated in major campaigns throughout the conflict, including Chancellorsville and
Gettysburg
. Captured in February 1865, he spent the final months of the war as a prisoner at
Fort McHenry, Maryland
. His postwar narrative recalls the realities of warfare for the private soldier, the moral ambiguities of thievery and survival at the front, and the deliberate cruelties of capture and imprisonment with the vivid detail, straightforward candor, and irreverent flair for storytelling that have earned Four Years in the Stonewall Brigade its place in the first rank of primary literature of the Confederacy. This edition features a new introduction by Robert K. Krick chronicling Casler's origins and his careers after the war as a writer and organizer of Confederate veterans groups.
Recommended Reading: Lee's Lieutenants: A Study in Command (912 pages). Description: Hailed as one of the greatest Civil War books, this exhaustive study is an abridgement of the original three-volume version. It is a history of the Army of Northern Virginia from the first shot fired to the surrender at Appomattox - but what makes this book unique is that it incorporates a series of biographies of more than 150 Confederate officers. The book discusses in depth all the tradeoffs that were being made politically and militarily by the South. Continued below.
The book does an excellent job describing the battles, then at a critical decision point in the battle, the book focuses on an officer - the book stops and tells the biography of that person, and then goes back to the battle and tells what information the officer had at that point and the decision he made. At the end of the battle, the officers decisions are critiqued based on what he "could have known and what he should have known" given his experience, and that is compared with 20/20 hindsight. "It is an incredibly well written book!"
Recommended Reading: Generals in Gray: Lives of the Confederate Commanders. Description: When Generals in Gray was published in 1959, scholars and critics immediately hailed it as one of the few indispensable books on the American Civil War. Historian Stanley Horn, for example, wrote, "It is difficult for a reviewer to restrain his enthusiasm in recommending a monumental book of this high quality and value." Here at last is the paperback edition of Ezra J. Warner's magnum opus with its concise, detailed biographical sketches and—in an amazing feat of research—photographs of all 425 Confederate generals. Continued below.
The only exhaustive guide to the South's command, Generals in Gray belongs on the shelf of anyone interested in the Civil War. RATED 5 STARS!
Sources: Evans, Clement A., Confederate Military History, 1899; Warner, Ezra J., Generals in Gray: Lives of the Confederate Commanders, Baton Rouge: Louisiana State University Press, 1959; Virginia Military Institute (VMI).