Thomas' Legion
American Civil War HOMEPAGE
American Civil War
Causes of the Civil War : What Caused the Civil War
Organization of Union and Confederate Armies: Infantry, Cavalry, Artillery
Civil War Navy: Union Navy and Confederate Navy
American Civil War: The Soldier's Life
Civil War Turning Points
American Civil War: Casualties, Battles and Battlefields
Civil War Casualties, Fatalities & Statistics
Civil War Generals
American Civil War Desertion and Deserters: Union and Confederate
Civil War Prisoner of War: Union and Confederate Prison History
Civil War Reconstruction Era and Aftermath
American Civil War Genealogy and Research
Civil War
American Civil War Pictures - Photographs
African Americans and American Civil War History
American Civil War Store
American Civil War Polls
NORTH CAROLINA HISTORY
North Carolina Civil War History
North Carolina American Civil War Statistics, Battles, History
North Carolina Civil War History and Battles
North Carolina Civil War Regiments and Battles
North Carolina Coast: American Civil War
HISTORY OF WESTERN NORTH CAROLINA
Western North Carolina and the American Civil War
Western North Carolina: Civil War Troops, Regiments, Units
North Carolina: American Civil War Photos
Cherokee Chief William Holland Thomas
HISTORY OF THE CHEROKEE INDIANS
Cherokee Indian Heritage, History, Culture, Customs, Ceremonies, and Religion
Cherokee Indians: American Civil War
History of the Eastern Band of Cherokee Indian Nation
Cherokee War Rituals, Culture, Festivals, Government, and Beliefs
Researching your Cherokee Heritage
Civil War Diary, Memoirs, Letters, and Newspapers

Raleigh E. Colston, VMI Class of 1846
General Raleigh E. Colston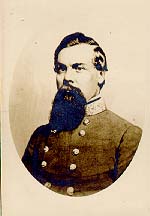 (Courtesy VMI)
Biographical Information
Early Life
Raleigh Edward Colston, b. Paris, France on October 31, 1825. Adopted son of Dr. Raleigh Edward Colston (1796-1881) and his wife Maria Theresa, Duchess of Valmey (ca. 1775-1845). The young Colston was sent to the United States in 1842, in care of his uncle Edward Colston of Berkeley Co. [West] Virginia, to complete his education.
VMI record
Entered VMI on July 8, 1843; was graduated on July 4, 1846, standing 4th in a class of 14.
Marriage
Louise Meriwether Bowyer of "Thorn Hill," Rockbridge Co., Virginia. Two daughters: Mary Frances and Louise Elizabeth.
Pre-Civil War
Professor of French at VMI from 1846 until outbreak of war. In November 1859, he accompanied a contingent of VMI cadets assigned to guard duty at the execution of

abolitionist

John Brown.
Civil War
Commissioned Col. 16th Virginia Infantry Regiment; appointed Brigadier General in December 1861and led brigade under Longstreet in the Peninsula; given brigade under Jackson in April 1863 and commanded a division at Chancellorsville; served under Beauregard in defense of Petersburg in 1864; in command at Lynchburg at end of war.
Post-war
Established military school in North Carolina; Colonel Egyptian army, 1873-1879; War Dept. clerk, 1882-1894; died July 29, 1896, at Soldiers' Home, Richmond, VA; buried Hollywood Cemetery, Richmond.
Raleigh E. Colston's Obituary as it appeared in the July 30, 1896, New York Times:
Gen. Raleigh Colston died at Lee Camp Soldiers' Home, Richmond. Va., aged 71 years, yesterday. He was a professor at the Virginia Military Institute at the breaking out of the war, entered the Confederate service, and was in command of the Department of Lynchburg when the war ended. For some years after the war, he was in the service of the Khedive of Egypt, and made an expedition into the Soudan afterward. Until incapacitated for work, he held a department position in Washington.
Credits: Virginia Military Institute; New York Times
Recommended Reading: Lee's Lieutenants: A Study in Command (912 pages). Description: Hailed as one of the greatest Civil War books, this exhaustive study is an abridgement of the original three-volume version. It is a history of the Army of Northern Virginia from the first shot fired to the surrender at Appomattox - but what makes this book unique is that it incorporates a series of biographies of more than 150 Confederate officers. The book discusses in depth all the tradeoffs that were being made politically and militarily by the South. Continued below.
The book does an excellent job describing the battles, then at a critical decision point in the battle, the book focuses on an officer - the book stops and tells the biography of that person, and then goes back to the battle and tells what information the officer had at that point and the decision he made. At the end of the battle, the officers decisions are critiqued based on what he "could have known and what he should have known" given his experience, and that is compared with 20/20 hindsight. "It is an incredibly well written book!"
Advance to:
Recommended Reading: Generals in Gray Lives of the Confederate Commanders. Description: When Generals in Gray was published in 1959, scholars and critics immediately hailed it as one of the few indispensable books on the American Civil War. Historian Stanley Horn, for example, wrote, "It is difficult for a reviewer to restrain his enthusiasm in recommending a monumental book of this high quality and value." Here at last is the paperback edition of Ezra J. Warner's magnum opus with its concise, detailed biographical sketches and—in an amazing feat of research—photographs of all 425 Confederate generals. Continued below.
The only exhaustive guide to the South's command, Generals in Gray belongs on the shelf of anyone interested in the Civil War. RATED 5 STARS!
Recommended Reading: Battles and Leaders of the Civil War, Volume 6 (Battles & Leaders of the Civil War) (632 pages) (University of Illinois Press). Description: Sifting carefully through reports from newspapers, magazines, personal memoirs, and letters, Peter Cozzens' Volume 6 brings readers more of the best first-person accounts of marches, encampments, skirmishes, and full-blown battles, as seen by participants on both sides of the conflict. Continued below.
Alongside the experiences of lower-ranking officers and enlisted men are accounts from key personalities including General John Gibbon, General John C. Lee, and seven prominent generals from both sides offering views on "why the Confederacy failed." This volume includes one hundred and twenty illustrations, including sixteen previously uncollected maps of battlefields, troop movements, and fortifications.
Recommended Reading: Confederates in the Attic: Dispatches from the Unfinished Civil War. Description: Pulitzer Prize-winning journalist Tony Horwitz returned from years of traipsing through war zones as a foreign correspondent only to find that his childhood obsession with the Civil War had caught up with him. Near his house in Virginia, he happened to encounter people who reenact the Civil War--men who dress up in period costumes and live as Johnny Rebs and Billy Yanks. Intrigued, he wound up having some odd adventures with the "hardcores," the fellows who try to immerse themselves in the war, hoping to get what they lovingly term a "period rush." Horwitz spent two years reporting on why Americans are still so obsessed with the war, and the ways in which it resonates today. Continued below.
In the course of his work, he made a sobering side trip to cover a "murder that was provoked by the display of the Confederate flag," and he spoke to a number of people seeking to honor their ancestors who fought for the Confederacy. Horwitz has a flair for odd details that spark insights, and Confederates in the Attic is a thoughtful and entertaining book that does much to explain America's continuing obsession with the Civil War.
Recommended Reading: The Life of Johnny Reb: The Common Soldier of the Confederacy (444 pages) (Louisiana State University Press) (Updated edition: November 2007) Description: The Life of Johnny Reb does not merely describe the battles and skirmishes fought by the Confederate foot soldier. Rather, it provides an intimate history of a soldier's daily life--the songs he sang, the foods he ate, the hopes and fears he experienced, the reasons he fought. Wiley examined countless letters, diaries, newspaper accounts, and official records to construct this frequently poignant, sometimes humorous account of the life of Johnny Reb. In a new foreword for this updated edition, Civil War expert James I. Robertson, Jr., explores the exemplary career of Bell Irvin Wiley, who championed the common folk, whom he saw as ensnared in the great conflict of the 1860s. Continued below.
About Johnny Reb:
"A Civil War classic."--Florida Historical Quarterly
"This book deserves to be on the shelf of every Civil War modeler and enthusiast."--Model Retailer
"[Wiley] has painted with skill a picture of the life of the Confederate private. . . . It is a picture that is not only by far the most complete we have ever had but perhaps the best of its kind we ever shall have."--Saturday Review of Literature