General Winfield Scott Biography
Biographical Sketch
General Winfield Scott had a long military career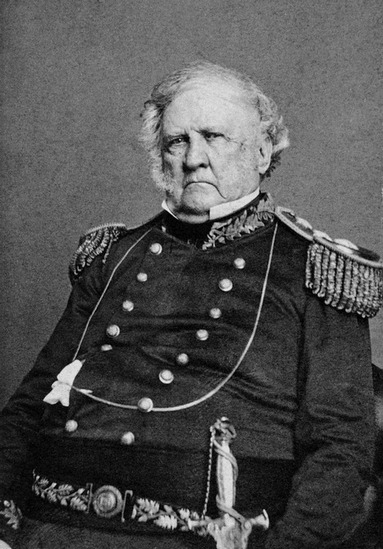 General Winfield Scott in 1862. LOC. Scott wrote a popular autobiography.
General Winfield Scott Army Military Service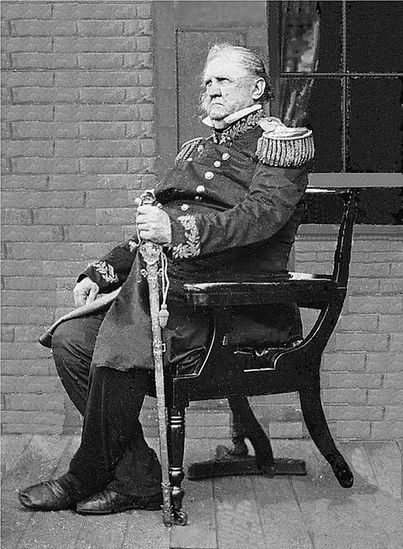 General Winfield Scott in 1861. Career Soldier. LOC.
(Left) 1861 photo of Lieut. Gen. Winfield Scott taken from glass negative. Photo needed extensive modification due to spotty and scratched condition. (Right) This picture of Lieut. Gen. Winfield Scott was made at West Point, N.Y., June 10, 1862. Many subscribe that because of its correctness of portraiture, finish and detail, it is pre-eminently the best portrait of the Great American Military Chieftain.
Facts
Significance: Military leader
Place of Birth: Petersburg, Virginia
Date of Birth: June 13, 1786
Place of Death: West Point, New York
Date of Death: May 29, 1866
General Winfield Scott was among the most celebrated American soldiers of his day. Born in Virginia in 1786, he received appointment as a captain of light artillery in 1808 with assignment to New Orleans. In the War of 1812, officers assigned Scott to the Niagara Frontier, where he distinguished himself in combat on numerous occasions. By the end of the war he had risen to brevet Major General and had received a Congressional gold medal and a reputation for discipline, earning him the nickname "Old Fuss and Feathers."
General Winfield Scott served 53 years in the army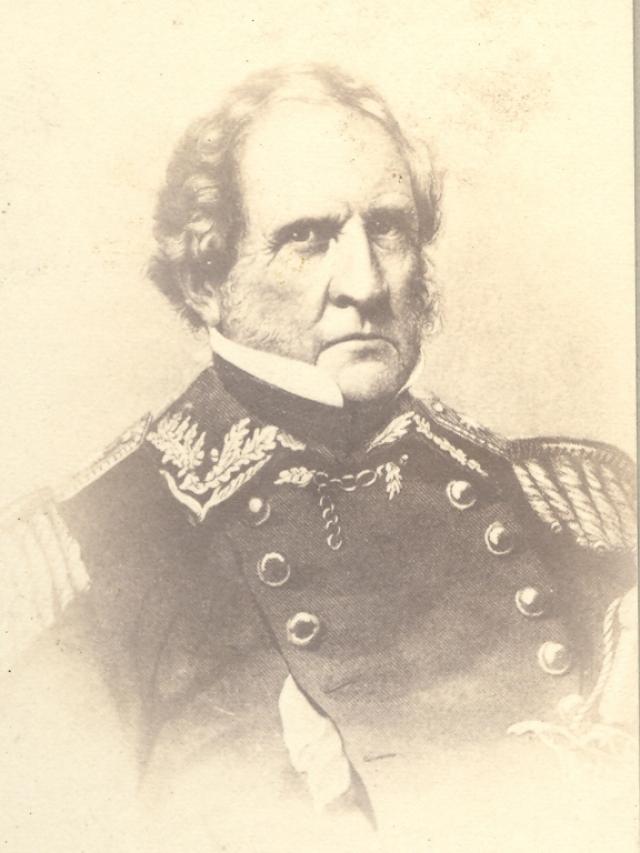 General Winfield Scott. US Army.
(About) Winfield Scott was commissioned in the U.S. Army as a Captain of the Light Artillery in May 1808. He served for over fifty-three years, rising to the rank of Major General, serving as the commanding general of the Army from July 1841, till retiring in November 1861. After Scott's resounding victory over Santa Anna, in 1847, in the Mexican-American War, he bestowed the 3rd Infantry's nickname of "The Old Guard" upon the regiment following its gallant service during the war. (Massachusetts MOLLUS Photograph Collection.)
Military Career
With 53 years as a career army officer, Winfield Scott, according to fellow Americans, was synonymous with victory in war and in battle, but Scott's battlefield successes did not translate into political success. Two of his subordinates, Zachary Taylor and Franklin Pierce, rode their Mexican War reputations into the White House. Even so, Secretary of War Jefferson Davis, also a war hero, promoted Scott to brevet Lieutenant General in 1857.
Scott's last great service to his country came in 1861 when he became the architect of Union war planning. Scott authored the "Anaconda Plan", by which the North would strangle the South with a blockade and capture of the Mississippi River. He resigned from his post in late 1862 and retired to West Point, where he died in 1866.
History
General Winfield Scott was born on June 13, 1786, near Petersburg, Virginia. He served and fought against the British in the War of 1812; Scott was captured during the Battle of Queenston Heights in 1812, but was released in a prisoner exchange; in July 1814, Scott commanded the First Brigade of the American army in the Niagara campaign, decisively winning the Battle of Chippewa. He was wounded during the bloody Battle of Lundy's Lane; Scott earned the reputation of a peacemaker by helping to ease the Nullification Crisis in 1832 and settling border disputes with Canada; he engaged in the Black Hawk War and the Second Seminole War; in 1838 Scott supervised the removal of the Cherokee, during the Trail of Tears, from Georgia and other southern states to reservations west of the Mississippi River; he authored the army's drill manual; President John Tyler elevated him to commander of all U.S. forces in 1841 (aka commanding general and general-in-chief); Scott, an outspoken Whig, opposed President James K. Polk's policies toward Mexico, a move that cost him the primary field command in the ensuing Mexican American War of 1846-1848; when General Zachary Taylor's campaign bogged down at Monterrey, Scott proposed a bold plan to land an army at Vera Cruz and to march overland to capture Mexico City. Polk grudgingly agreed, and Scott's campaign succeeded brilliantly and won the Mexican American War; at the advanced age of 75, Scott, as general-in-chief of the United States Army, was the architect of Union war planning in 1861; Scott authored the "Anaconda Plan" in 1861, by which the North would strangle the South with a blockade and capture the Mississippi River; he resigned from his post in late 1862; upon Scott's retirement, George B. McClellan assumed command as general-in-chief of the United States Army; Winfield Scott retired to West Point, New York, and died there on May 29, 1866.
General Winfield Scott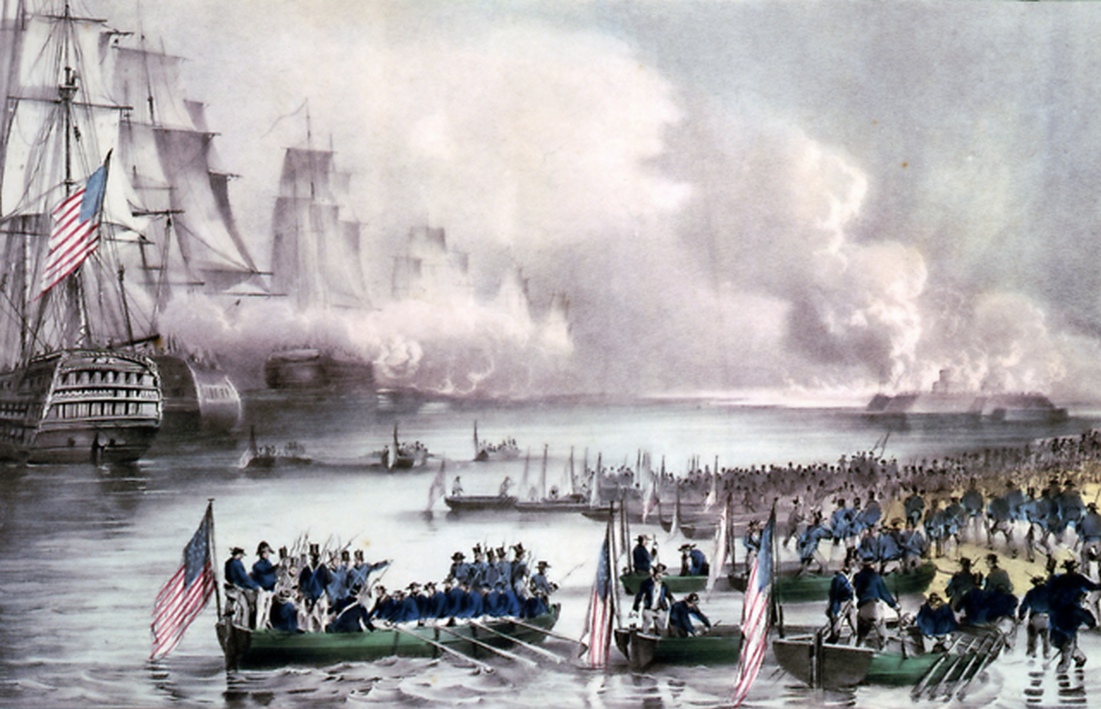 General Winfield Scott and Mexican-American War. Digitally enhanced.
Winfield Scott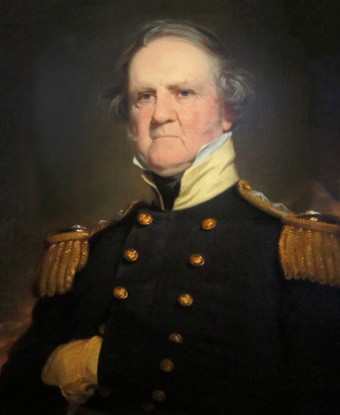 Portrait of General Winfield Scott in 1855.
Biography
Lieutenant General Winfield Scott, the "Grand Old Man of the Army," has the distinction of serving as a general longer than any other man in American history. He is remembered as a brilliant tactician, responsible for the "Anaconda Plan" that allowed the Union forces to reclaim the South during the Civil War, and the author of the Rules and Regulations for the Field Exercise and Maneuvers of Infantry, the primary tactical guidebook in use from 1815 through the Civil War. He is also remembered as a flamboyant man and quick to argue, prompting the less savory nickname: "Old Fuss and Feathers."
Scott started his military career in 1807, taking a break from studying law to enlist in the Virginia militia as a cavalry corporal in response to the Chesapeake-Leopard affair. Scott's short temper and propensity for harsh criticism landed him a suspension not long after enlisting, however this allowed him to continue his legal studies. The next year, Scott's long army career began with his commission as a captain, although his short temper and its consequences were not behind him. In 1810, Scott's open criticism of Brigadier General James Wilkinson prompted Scott to be court martialed and suspended for a year.
(Right) Portrait of General Winfield Scott painted by Robert Walter Weir in 1855. NPS.
When war broke out in 1812, Scott was presented with his first opportunity to display his talents. He was promoted to lieutenant colonel and sent to the Canadian front. He planned and executed the successful attack on Fort George and was placed in command there, restoring the pitiful defenses by super-human efforts. Ignominious defeats on the Niagara had taught him the need for exacting military training, a lesson he put to great use at Buffalo where he developed the best units of that war. In July, his brigade drove the enemy in a running fight for 16 miles to Chippewa and bore the brunt of battle at Lundy's Lane, one of the most stubborn and bravely fought contests of the war. His part in the war brought him great honor and he was brevetted a major-general.
Although quick-tempered, he was also known to be a fair man and a pacifier. He was made general-in-chief of the army in 1841, emphasizing professional schooling and encouraging his officers to associate with those of culture and sophistication, stressing that the military must come to represent the best that society has to offer. As Governor of occupied Mexico his rule was so remarkably humane, a delegation of Mexicans offered him the dictatorship. During the occupation, he sent revenues home to establish the first Soldier's Home for retired veterans. At the conclusion of the war in 1848, Congress designated him the first lieutenant-general since George Washington.
Although officially retired when the American Civil War began in 1861, Scott was still occasionally consulted by Lincoln for strategic advice during the war.
When the Civil War began in the spring of 1861, Scott was 74 years old and suffering numerous health problems, including gout, rheumatism, and dropsy. He was also extremely overweight and unable to mount a horse or review troops.
As Scott could not lead an army into battle, he offered the command of the Federal army to Colonel Robert E. Lee on April 17, 1861 (Scott referred to Lee as "the very finest soldier I've ever seen"). However, Virginia left the Union on that same day. Lee, though disapproving of secession and of slavery, was hesitant at the possibility of taking up arms against his home state and asked if he could keep out of the war. Scott replied "I have no place in my army for equivocal men." Lee then resigned and went south to join the Confederacy. The command of the Federal troops at Washington was given to Brigadier General Irwin McDowell.
Although Scott was born and raised in Virginia, he remained loyal to the nation that he had served for most of his life and refused to resign his commission.
At this time, public opinion throughout the North called for an immediate campaign to crush the rebellion quickly. Scott considered this wrong-headed and probably impossible. Instead, he drew up a plan to defeat the Confederacy by blockading Southern ports and sending an army down the Mississippi Valley. Scott's scheme was derided as the "Anaconda Plan", intended to crush the Confederacy slowly; eventually the actual Union victory followed its broad outlines.
General Scott lived to see the Union victory in the Civil War in April 1865. On October 4, 1865 he was elected as a Companion of the Pennsylvania Commandery of the Military Order of the Loyal Legion of the United States (MOLLUS), an organization of Union officers who had served in the Civil War. Scott assigned MOLLUS insignia number 27 but, for undetermined reasons, the insignia was never issued to Scott.
He died at West Point, New York on May 29, 1866 and is buried in West Point Cemetery.
Sources: Library of Congress; National Archives; National Park Service, US Army.
Recommended Reading: Winfield Scott: The Quest for Military Glory (Hardcover). Description: One of the most important public figures in antebellum America, Winfield Scott is known today more for his swagger than his sword. "Old Fuss and Feathers" was a brilliant military commander whose tactics and strategy were innovative adaptations from European military theory; yet he was often underappreciated by his contemporaries and until recently overlooked by historians. Although John Eisenhower's recently published Agent of Destiny provides a solid summary of Scott's remarkable life, Timothy D. Johnson's much deeper critical exploration of this flawed genius will become the standard work. Thoroughly grounded in an essential understanding of nineteenth-century military professionalism, Johnson's work draws extensively on unpublished sources to reveal neglected aspects of Scott's life, present a complete view of his career, and accurately balance criticism and praise. Continued below…
Johnson dramatically relates the key features of Scott's career: how he led troops to victory in the War of 1812 and the Mexican War, fought against the Seminoles and Creeks, and was instrumental in professionalizing the U.S. Army, which he commanded for two decades. He also tells how Scott tried to introduce French methods into army tactical manuals, and how he applied his study of the Napoleonic Wars during the Mexico City campaign but found European strategy of little use against Indians. Johnson further suggests that Scott's creation of an officer corps that boasted Grant, Lee, McClellan, and other veterans of the Mexican War raises important questions about his influence on Civil War generalship. More than a military history, this book explains how Scott's aristocratic pretensions were out of place with emerging notions of equality in Jacksonian America and made him an unappealing political candidate in his bid for the presidency. Johnson recounts the details of Scott's personality that alienated nearly everyone who knew him, as well as the unsavory methods Scott used to promote his career and the scandalous ways he attempted to alleviate his lifelong financial troubles. Although Scott's legendary vanity has tarnished his place among American military leaders, he also possessed great talent and courage. Johnson's biography offers the most balanced portrait available of Scott by never losing sight of the whole man.
Recommended Reading: Winfield Scott and the Profession of Arms (Hardcover: 328 pages) (Kent State University Press). Description: Winfield Scott And The Profession Of Arms is the true story of Winfield Scott (1786-1866), who is perhaps best known for his role in bringing professionalism to the U.S. Army during his long military career (1807-61). He served as general in the War of 1812, major figure during the Indian Wars, key character in the "Trail of Tears", commanded U.S. forces in the final campaign of the Mexican American War, and was the general-in-chief at the beginning of the Civil War. Continued below…
Additionally, he was a presidential candidate and foe or friend to every president from Madison to Lincoln. History professor emeritus Allan Peskin draws upon research in the National Archives to unearth a comprehensive portrait of General Scott as a visionary managerial officer, who anticipated drastic changes in technology and business principles for the military and adapted in response. An in-depth, balanced biography of a remarkable figure and his lasting legacy.
Recommended Reading: Agent Of Destiny: The Life And Times Of General Winfield Scott (Hardcover). Description: It's about time somebody wrote a biography of Winfield Scott, and reading this fascinating account by accomplished military historian John S. D. Eisenhower, you'll wonder why nobody did it sooner. Scott's career spanned an astonishing 54 years and he spent most of it as a general. He was one of the few American heroes to emerge from the War of 1812; he launched a daring and successful invasion of Mexico in 1847; and he defended a vulnerable Washington, D.C., during the first months of the Lincoln administration in 1861. Continued below...
Scott was a profoundly courageous man with a flair for the organizational side of military life. Yet an unseemly amount of ambition and vanity marred his character, even as these qualities help make him an interesting subject for Eisenhower (who is, you guessed it, the son of Ike). Agent of Destiny is a skilled portrait of a man who is often overshadowed by the generation of Civil War leaders following him. Eisenhower deserves our thanks for writing this magnificent book about a vital figure.
Recommended Viewing: The Civil War - A Film by Ken Burns. Review: The Civil War - A Film by Ken Burns is the most successful public-television miniseries in American history. The 11-hour Civil War didn't just captivate a nation, reteaching to us our history in narrative terms; it actually also invented a new film language taken from its creator. When people describe documentaries using the "Ken Burns approach," its style is understood: voice-over narrators reading letters and documents dramatically and stating the writer's name at their conclusion, fresh live footage of places juxtaposed with still images (photographs, paintings, maps, prints), anecdotal interviews, and romantic musical scores taken from the era he depicts. Continued below...
The Civil War uses all of these devices to evoke atmosphere and resurrect an event that many knew only from stale history books. While Burns is a historian, a researcher, and a documentarian, he's above all a gifted storyteller, and it's his narrative powers that give this chronicle its beauty, overwhelming emotion, and devastating horror. Using the words of old letters, eloquently read by a variety of celebrities, the stories of historians like Shelby Foote and rare, stained photos, Burns allows us not only to relearn and finally understand our history, but also to feel and experience it. "Hailed as a film masterpiece and landmark in historical storytelling." "[S]hould be a requirement for every student."
Recommended Reading: Generals in Blue: Lives of the Union Commanders (Hardcover). Description: More than forty years after its original publication, Ezra J. Warner's Generals in Blue is now available in paperback for the first time. Warner's classic reference work includes intriguing biographical sketches and a rare collection of photos of all 583 men who attained the rank of general in the Union Army. Here are the West Point graduates and the political appointees; the gifted, the mediocre, and the inexcusably bad; those of impeccable virtue and those who abused their position; the northern-born, the foreign-born, and the southerners who remained loyal to the Union. Continued below...
Warner's valuable introduction discusses the criteria for appointment and compares the civilian careers of both
Union
and Confederate generals, revealing striking differences in the two groups. Generals in Blue is that rare book—an essential volume for scholars, a prized item for buffs, and a biographical dictionary that the casual reader will find absorbing.
Try the Search Engine for Related Studies: General Winfield Scott Autobiography and History, Biography of General Winfield Scott, Mexican American War Military Army Service and Career Details, General Scott and the Trail of Tears, Results Involvement and the Indian Removal Act.