LOUDERMILK GENEALOGY
Garner N. Loudermilk: born 1818, Knox Co., Tennessee; mustered into Confederate service as a Lt. on July 19, 1862, Company B,
Walker's Battalion
, Thomas' Legion of Indians and Highlanders; promoted to Captain March 5, 1863, transferred to Company H, Walker's Battalion,
Thomas' Legion of Indians and Highlanders
; died June 3, 1883, Arkansas; buried at Mt. Zion Cemetery, Greenwood, Sebastian Co., Arkansas. He served during the "
Trail of Tears
" in 1838; his headstone was inscribed "Aged About 55" and appears to be incorrect since his age was closer to 65.
Captain. Loudermilk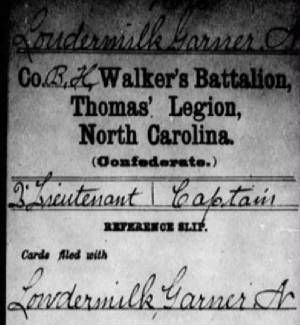 NARA
On
Feb. 22, 1864
, Major (later Lt. Colonel)
James A. McKamy
wrote to Samuel Cooper (A&IGO). He stated that on
Feb. 14, 1864
, Captain Garner N. Loudermilk of Company H,
Walker
's Battalion deserted to the Federals, and McKamy further stated that on
Feb. 14, 1864
, Loudermilk also signed the
United States
' Oath of Allegiance. In the same correspondence, McKamy stated that Captain William B. Nelson of Company B,
Walker's Battalion
deserted and refused to return to the command. They were the highest ranking officers to desert from Thomas' Legion.
Captain Garner N. Loudermilk: Narrative
Courtesy of Stephanie Tanner Davis
Photographed by the Editor
Notes:
1850 Federal Census of Cherokee Co., N.C.
Enumerator: John Rolen
399 LOUDERMILK
.... George W....38 m...Farmer...TN
.... Narcissa...27 f......GA
.... William A....10 m......NC
.... Eliza A....5 f......NC
.... Lorenzo M....2 m......NC
Torrance, Matilda...56 f......GA
Brannnum, John F....15 m......NC

400 LOUDERMILK
.... Garner N....33 m...Farmer...TN
.... Nancy...27 f......TN
.... James...11 m......NC
.... George...9 m......NC
.... Madison...7 m......NC
.... Emeline...5 f......NC
(continued)
p.62 - 32A

.... Elizabeth...3 f......NC
.... Garner...6/12 m......NC
Recommended Reading: Tracing Your Civil War Ancestor (Hardcover).
Description: It is tantalizing to speculate about the role your ancestors may have played in the great national drama of the Civil War. But family records are often inaccurate, or provide precious few leads on where to begin the search. Now, experienced historian Bertram Hawthorne Groene shows you how easy it is to trace your forbearers' role in the war, where and how long they fought, whether they were Union or Rebel, soldier or sailor -- even with a minimum of information. Continued below...
Tracing Your Civil War Ancestor provides you with:
-- The names and addresses of all state archives.
-- Names and addresses of institutions that hold microfilmed service records from the national archives.
-- Names and publishers of useful regional Civil War reference books.
-- Names and publishers of sourcebooks for identifying Civil War weapons and accoutrements.
-- And much more.
Historians, genealogists, antique dealers, and collectors of Civil War artifacts will find this concise guidebook of great value. But most of all it is of inestimable practical value to family historians, North and South, who are discovering the pleasure and satisfaction of compiling an accurate family history. "[A] must have for the individual researching Civil War soldiers, ancestors' military service records, Union and Confederate army records, compiled military service records (CMSR), and for the family genealogist." If you are remotely into genealogy, then this book is for you.
Recommended Reading: Mountain Rebels: East Tennessee Confederates and the Civil War, 1860-1870 (240 pages) (University of Tennessee Press). Description: In this fine study, Groce points out that the Confederates in East Tennessee suffered more for the 'Southern Cause' than did most other southerners. From the first rumblings of secession to the redemption of Tennessee in 1870, Groce introduces his readers to numerous men and women from this region who gave their all for Southern Independence. Continued below...
He also points out that East Tennesseans were divided in their loyalties and that slavery played only a small role. Groce goes to great lengths to expose the vile treatment of the Region's defeated Confederates during the Reconstruction. Numerous maps, pictures, and tables underscore the research.
Recommended Reading: War at Every Door: Partisan Politics and Guerrilla Violence in East Tennessee, 1860-1869. Description: One of the most divided regions of the Confederacy, East Tennessee was the site of fierce Unionist resistance to secession, Confederate rule, and the Southern war effort. It was also the scene of unrelenting 'irregular,' or guerrilla, warfare between Union and Confederate supporters, a conflict that permanently altered the region's political, economic, and social landscape. In this study, Noel Fisher examines the military and political struggle for control of East Tennessee from the secession crisis through the early years of Reconstruction, focusing particularly on the military and political significance of the region's irregular activity. Continued below...
Fisher portrays in grim detail the brutality and ruthlessness employed not only by partisan bands but also by Confederate and Union troops under constant threat of guerrilla attack and government officials frustrated by unstinting dissent. He demonstrates that, generally, guerrillas were neither the romantic, daring figures of Civil War legend nor mere thieves and murderers, but rather were ordinary men and women who fought to live under a government of their choice and to drive out those who did not share their views.
Recommended Reading: Genealogy 101: How to Trace Your Family's History and Heritage. Description: A recent Maritz Poll reported that 60% of Americans are interested in their family history. And with good reason. Through genealogy, you can go back into history to meet people who have had more influence on your life than any others -- your ancestors. And the better you get to know your ancestors, the better you will get to know yourself: the who's and what's and why's of you. Barbara Renick, a nationally-known lecturer on genealogy, tells the uninitiated researcher the steps needed to find out who their ancestors really were, and brings together for even the more experienced genealogical researchers the important principles and practices. Continued below...
She covers such topics as the importance of staying organized and how to go about it; where and how to look for information in libraries, historical societies, and on the internet; recognizing that just because something is in print doesn't mean it's right; and how to prepare to visit the home where your ancestors lived. Genealogy 101 is the first book to read when you want to discover who your ancestors were, where they lived, and what they did.
Recommended Reading:
NEW! N

orth Carolina

Troops, 1861-1865: A Roster (Volume XVI: Thomas's Legion)

(Hardcover) (537 pages), North Carolina Office of Archives and History (
June 26, 2008
).

Description:

The volume begins with an authoritative 246-page history of Thomas's Legion. The history, including Civil War battles and campaigns, is followed by a complete roster and service records of the field officers, staff, and troops that served in the legion. A thorough index completes the volume. Continued below...
Volume XVI of North Carolina Troops: A Roster contains the history and roster of the most unusual North Carolina Confederate Civil War unit, significant because of the large number of Cherokee Indians who served in its ranks. Thomas's Legion was the creation of William Holland Thomas, an influential businessman, state legislator, and Cherokee chief. He initially raised a small battalion of Cherokees in April 1862, and gradually expanded his command with companies of white soldiers raised in western North Carolina, eastern Tennessee, and Virginia. By the end of 1862, Thomas's Legion comprised an infantry regiment and a battalion of infantry and cavalry. An artillery battery was added in April 1863. Furthermore, in General Early's Army of the Valley, the Thomas Legion was well-known for its fighting prowess. It is also known for its pivotal role in the last Civil War battle east of the Mississippi River. The Thomas Legion mustered more than 2,500 soldiers and it closely resembled a brigade. With troop roster, muster records, and Compiled Military Service Records (CMSR) this volume is also a must have for anyone interested in genealogy and researching Civil War ancestors. Simply stated, it is an outstanding source for genealogists.