Colonel Robert Love
Introduction
Colonel Robert Love (11 May 1760 – 17 July 1845) was an American Patriot, Frontiersman, Statesman, Benefactor and Founder of Waynesville. He would conduct the 1820 Robert Love Survey, establishing miles of the shared North Carolina and Tennessee border. Having served under the command of General "Mad" Anthony Wayne during the American Revolution, Love would honor the commander's namesake when he founded the city of Waynesville, in North Carolina.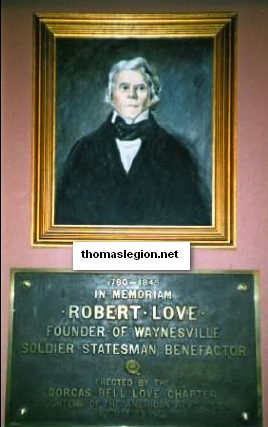 Colonel Robert Love
Robert Love was born near the Tinkling Springs Church in Augusta County, Virginia, May 11, 1760, and was the son of Samuel and Dorcas Love. He would create, settle, and remain in Waynesville, North Carolina, where he would also die and be buried on July 17, 1845.
He was one of the earliest pioneers in the settlement and development in Western North Carolina, one of three regions of the Tar Heel State, and was influential in the early history of the section. Love was active in the rise and fall of the State of Franklin, which Governor John Sevier attempted to establish, and while he remains synonymous with the Robert Love Survey of 1820, he was known to President Andrew Jackson. Love was the progenitor of a large and influential family, and his brother, General Thomas Love, was also a distinguished statesman in both North Carolina and Tennessee.
Revolutionary War Service and Pension Record
Robert Love entered military service in 1776 from what is currently Wythe County, Virginia. In 1776, Love was stationed at Fort Robertson, located at the head of the Clinch and Sandy rivers in what was then Montgomery County, Virginia. He served as a sergeant in Captain John Stephens Company against the Shawnee Indians from April to October of 1778, and in 1780, he served about six months against the Tories as a lieutenant under Colonel William Campbell. This service was rendered on Tom's Creek at the Moravian Old Town in North Carolina, and on an excursion up to and near the Shallow Ford of the Yadkin. In 1781, Love spent about two months in Guilford County, N.C., where, on March 6, the Americans fought Cornwallis in the Battle of Wetzell's Mills (aka Whitesell's, Wetzel's, Weitzel's, Wetzell's). From June to October of 1782, he was stationed at Fort Robertson as a lieutenant in Captain William Love's Company.
On the April 5, 1833, Colonel Robert Love made application for a pension under the
Act of Congress of June 7, 1832,
attaching his commission signed by Ben. Harrison, Governor of Virginia. But, when the date of his commission was questioned,
President Andrew Jackson
wrote from The Hermitage and stated that he had known Colonel Robert Love since the fall of 1784 and further affirmed, "
I sincerely regret to find from the contents of your letter the treatment which that worthy man & patriot, Col. Robert Love, has received at the hands of the pension office....no man in this Union has sustained a higher reputation for integrity than Col. Robert Love, with all men and with all parties, although himself a uniform democratic Republican, and that no man stands deservedly higher as a man of great moral worth than Col. Love."
Even Jackson's endorsement, however, did not serve to secure the pension. E. H. McClure of Haywood County, North Carolina, would file an affidavit to the effect that the date of the commission was 1781 or 1782. Colonel Robert Love was then granted his pension. State Colonial Records, Vol. xxii, p.74, and Colonel Robert Love Papers-Matthew D. Parker Private Collection.
Colonel Robert Love's pension and service records also indicate that he was living in Montgomery, now Wythe County, VA., when he entered military service in 1776 as a member of the expedition with Colonel Christie against the Cherokees, and that he served under the command of General "Mad" Anthony Wayne at Fort Patrick Henry on Long Island of the Holston in 1777. Love was stationed at the head of the Clinch and Sandy rivers at Fort Robertson in 1778; operated against the Shawnees from April to October in 1778; served with Col. William Campbell, from 1779 to 1780, and fought the Tories on Tom's creek, New River, Cripple Creek, Moravian Old Town, and Shallow ford of the Yadkin; in 1781, he engaged Cornwallis in Guilford County and the adjoining county, and while serving with Gen. Pickens, he was in a severe battle with Cornwallis' army at Whitesell mill and the Rudy ford of the Haw River; then, with Capt. Wm. Doach, he was sent back from the rendezvous at the Lead Mines to collect and bring more men; in 1782, he was again stationed out on the frontiers of the Clinch, at Fort Robertson, from June to October.
They would later burn my home to the ground
By 1865 the Confederacy was doomed, it had utterly failed, and
Colonel George W. Kirk
and the Union
3rd North Carolina Mounted Infantry Regiment
believed it would encounter minimal opposition and resistance as they continued sacking the defenseless communities of Western North Carolina. Whereas the Confederate States would be known as the Lost Cause, the locally raised unit called the
Thomas Legion
had pledged at all hazards its defense of the mountain citizenry.
In late February and early March of 1865, Union Col. Kirk continued his raids into Southern Appalachia. Kirk and men of the Union 3rd North Carolina (aka 3rd North Carolina Federal Mounted) were commonly referred to as Kirk's Raiders, and by other words inappropriate for this sketch, because they often pillaged and then set ablaze the towns of the mountain region. On February 4th, Kirk and a small army of 400 cavalry and 200 infantry left Newport, Tennessee, and crossed into Haywood County, North Carolina, via the old Cataloochee Turnpike on a raid that reached Waynesville, the county seat.
Kirk's Raiders, now armed with Spencer repeating rifles, entered Waynesville and stripped the stores empty, stole numerous horses, killed about 20 men, and when they burned several houses, Kirk intentionally targeted and set ablaze the home of
Lt. Col. James R. Love
— which also served as the former homestead of J.R. Love's grandfather, the Revolutionary War hero Robert Love. The next morning they attacked the Waynesville jail, freed the prisoners, and then burned the jail. Absent any resistance of note, coupled with the vast mountainous terrain, made the territory the perfect setting for raiding and bushwhacking. (See also
Stoneman's Cavalry Raid
and
Stoneman's Raid: A History
.)
Anger was the single word that best described Thomas on this day.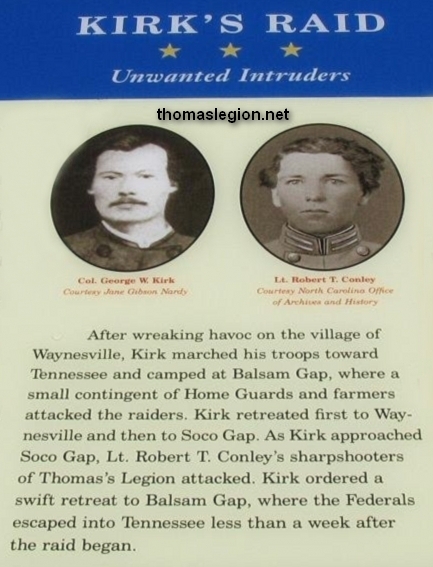 Waynesville in the Civil War
In May of 1865, Thomas' Legion would surround and trap none other than Lt. Col. William C. Bartlett and his Federal 2nd North Carolina Mounted inside Waynesville, the host town to many of the illustrious Love family. Bartlett commanded the sister regiment to Kirk's 3rd North Carolina with both being attached to the First Brigade, under Maj. Gen. George Stoneman, District of East Tennessee, commanding.
These Home Yankees, term assigned to local men who joined Federal units, had thrashed the town so often and without a fight, that they had grown quite comfortable during their extended stay in Waynesville, the hometown of Sarah Love Thomas, who was wife of Cherokee chief and Colonel
William Holland Thomas
. An aged man now scarred from the four year struggle that had claimed so many of his friends, Thomas, donning the hats of both chief and colonel during the war, remained vigilant with meeting the basic needs of the Cherokee, who would often claim to their chief that they lacked food.
The battle weary Thomas, likely suffering from post-traumatic stress disorder at the time, surrounded Bartlett and his command inside the town on this occasion. A series of meetings would occur between the two commanders, but with little headway and progress, Bartlett advised Thomas that Lee had surrendered to Grant the previous month. It still took the intervention of the valiant fighter of the Mexican-American War by the name of Brig. Gen. James Green Martin, now commanding Confederate forces in the district, to broker a peaceful solution.
Bartlett and his men were robbing the locals of every single possession that they believed had a semblance of value, including a single spoon. Bartlett was similar to Kirk, the one who had committed multiple atrocities and war crimes on the citizens of Waynesville by shooting and murdering scores of unarmed civilians. Thomas had very little energy and patience and lacked desire to hold any further meetings with Bartlett, and for so long the colonel had felt utterly helpless knowing that many innocent locals had become destitute and even murdered at the hands of Union men.
Anger was the single word that best described Thomas on this day. Infuriated, outraged, yes, but madder than hell was Thomas as he mulled the unconscionable acts committed by the Federals here, and he was going to make certain that the enemy knew it in such plain yet direct talk when he said to Bartlett that if he and his men didn't vacate the region, he would unleash the Cherokee Indians on a scalping melee. Seizing the opportunity, Brig. Gen. Martin, who was also credited for hastily organizing North Carolina's military just hours before the first shots of the Civil War, would now intervene and use timing to his advantage. Martin, having allowed Thomas to first vent, quickly assured Bartlett that his Confederates would indeed surrender but only with Bartlett's affirmation to collect his men and leave the area. Bartlett was surrounded, he knew it, and without any reinforcements in the vicinity he wasn't about to challenge Thomas. Terms were agreed upon and carried out. A rather intelligent agreement considering the situation. Both saved face, not a shot was exchanged, and Bartlett kept his scalp.
The general consensus of the men forming the Thomas Legion during this event was stated by a single soldier of the unit. I say surrender, but a better word would be quit, for I don't think we really ever did surrender. In fact, we just disbanded and carried our guns and cartridges to our homes with us.
Analysis
Robert Love was born in Augusta County, Virginia, on May 11, 1760, and was residing in Montgomery County, Virginia (present-day Wythe County) when called into military service during the American Revolution (1775-1783). Love would live a life rich in experiences and accomplishments that have yet to be fully recognized and appreciated. Love, aged 85, would die of natural causes on July 17, 1845, in Waynesville, the city that he had established some decades afore.
After the American Revolution, and with his parents deceased, Love moved to what was then Washington County, North Carolina, but is now part of Tennessee. About one year later, in 1782, he married Mary Ann Dillard, the daughter of Col. Thomas Dillard of Virginia. Love represented Washington County in the North Carolina Legislature in 1789 and before moving to Buncombe County, North Carolina, where, in 1792, he was elected to the State Senate of North Carolina. In 1809, Love donated land in Haywood County, NC, for the construction of a courthouse, jail and town square. This formed Mount Prospect which was quickly renamed Waynesville in honor of his commanding officer during the war. Love helped to establish the final state boundary line between North Carolina and Tennessee in 1820, and would mark several North Carolina county boundaries.
Love served as presidential elector beginning with the first election of Thomas Jefferson in 1800, and he continued in this capacity through the first election of Andrew Jackson in 1828. His son James Robert Love stated in a letter to one Lyman Draper that his father refused to accept any additional political office.
Robert Love, his wife, Mary Ann Dillard, and, as of 2015, six generations of their descendants are buried in Green Hill Cemetery in Waynesville, North Carolina.
Notes
During the Civil War, men of the Love family served the Confederacy in several units, including the 16th North Carolina, 62nd North Carolina, and in Thomas' Legion of Cherokee Indians and Highlanders.
(Sources and related reading listed below.)
Recommended Reading: Western North Carolina: A History from 1730 to 1913, by

John Preston Arthur
(Hardcover) (679 pages). Description:
From the introduction to the appendix, this volume is filled with interesting information. Covering seventeen counties—Alleghany, Ashe, Avery, Buncombe, Cherokee, Clay, Graham, Haywood, Henderson, Jackson, Macon, Madison, Mitchell, Swain, Transylvania, Watauga, and Yancey—the author conducted about ten years searching and gathering materials. Continued below.
About the Author: John Preston Arthur was born in 1851 in Columbia, South Carolina. After relocating to Asheville, North Carolina, in 1887, he was appointed Secretary of the Street Railway Company, and subsequently the Manager and Superintendent until 1894. Later, after becoming a lawyer, he was encouraged by the Daughters of the American Revolution (D.A.R.) to write a history of western North Carolina.
Related Reading:
Recommended Reading: Bushwhackers, The Civil War in North Carolina: The Mountains (338 pages). Description: Trotter's book (which could have been titled "Murder, Mayhem, and Mountain Madness") is an epic backdrop for the most horrific murdering, plundering and pillaging of the mountain communities of western North Carolina during the state's darkest hour—the American Civil War. Commonly referred to as Southern Appalachia, the North Carolina and East Tennessee mountains witnessed divided loyalties in its bushwhackers and guerrilla units. These so-called "bushwhackers" even used the conflict to settle old feuds and scores, which, in some cases, continued well after the war ended. Continued below.
Some bushwhackers were highly organized 'fighting guerrilla units' while others were a motley group of deserters and outliers, and, since most of them were residents of the region, they were familiar with the terrain and made for a "very formidable foe." In this work, Trotter does a great job on covering the many facets of the bushwhackers, including their: battles, skirmishes, raids, activities, motives, the outcome, and even the aftermath. This book is also a great source for tracing ancestors during the Civil War; a must have for the family researcher of Southern Appalachia.
Recommended Reading: Battles Of The Revolutionary War: 1775-1781 (Major Battles and Campaigns Series). Description: The Americans did not simply outlast the British in the Revolutionary War, contends this author in a groundbreaking study, but won their independence by employing superior strategies, tactics, and leadership. Designed for the "armchair strategist" with dozens of detailed maps and illustrations, here is a blow-by-blow analysis of the men, commanders, and weaponry used in the famous battles of Bunker Hill, Quebec, Trenton, Princeton, Saratoga, and Cowpens.
Recommended Reading: Touring the Western North Carolina Backroads (Touring the Backroads). Editorial Review: This guidebook, unlike most, is so encyclopedic in scope that I give it as a gift to newcomers to the area. It is also an invaluable reference for the visitor who wants to see more than the fabulous Biltmore Estate. Even though I am a native of the area, I learned nearly everything I know about Western North Carolina from this book alone and it is my primary reference. I am still amazed at how much fact, history and folklore [just enough to bring alive the curve of the road, the odd landmark, the abandoned building] is packed in its 300 pages. The author, who must have collapsed from exhaustion when she finished it, takes you on a detailed tour, laid out by the tenth of the mile, of carefully drawn sections of backroads that you can follow leisurely without getting lost. Continued below.
The author is completely absent from the text. The lucid style will please readers who want the facts, not editorial comment. This book, as well as the others in this publisher's backroads series, makes an excellent gift for anyone, especially the many seniors who have relocated, or are considering relocating to this fascinating region. It is also a valuable reference for natives, like me, who didn't know how much they didn't know.
Recommended Viewing: The History Channel Presents The Revolution (A&E) (600 minutes). Review: They came of age in a new world amid intoxicating and innovative ideas about human and civil rights diverse economic systems and self-government. In a few short years these men and women would transform themselves into architects of the future through the building of a new nation – "a nation unlike any before." From the roots of the rebellion and the signing of the Declaration of Independence to victory on the battlefield at Yorktown and the adoption of The United States Constitution, THE REVOLUTION tells the remarkable story of this pivotal era in history. Venturing beyond the conventional list of generals and politicians, THE HISTORY CHANNEL® introduces the full range of individuals who helped shape this great conflict including some of the war's most influential unsung heroes. Continued below.
Through sweeping cinematic recreations intimate biographical investigations and provocative political military and economic analysis the historic ideas and themes that transformed treasonous acts against the British into noble acts of courage both on and off the battlefield come to life in this dramatic and captivating program. This TEN HOUR DVD Features: History in the Making: The Revolution Behind-the-Scenes Featurette; Interactive Menus; Scene Selections.
Bibliography: Robert Love's Pension and Service Record; Mary Love Stringfield of Haywood County, North Carolina, a descendant of Robert Love-F.D. Love; Love Family Volume I, First Series, Columbus, Georgia © 2001; Matthew D. Parker (Private Collection); National Park Service; John Preston Arthur, History of Western North Carolina: Edward Buncombe Chapter of the Daughters of the American Revolution, Asheville, North Carolina, 1914; John Hill Wheeler (1806-1882), Reminiscences and Memoirs of North Carolina and Eminent North Carolinians; Wheeler's History of North Carolina, Vol. I. 97; Official Records of the Union and Confederate Armies; Vernon H. Crow, Storm in the Mountains: Thomas' Confederate Legion of Cherokee Indians and Mountaineers; Walter Clark, Histories of the Several Regiments and Battalions from North Carolina in the Great War 1861-1865; National Park Service: American Civil War; Weymouth T. Jordan and Louis H. Manarin, North Carolina Troops, 1861-1865; D. H. Hill, Confederate Military History Of North Carolina: North Carolina In The Civil War, 1861-1865; Christopher M. Watford, The Civil War in North Carolina: Soldiers' and Civilians' Letters and Diaries, 1861-1865. Volume 2: The Mountains; Library of Congress; National Archives and Records Administration; State Library of North Carolina; North Carolina Office of Archives and History; North Carolina Museum of History; E. Stanly Godbolt, Jr. and Mattie U. Russell, Confederate Colonel and Cherokee Chief: The Life of William Holland Thomas; Paul A. Thomsen, Rebel Chief: The Motley Life of Colonel William Holland Thomas C.S.A.