Major General Joseph Orville Shelby
Joseph "Jo" Shelby: Military Overview
Joseph Shelby

(Texas Civil War Museum)
Major General Joseph Orville Shelby
One of the Confederacy's most effective cavalry leaders, Joseph O. Shelby served entirely in the Trans-Mississippi West. A planter and rope manufacturer, he held investments in both his native
Kentucky
and
Missouri
. During the Bleeding Kansas episode, he led a company of Kentuckians on the slavery side.
Early in the Civil War, he entered the Missouri State Guard and his assignments included: captain, Shelby's Ranger Company, Missouri State Guard (spring 1861); colonel, 5th Missouri Cavalry (1862); commanding brigade, Marmaduke's Cavalry Division, I Corps, Trans-Mississippi Department (summer December 1862); commanding brigade, Marmaduke's Cavalry Division, District of Arkansas, Trans-Mississippi Department (January-July 4, 1863, and late 1863-September 1864); brigadier general, CSA (December 15, 1863); commanding division, Army of Missouri, Trans-Mississippi Department (September 18-September 1864); and commanding 1st Missouri Cavalry Brigade, 1st Missouri Cavalry Division, Cavalry Corps, Trans-Mississippi Department (September 1864-May 26, 1865).

As a company commander, he fought at
Carthage
,
Wilson
's Creek, and Pea Ridge before being sent back to
Missouri
to raise a regiment. As a colonel in charge of a brigade in John S. Marmaduke's mounted division, he fought at Prairie Grove and was wounded at
Helena
. Upon his recovery, he was promoted to brigadier general and led a brigade at Jenkins' Ferry.
Confederate General Civil War Uniform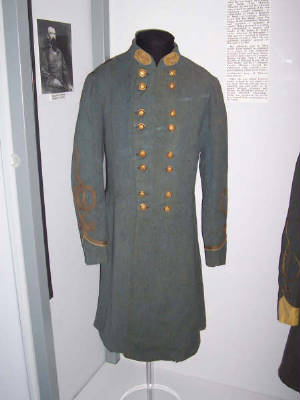 General Shelby Frock Coat
During Price's invasion of
Missouri
in the late summer and fall of 1864, he led a cavalry division. Upon the Confederacy's collapse, he refused to surrender and led part of his force to
Mexico
where they unsuccessfully offered their services. He then returned to his business interests in
Missouri
.
Shelby returned to Missouri in 1867 and resumed farming. He was appointed the U.S. Marshal for the Western District of Missouri in 1893, was a critical witness for the defense of Frank James at his trial, and retained the position until his death in 1897. He died in Adrian, Missouri, and was buried in Forest Hill Cemetery, Kansas City.
Sources: Major General Joseph Orville Shelby, Governor's Guard (Jefferson City, MO), March 1995; Jay Monaghan, Civil War on the Western Border, 1854-1865. Lincoln, Nebraska: University of Nebraska Press, 1992; John H. Eicher and David J. Eicher, Civil War High Commands, Stanford University Press, 2001; Maj. General J.O. Shelby Camp # 191, Warrensburg, Missouri; United States Marshal Service; Daniel O'Flaherty, General Jo Shelby, Undefeated Rebel; Stewart Sifakis, Who Was Who In The Civil War; Official Records of the Union and Confederate Armies; National Park Service: American Civil War.
Recommended Reading: General Jo Shelby: Undefeated Rebel (464 pages) (The University of North Carolina Press). Description: This vivid work reveals General Joseph Orville Shelby as one of the best Confederate cavalry leaders—and certainly the most colorful. Born in Lexington, Kentucky, but drawn by the promise of the growing West, Shelby became one of the richest men in Missouri. Siding with the Confederacy at the outbreak of the Civil War, he organized his Iron Brigade of cavalry—whose ranks included Frank and Jesse James—taught his men a slashing frontier style of fighting, and led them on incredible raids against Federal forces in Missouri. Continued below...
When the Confederacy fell, Shelby refused to surrender and instead took his command to Mexico, where they fought in support of the emperor Maximilian. Upon his return to Missouri, Shelby became an immensely popular figure in the state, eventually attaining the status of folk hero, a living symbol of the Civil War in the West.
Recommended Reading:
Jo Shelby's Iron Brigade
(Hardcover) (381 pages) (Pelican Publishing Company) (July 15, 2007). Description: Through quest and conquest, Jo Shelby's troops grew into the greatest Confederate cavalry brigade west of the
Mississippi
. Jo Shelby's cavalry unit is considered by contemporary historians to be one of the toughest Civil War cavalry units in the West. The author offers an objective and even-handed view of this impressive military leader and his men. Continued below...
The author's decades-long research of
Shelby
's life and his principal officers is evident as he details the history of
Shelby
's Brigade from its origin in
Missouri
through the end of the Civil War and its eventual disbandment in
Mexico
. Jo Shelby's Iron Brigade provides a broader, more objective view of
Shelby
than those afforded by earlier accounts. The book moves swiftly through the background of events that swept
America
into Civil War and targets the turmoil that engulfed the Border state of
Missouri
. The writer then follows the action-packed career of
Shelby
through to--and even beyond-the war's end.
Recommended Reading: Black Flag: Guerrilla Warfare on the Western Border, 1861-1865: A Riveting Account of a Bloody Chapter in Civil War History. Editorial Review (Library Journal): The Civil War on the Kansas-Missouri border was initially fought by Bushwhackers and Jayhawkers, guerrillas from Missouri and Kansas, respectively. Union troops mostly displaced the Jayhawkers by 1862, but the Bushwhackers remained active until Lee's surrender. Historian Goodrich describes the death and destruction the guerrilla war wrought on this region through excerpts from diaries, letters, [photos], local news accounts, and published articles, letting the victims do most of the talking. Citing cases that graphically underscore the terrorism, Goodrich captures the fear of the populace. …There are a number of recent regional publications on this topic that do not achieve Goodrich's scope. This title should be considered for public libraries with strong Civil War collections. Continued below..
" . . . Black Flag: Guerrilla Warfare on the Western Border, 1861-1865: A Riveting Account of a Bloody Chapter in Civil War History is a compelling, dramatic, and well-written . . . " --Journal of Southern History
". . . compelling narrative of four years of virtually unmitigated savagery." --Blue & Gray Magazine
"[A] thorough and comprehensive study of this tragic, almost forgotten episode of American history." --History
A riveting eyewitness account of the bloody guerrilla fighting that raged along the Missouri-Kansas border during the Civil War. Drawing from a wide array of contemporary documents--including diaries, letters, and first-hand newspaper accounts--Thomas Goodrich presents a hair-raising report of life in this merciless guerrilla war.
Recommended Reading: Generals in Gray Lives of the Confederate Commanders. Description: When Generals in Gray was published in 1959, scholars and critics immediately hailed it as one of the few indispensable books on the American Civil War. Historian Stanley Horn, for example, wrote, "It is difficult for a reviewer to restrain his enthusiasm in recommending a monumental book of this high quality and value." Here at last is the paperback edition of Ezra J. Warner's magnum opus with its concise, detailed biographical sketches and—in an amazing feat of research—photographs of all 425 Confederate generals. Continued below...
The only exhaustive guide to the South's command, Generals in Gray belongs on the shelf of anyone interested in the Civil War. RATED 5 STARS!
Recommended Reading: Generals in Blue: Lives of the Union Commanders (Hardcover). Description: More than forty years after its original publication, Ezra J. Warner's Generals in Blue is now available in paperback for the first time. Warner's classic reference work includes intriguing biographical sketches and a rare collection of photos of all 583 men who attained the rank of general in the Union Army. Here are the West Point graduates and the political appointees; the gifted, the mediocre, and the inexcusably bad; those of impeccable virtue and those who abused their position; the northern-born, the foreign-born, and the southerners who remained loyal to the Union. Continued below...
Warner's valuable introduction discusses the criteria for appointment and compares the civilian careers of both
Union
and Confederate generals, revealing striking differences in the two groups. Generals in Blue is that rare book—an essential volume for scholars, a prized item for buffs, and a biographical dictionary that the casual reader will find absorbing.