Antietam, Maryland, Civil War Campaign
The Maryland Campaign, or the Antietam Campaign, (September 4–20, 1862) is widely considered one of the major turning points of the American Civil War. Confederate Gen. Robert E. Lee's first invasion of the North was repulsed by Maj. Gen. George B. McClellan and the Army of the Potomac, who moved to intercept Lee and his Army of Northern Virginia and eventually attacked it near Sharpsburg, Maryland. The resulting Battle of Antietam was the bloodiest single-day battle in American history.
Battle of Antietam Battlefield Map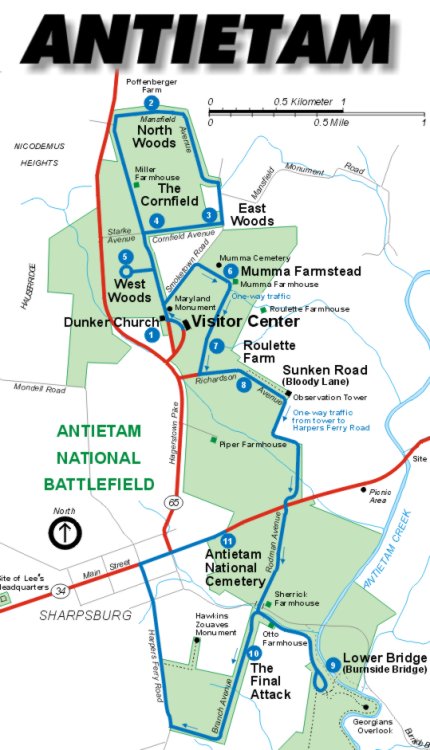 (Civil War Antietam Maryland Map)
Maryland Campaign, aka Antietam Campaign
Adapted from Civil War Preservation Trust (CWPT): Civilwar.org
Antietam Maryland Campaign
Several motives led to Lee's decision to launch an invasion. First, he needed to supply his army and knew the farms of the North had been untouched by war, unlike those in Virginia. Moving the war northward would relieve pressure on Virginia. Second was the issue of Northern morale. Lee knew the Confederacy did not have to win the war by defeating the North militarily; it merely needed to make the Northern populace and government unwilling to continue the fight.
With the Congressional elections of 1862 approaching in November, Lee believed that an invading army playing havoc inside the North could tip the balance of Congress to the Democratic Party, which might force Abraham Lincoln to negotiate an end to the war. He told Confederate President Jefferson Davis in a letter of September 3 that the enemy was "much weakened and demoralized."
Siege of Harpers Ferry Battlefield Map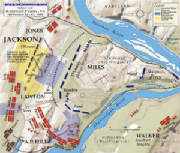 (Click to Enlarge)
There were secondary reasons as well. The Confederate invasion might be able to incite an uprising in Maryland, especially given that it was a slave-holding state and many of its citizens held a sympathetic stance toward the South. (
Maryland Civil War History
.)
Some Confederate politicians, including Jefferson Davis, believed the prospect of foreign recognition for the Confederacy would be made stronger by a military victory on Northern soil, but there is no evidence that Lee thought the South should base its military plans on this possibility. Nevertheless, the news of the victory at Second Bull Run and the start of Lee's invasion caused considerable diplomatic activity between the Confederate States and France and England.
Following his victory in the Northern Virginia Campaign, Lee moved north with 55,000 men through the Shenandoah Valley starting on September 4, 1862.
His objective was to resupply his army outside of the war-torn Virginia theater and to damage Northern morale in anticipation of the November elections. He undertook the risky maneuver of splitting his army so that he could continue north into Maryland while simultaneously capturing the Federal garrison and arsenal at Harpers Ferry. McClellan accidentally found a copy of Lee's orders to his subordinate commanders and planned to isolate and defeat the separated portions of Lee's army.
Fox's & Turner's Gap, South Mountain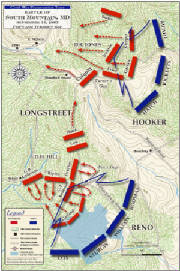 (Click to Enlarge)
While Stonewall Jackson surrounded, bombarded, and captured Harpers Ferry (September 12–15), McClellan's army of 84,000 men attempted to move quickly through the South Mountain passes that separated him from Lee. The Battle of South Mountain on September 14 delayed McClellan's advance and allowed Lee sufficient time to concentrate most of his army at Sharpsburg, Maryland.
The Battle of Antietam (or Sharpsburg) on September 17 was the bloodiest day in American military history with over 22,000 casualties. While Lee, outnumbered two to one, moved his defensive forces to parry each offensive blow, McClellan never deployed all of the reserves of his army to capitalize on localized successes and destroy the Confederates.
On September 18, Lee ordered a withdrawal across the Potomac and on September 19 and September 20, fights with Lee's rear guard at Shepherdstown ended the campaign.
Although Antietam was a tactical draw, Lee's Maryland Campaign failed to achieve its objectives. President Abraham Lincoln used this Union victory as the justification for announcing his Emancipation Proclamation, which effectively ended any threat of European support for the Confederacy.
Siege of Harpers Ferry: September 12-15, 1862
Learning that the garrison at Harpers Ferry had not retreated after his incursion into Maryland, Lee decided to surround the force and capture it. He divided his army into four columns, three of which converged upon and invested Harpers Ferry.
American Civil War Map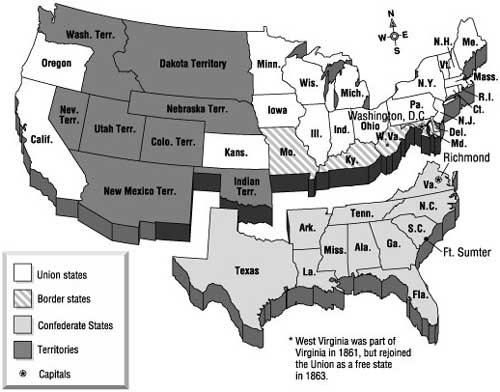 (Civil War Map of Southern, Northern, and Border States)
On September 15, after Confederate artillery was placed on the heights overlooking the town, Union commander Col. Miles surrendered the garrison of more than 12,000.
Miles was mortally wounded by a last salvo fired from a battery on Loudoun Heights. Jackson took possession of Harpers Ferry, then led most of his soldiers to join with Lee at Sharpsburg. After paroling the prisoners at Harpers Ferry, A.P. Hill's division arrived in time to save Lee's army from near-defeat at Sharpsburg.
Battle of Antietam Civil War Map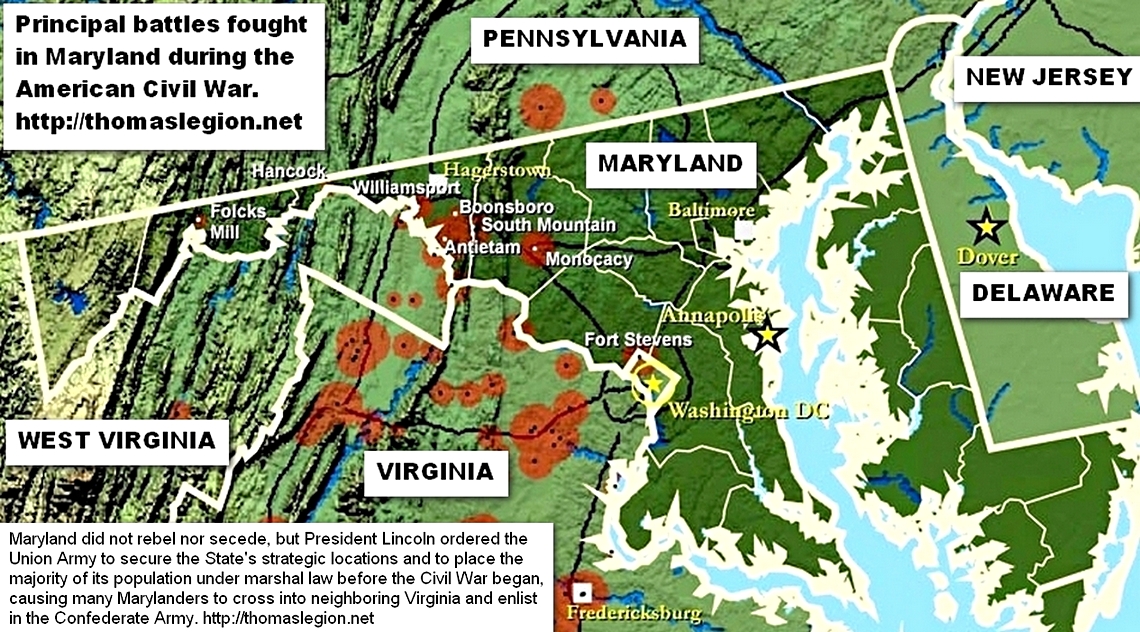 The Battle of Antietam was one of the deadliest battles of the Civil War.
Battle of Antietam - 9:15 A.M.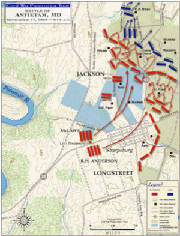 (Click to Enlarge)
Battle of South Mountain, Crampton's, Turner's, and Fox's Gaps: September 14, 1862
After invading Maryland in September 1862, Gen. Robert E. Lee divided his army to march on and invest Harpers Ferry. The Army of the Potomac under Maj. Gen. George B. McClellan pursued the Confederates to Frederick, Maryland, then advanced on South Mountain.
On September 14, pitched battles were fought for possession of the South Mountain passes: Crampton's, Turner's, and Fox's Gaps. By dusk the Confederate defenders were driven back, suffering severe casualties, and McClellan was in position to destroy Lee's army before it could reconcentrate.
McClellan's limited activity on September 15 after his victory at South Mountain, however, condemned the garrison at Harpers Ferry to capture and gave Lee time to unite his scattered divisions at Sharpsburg. Union general Jesse Reno and Confederate general Samuel Garland, Jr., were killed at South Mountain.
Civil War Battle of Antietam Battlefield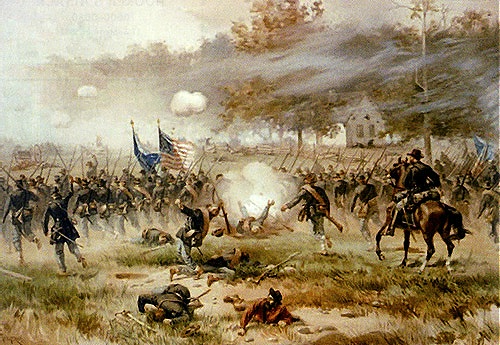 (Library of Congress)
(Battle of Antietam with Union Advance on the Dunker Church.)
Antietam Maryland Campaign Map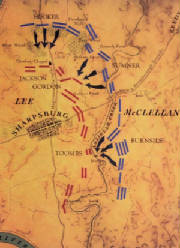 (Courtesy pbs.org)
On September 16, Maj. Gen. George B. McClellan confronted Lee's Army of Northern Virginia at Sharpsburg, Maryland.
At dawn September 17, Hooker's corps mounted a powerful assault on Lee's left flank that began the single bloodiest day in American military history. Attacks and counterattacks swept across Miller's cornfield and fighting swirled around the Dunker Church. Union assaults against the Sunken Road eventually pierced the Confederate center, but the Federal advantage was not followed up.
(Left) Antietam Battlefield Map. After jostling for positions, the Union and Confederate armies made a series of advances, assaults and counterassaults, with the objective of breaking and exploiting a line. Most of the annihilating charges were checked, leaving many on both sides slain during the malaise. But once the Union army finally broke through, the Confederates, after falling back, simply conducted an orderly retreat into Virginia. Lincoln, infuriated with McClellan for not pressing Lee, was determined to find an aggressive commander who was willing to take the fight to the Rebs. Mary Todd, the First Lady, also spoke negatively about McClellan in a letter, dated Nov. 2nd, sent to her husband, but it was only after she had heard the President continually bemoan and then painstakingly maintain McClellan as commanding general. On Nov, 7th, McClellan was fired by Lincoln as general-in-chief, and subsequently from the Army of the
Potomac
.
Lincoln
was famously quoted as saying, "If General McClellan does not want to use the army, I would like to borrow it for a time." Map courtesy PBS.
Late in the day, Burnside's corps finally got into action, crossing the stone bridge (aka Burnside Bridge) over Antietam Creek and rolling up the Confederate right. At a crucial moment, A.P. Hill's division arrived from Harpers Ferry and counterattacked, driving back Burnside and saving the day. Although outnumbered two-to-one, Lee committed his entire force, while McClellan sent in less than three-quarters of his army, enabling Lee to fight the Federals to a standstill.
Antietam Maryland Campaign on September 17th Map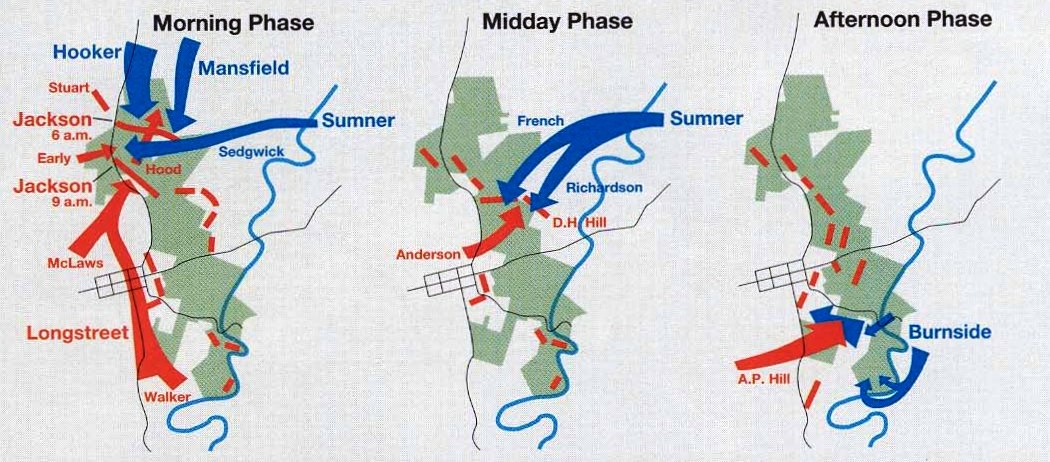 (Antietam, Maryland, Battlefield Map)
Miller's Cornfield, Antietam Battle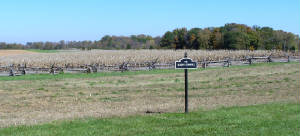 (Civil War Maryland Campaign Battlefield)
Sunken Road, aka Bloody Lane (present-day)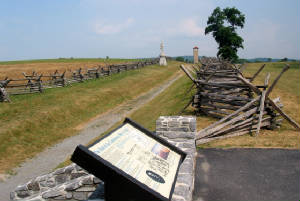 (Battle of Antietam, Maryland, Battlefield)
Burnside Bridge, Battle of Antietam, Maryland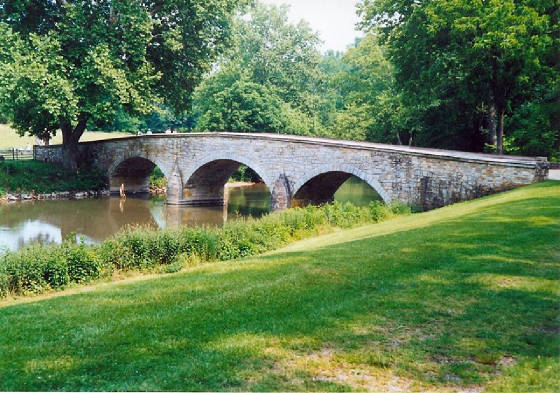 (Antietam, aka Maryland, Civil War Campaign)
During the night, both armies consolidated their lines. In spite of crippling casualties, Lee continued to skirmish with McClellan throughout the 18th, while removing his wounded south of the river. McClellan did not renew the assaults. After dark, Lee ordered the battered Army of Northern Virginia to withdraw across the Potomac into the Shenandoah Valley.
Battle of Shepherdstown, Boteler's Ford: September 19-20, 1862
Battle of Antietam - 1:00 P.M. to 5:30 P.M.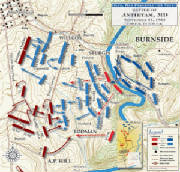 (Click to Enlarge)
On September 19, a detachment of Porter's V Corps pushed across the river at Boteler's Ford, attacked the Confederate rearguard commanded by Brig. Gen. William Pendleton, and captured four guns.
Early on the 20th, Porter pushed elements of two divisions across the Potomac to establish a bridgehead. Hill's division counterattacked while many of the Federals were crossing and nearly annihilated the 118th Pennsylvania (the "Corn Exchange" Regiment), inflicting 269 casualties. This rearguard action discouraged Federal pursuit. On November 7, President Lincoln relieved McClellan of command because of his failure to follow up Lee's retreating army. Maj. Gen. Ambrose Burnside rose to command the Union army.
Casualties
Estimates of numbers engaged in Civil War battles vary; statistics on killed, wounded, captured, and missing are incomplete. The reports of casualties at the Battle of Antietam shown in the official records are certainly inaccurate. Often these reports are qualified by "about," "not over," or "less than." In addition, they do not show numbers of wounded who later died or the missing who later returned to duty or had been captured. The casualty estimates shown below are drawn primarily from reports in the Official Records, submitted one to several months after the battle. While Union reports show casualty statistics for September 17, 1862, Confederate reports show the total number of killed and wounded for the Maryland Campaign, including the battles of South Mountain, Harper's Ferry, Sharpsburg (Antietam), and Shepherdstown (Boteler's Ford). Confederate cavalry casualties are not shown. Stuart's cavalry brigades spent September 17th guarding the flanks of the Confederate Army, thus their casualties were relatively few.
Because casualty reports seldom agree, the following casualties are derived from several sources and applied by battle, phases, and campaign.
| | | | |
| --- | --- | --- | --- |
| Approximate Numbers | Union | Confederate | Total |
| Killed | 2,100 | 1,550 | 3,650 |
| Wounded | 9,550 | 7,750 | 17,300 |
| Missing/Captured | 750 | 1,020 | 1,770 |
| Total | 12,400 | 10,320 | 22,720 |

Note: Because of the catastrophic nature of the Battle of Antietam, exact numbers of casualties were virtually impossible to compile. The casualty sources for these figures are from the Official Records of the Union and Confederate Armies and compiled by the Antietam Battlefield Board.
Battle of Antietam Casualties, September 17th, by Phase of Battle
The casualty numbers below include all three categories. The numbers below are approximations of the casualties that occurred in each phase of the battle. The chaos of battle makes it exceedingly difficult to develop precise numbers for casualties in each phase of the battle. Overall, 1 in 4 soldiers involved in battle that day were killed, wounded, or missing.
Union
Confederate
Troops Engaged

Casualties
Troops Engaged

Casualties

Morning Phase

Cornfield
17,000
4,350
11,800
4,200
West Woods
5,400
2,200
9,000
1,850
Total, Morning Phase
22,400
6,550
20,800
6,050

Midday Phase

Bloody Lane
9,700
2,900
6,500
2,600

Afternoon Phase

Burnside Bridge
4,270
500
500
120
Final Attack
9,550
1,850
5,500
1,000
Total, Afternoon Phase
13,820
2,350
6,000
1,120

Battle Total

56,000
12,400
37,400
10,300
Note: The total numbers for September 17th do not reflect the sum of all three phases due to approximations for numbers in each phase. Depending on the source, furthermore, casualties vary greatly for the three phases. Casualty sources for the three phases are U.S. Army Military History Institute, Carlisle, PA; Antietam National Battlefield.
Antietam Casualties by Army
ARMY OF THE POTOMAC, CASUALTIES DURING THE BATTLE OF
ANTIETAM, 17 SEPTEMBER 1862
Unit

Killed

Wounded

Missing

Aggregate

Ofcrs

Men

Ofcrs

Men

Ofcrs

Men

I Corps

25

392

100

1,951

0

122

2,590

II Corps

63

820

188

3,671

3

393

5,138

V Corps

1

16

2

88

0

2

109

VI Corps

8

63

22

313

2

31

439

IX Corps

24

414

98

1,698

2

113

2,349

XII Corps

17

258

63

1,323

0

85

1,746

Cavalry Division

1

6

0

23

0

0

30

Total

139

1,969

473

9,067

7

746

12,401
---
ARMY OF NORTHERN VIRGINIA, CASUALTIES DURING THE
MARYLAND CAMPAIGN, 14-19 SEPTEMBER 1862
Unit

Killed

Wounded

Aggregate

Longstreet's Command
McLaws' Division

205

1,256

1,461

R. H. Anderson's Division

134

887

1,021

D. R. Jones' Division

142

818

960

Walker's Division

177

144

321

Hood's Division

133

830

963

Evans' Brigade*

47

262

309

Subtotal

838

4,197

5,035

Jackson's Command

Ewell's Division

161

854

1,015

A. P. Hill's Division

113

818

931

Jackson's Division

111

435

546

D. H. Hill's Division

451

1,735

2,186

Subtotal

836

3,842

4,678

Total

1,674

8,039

9,713
Note: Compiled from the U.S. War Department, The War of the Rebellion: A Compilation of the Official Records of the Union and Confederate Armies, 70 vols. (Washington, D.C.: Government Printing Office, 1893), ser. 1, vol. 19, pt. 1, pp. 189-200, 810-11, 843, 860-62, 888, 906-07.
(Related reading below.)
Credit: Adapted from Civil War Preservation Trust (You are encouraged to support the Civil War Trust located online at civilwar.org). Casualty figures are supplied by National Park Service; Antietam National Board; U.S. Army Center of Military History; Official Records of the Union and Confederate Armies; U.S. Army Military History Institute, Carlisle, PA.
Recommended Reading: Landscape Turned Red: The Battle of Antietam, by Stephen W. Sears. Description: The Civil War battle waged on September 17, 1862, at Antietam Creek, Maryland, was one of the bloodiest in the nation's history: in this single day, the war claimed nearly 23,000 casualties. In Landscape Turned Red, the renowned historian Stephen Sears draws on a remarkable cache of diaries, dispatches, and letters to recreate the vivid drama of Antietam as experienced not only by its leaders but also by its soldiers, both Union and Confederate. Combining brilliant military analysis with narrative history of enormous power, Landscape Turned Red is the definitive work on this climactic and bitter struggle. Continued below…
About the Author: STEPHEN W. SEARS is the author of many award-winning books on the Civil War, including Gettysburg and Landscape Turned Red. The New York Times Book Review has called him "arguably the preeminent living historian of the war's eastern theater." He is a former editor for American Heritage.
Editor's Pick: The Maryland Campaign of September 1862: Ezra A. Carman's Definitive Study of the Union and Confederate Armies at Antietam (Hardcover). Description: Completed in the early 1900s, The Maryland Campaign of September 1862 is still the essential source for anyone seeking understanding of the bloodiest day in all of American history. As the U.S. War Department's official expert on the Battle of Antietam, Ezra Carman corresponded with and interviewed hundreds of other veterans from both sides of the conflict to produce a comprehensive history of the campaign that dashed the Confederacy's best hope for independence and ushered in the Emancipation Proclamation. Nearly a century after its completion, Carman's manuscript has finally made its way into print, in an edition painstakingly edited, annotated, and indexed by Joseph Pierro. The Maryland Campaign of September 1862 is a crucial document for anyone interested in delving below the surface of the military campaign that forever altered the course of American history. Continued below.
Editorial Reviews:
Ted Alexander, Chief Historian, Antietam National Battlefield
"The Ezra Carman manuscript is the definitive study of that bloody September day in 1862. By editing it Joseph Pierro has done a tremendous service to the field of Civil War studies. Indeed, this work is one of the most important Civil War publications to come out in decades."
James M. McPherson, author of Crossroads of Freedom: Antietam
"Many accounts of Civil War battles were written in the decades after the war by soldiers who had participated in them. None rivals in accuracy and thoroughness Ezra Carmen's study of the battles of South Mountain and Antietam, in which he fought as colonel of the 13th New Jersey. Students of the 1862 Maryland campaign have long relied on this manuscript as a vital source; Joseph Pierro's scrupulous editorial work has now made this detailed narrative accessible to everyone. A splendid achievement."
Jeffry D. Wert, author of The Sword Of Lincoln: The Army of the Potomac
"At last, after a century, Ezra A. Carman's The Maryland Campaign of September 1862 has received the attention it deserves. A Union veteran, Carman authored a remarkable primary study of the critical operations that ended along Antietam Creek. Editor Joseph Pierro has given students of the Civil War and American history a most welcome and long overdue book."
Edwin C. Bearss, author of Fields of Honor: Pivotal Battles of the Civil War
"My introduction to the Ezra A. Carman Papers at the Library of Congress and National Archives came in the spring of 1961. I was astounded and amazed by their depth and scope. The correspondence, troop movement maps, etc, along with Carman's unpublished manuscript on the Antietam Campaign constitutes then as now an invaluable legacy to the American people by Carman and the veterans of Antietam. But for too long that resource has only been available to the general public as microfilm or by traveling to Washington. Now thanks to the publishers and skilled, knowledgeable, sympathetic, but light-handed editor Joseph Pierro, an annotated copy of Carman's masterpiece The Maryland Campaign of September 1862 will be available to the public."
William C. Davis, author of Look Away! A History of the Confederate States of America
"Joseph Pierro brings into the open one of the great and largely unknown masterworks of Civil War history. Ezra Carman's work on Antietam is a fountainhead for study of that pivotal battle, written by a man who was in the fight and who spent most of his life studying and marking the battlefield. No student can afford to ignore this stunningly thorough and brilliantly edited classic."
Recommended Reading: The Antietam Campaign (Military Campaigns of the Civil War). Description: The Maryland campaign of September 1862 ranks among the most important military operations of the American Civil War. Crucial political, diplomatic, and military issues were at stake as Robert E. Lee and George B. McClellan maneuvered and fought in the western part of the state. The climactic clash came on September 17 at the battle of Antietam, where more than 23,000 men fell in the single bloodiest day of the war. Continued below.
Approaching topics related to Lee's and McClellan's operations from a variety of perspectives, numerous contributors to this volume explore questions regarding military leadership, strategy, and tactics, the impact of the fighting on officers and soldiers in both armies, and the ways in which participants and people behind the lines interpreted and remembered the campaign. They also discuss the performance of untried military units and offer a look at how the United States Army used the Antietam battlefield as an outdoor classroom for its officers in the early twentieth century. Also available in paperback: The Antietam Campaign (Military Campaigns of the Civil War)
Recommended Reading: Antietam, South Mountain, and Harpers Ferry: A Battlefield Guide (This Hallowed Ground: Guides to Civil War) (Paperback). Description: In September 1862 the Confederate Army of Northern Virginia and the Union Army of the Potomac conducted one of the truly great campaigns of the Civil War. At South Mountain, Harpers Ferry, and Antietam, North and South clashed in engagements whose magnitude and importance would earn this campaign a distinguished place in American military history. The siege of Harpers Ferry produced the largest surrender of U.S. troops in the nation's history until World War II, while the day-long battle at Antietam on September 17 still holds the distinction of being the single bloodiest day of combat in American history. Continued below…
This invaluable book provides a clear, convenient, stop-by-stop guide to the sites in Maryland and West Virginia associated with the Antietam campaign, including excursions to Harpers Ferry and South Mountain. Thorough descriptions and analyses, augmented with vignettes and numerous maps, convey the mechanics as well as the human experience of the campaign, making this book the perfect companion for both serious students of the Civil War and casual visitors to its battlefields. "Insightful and informed, written in a graceful style, with excellent maps, Antietam, South Mountain, and Harpers Ferry: A Battlefield Guide will be an invaluable resource for the Civil War aficionado, as well as the casual visitor to the battlefield."-Edwin C. Bearss, chief historian emeritus of the National Park Service. About the Author: Ethan S. Rafuse is an associate professor of military history at the U.S. Army Command and General Staff College. He is the author of several books, including McClellan's War: The Failure of Moderation in the Struggle for the Union, and is the coeditor of The Ongoing Civil War: New Versions of Old Stories.
Recommended Viewing: The Civil War - A Film by Ken Burns. Review: The Civil War - A Film by Ken Burns is the most successful public-television miniseries in American history. The 11-hour Civil War didn't just captivate a nation, reteaching to us our history in narrative terms; it actually also invented a new film language taken from its creator. When people describe documentaries using the "Ken Burns approach," its style is understood: voice-over narrators reading letters and documents dramatically and stating the writer's name at their conclusion, fresh live footage of places juxtaposed with still images (photographs, paintings, maps, prints), anecdotal interviews, and romantic musical scores taken from the era he depicts. Continued below...
The Civil War uses all of these devices to evoke atmosphere and resurrect an event that many knew only from stale history books. While Burns is a historian, a researcher, and a documentarian, he's above all a gifted storyteller, and it's his narrative powers that give this chronicle its beauty, overwhelming emotion, and devastating horror. Using the words of old letters, eloquently read by a variety of celebrities, the stories of historians like Shelby Foote and rare, stained photos, Burns allows us not only to relearn and finally understand our history, but also to feel and experience it. "Hailed as a film masterpiece and landmark in historical storytelling." "[S]hould be a requirement for every student."
Recommended Reading: The History Buff's Guide to the Civil War (400 pages). Description: Exploring the Civil War can be fascinating, but with so many battles, leaders, issues, and more than 50,000 books on these subjects, the task can also be overwhelming. Was Gettysburg the most important battle? Were Abraham Lincoln and Jefferson Davis so different from each other? How accurate is re-enacting? Who were the worst commanding generals? Thomas R. Flagel uses annotated lists organized under more than thirty headings to see through the powder smoke and straighten Sherman's neckties, ranking and clarifying the best, the worst, the largest, and the most lethal aspects of the conflict. Continued below.
Major sections are fashioned around the following topics:
• Antebellum: Investigates the critical years before the war, in particular the growing crises, extremists, and slavery.
• Politics: Contrasts the respective presidents and constitutions of the Union and Confederacy, the most prominent politicians, and the most volatile issues of the times.
• Military Life: Offers insights into the world of the common soldiers, how they fought, what they ate, how they were organized, what they saw, how they lived, and how they died.
• The Home Front: Looks at the fastest growing field in Civil War research, including immigration, societal changes, hardships and shortages, dissent, and violence far from the firing lines.
• In Retrospect: Ranks the heroes and heroines, greatest victories and failures, firsts and worsts.
• Pursuing the War: Summarizes Civil War study today, including films, battlefield sites, books, genealogy, re-enactments, restoration, preservation, and other ventures.
From the antebellum years to Appomattox and beyond, The History Buff's Guide to the Civil War is a quick and compelling guide to one of the most complex and critical eras in American history.