THE CIVIL WAR SURRENDER AT APPOMATTOX, VIRGINIA
Civil War Surrender Appomattox Virginia Map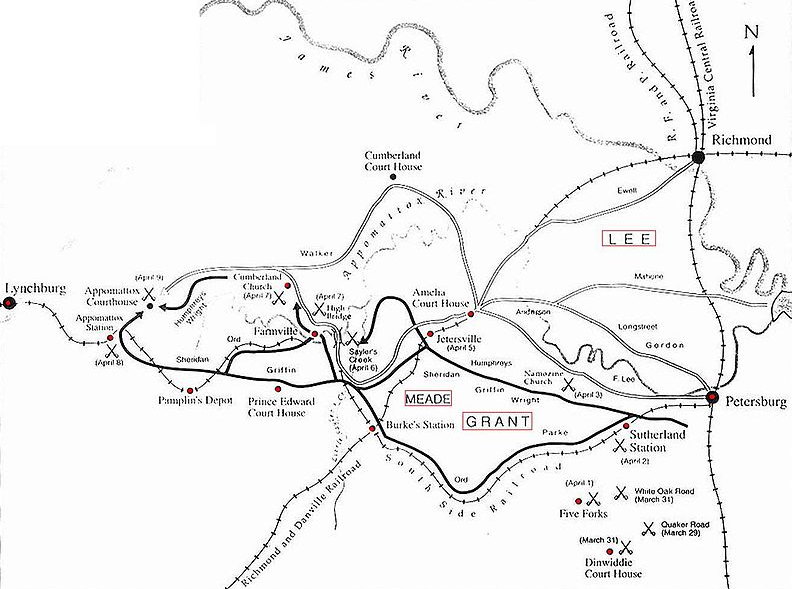 American Civil War Appomattox Virginia Campaign Surrender Map
Wars end in many different ways. Limited wars often end with negotiated settlements. The American Civil War - involving such vital issues as preserving the Union, freeing the slaves, and struggling for Southern independence - could not be settled that way. It had to be fought to a military conclusion. That conclusion came some 142 years ago this week, on April 9, 1865. After four bloody years of Civil War, Confederate General Robert E. Lee surrendered to the United States Army under General Ulysses S. Grant at Appomattox Court House in southern Virginia. General Lee and his troops had capitulated. Even the negotiating table became a prize of war. For General Grant and his President, Abraham Lincoln, their national goal was not negotiation, not even peace, but lasting victory. They achieved that victory at Appomattox.

Yet they understood that for victory to last, it must treat the vanquished with consideration. The surrender terms paroled Southern soldiers on the spot rather than incarcerate them in prisoner-of-war camps. Their officers, moreover, were permitted to retain their side arms, horses, and personal baggage. Allowing such retention "will have a very happy effect upon my army," General Lee gratefully acknowledged at the time. On learning that Confederate soldiers owned their military horses and mules, General Grant went on to make clear that any soldiers claiming such steeds would be permitted to "take the animals home with them to work their little farms." "This will have the best possible effect upon the men," General Lee thankfully responded; "it will be very gratifying and will do much toward conciliating our people." Thus did two great American commanders, who had clashed on dozens of battlefields over the preceding eleven months, honor each other - and their soldiers - in the course of surrender.
Appomattox Court House Surrender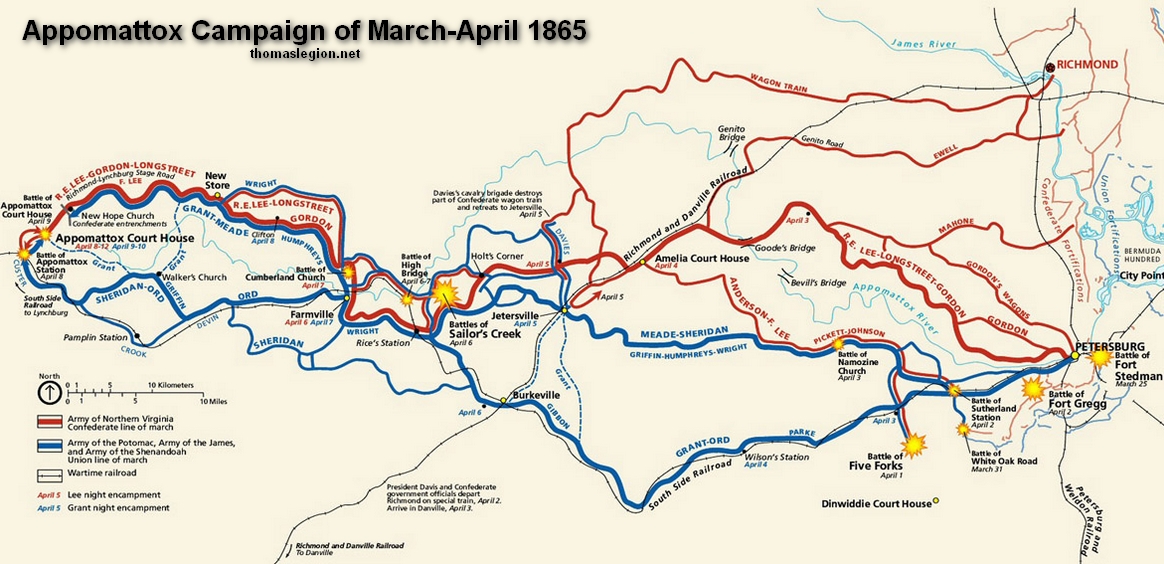 Appomattox Campaign Battles Leading to Surrender of Lee's Army
Civil War Surrender Appomattox Virginia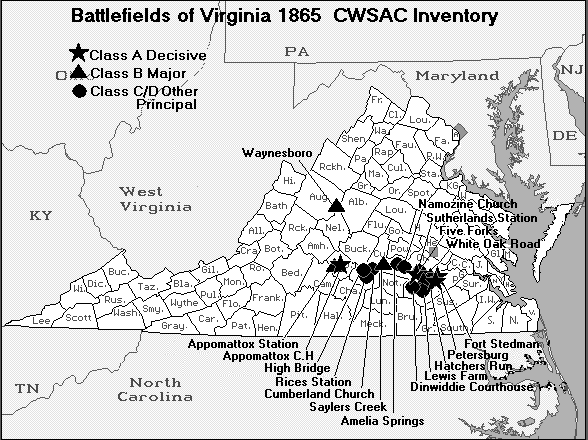 American Civil War Surrender at Appomattox Court House
Those soldiers themselves, who had gained a grudging respect for one another in four years of Civil War, also made clear that respect at the very end. On April 12, when the Confederate Army of Northern Virginia made its final march to stack arms and lay down its battle flags, the Federal division designated to receive the surrender did not mock its vanquished foe with taunts and cheers. Instead, the Federal soldiers snapped to attention and stood silent. The Graycoats returned the honor by shifting into formal marching order.

Within three months after Appomattox, the Civil War ended. Reconstruction, readjustment, reconciliation would take decades. Our reunited country now recognizes both General Grant and General Lee, both the Federal Army and Confederate Army, as part of our common heritage. The generous surrender terms of Appomattox were the first steps on that road to reconciliation. So, too, was General Grant's realization that one of the surest roads to peace is VICTORY.
April 8, 2007
By Dr. Richard J. Sommers, U.S. Army Military History Institute, U.S. Army Heritage and Education Center
Try the Search Engine for Related Studies: Appomattox Court House Virginia Surrendered Confederate General Robert E. Lee United States Army General U S Grant President Abraham Lincoln Confederate Soldiers Paroled Civil War Reconstruction