Southern Historical Society Papers and Battle of Gettysburg
Southern Historical Society Papers*
Battle of Gettysburg and Pickett's Charge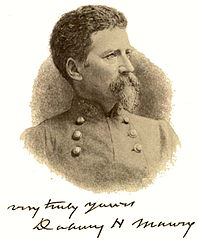 Maj. Gen. Dabney Herndon Maury
*The Southern Historical Society is a public organization founded by Confederate Major General Dabney H. Maury in 1868-1869 and documented Southern military and civilian viewpoints from the American Civil War. These were compiled into the Southern Historical Society Papers, published in the late 19th Century, comprising 52 volumes of articles written by Southern soldiers, officers, politicians, and civilians.
In addition to the Southern Historical Papers, the following links contain numerous additional reports and accounts of all things Gettysburg:
Recommended Reading: Pickett's Charge, by George Stewart. Description: The author has written an eminently readable, thoroughly enjoyable, and well-researched book on the third day of the Gettysburg battle, July 3, 1863. An especially rewarding read if one has toured, or plans to visit, the battlefield site. The author's unpretentious, conversational style of writing succeeds in putting the reader on the ground occupied by both the Confederate and Union forces before, during and after Pickett's and Pettigrew's famous assault on Meade's Second Corps. Continued below.
Interspersed with humor and down-to-earth observations concerning battlefield conditions, the author conscientiously describes all aspects of the battle, from massing of the assault columns and pre-assault artillery barrage to the last shots and the flight of the surviving rebels back to the safety of their lines… Having visited Gettysburg several years ago, this superb volume makes me want to go again.
Recommended Reading: Gettysburg, by Stephen W. Sears (640 pages) (November 3, 2004). Description: Sears delivers another masterpiece with this comprehensive study of America's most studied Civil War battle. Beginning with Lee's meeting with Davis in May 1863, where he argued in favor of marching north, to take pressure off both Vicksburg and Confederate logistics. It ends with the battered Army of Northern Virginia re-crossing the Potomac just two months later and with Meade unwilling to drive his equally battered Army of the Potomac into a desperate pursuit. In between is the balanced, clear and detailed story of how tens-of-thousands of men became casualties, and how Confederate independence on that battlefield was put forever out of reach. The author is fair and balanced. Continued below...
He discusses the shortcomings of Dan Sickles, who advanced against orders on the second day; Oliver Howard, whose Corps broke and was routed on the first day; and Richard Ewell, who decided not to take Culp's Hill on the first night, when that might have been decisive. Sears also makes a strong argument that Lee was not fully in control of his army on the march or in the battle, a view conceived in his gripping narrative of Pickett's Charge, which makes many aspects of that nightmare much clearer than previous studies. A must have for the Civil War buff and anyone remotely interested in American history.
Recommended Reading: Gettysburg: A Testing of Courage. Description: America's Civil War raged for more than four years, but it is the three days of fighting in the Pennsylvania countryside in July 1863 that continues to fascinate, appall, and inspire new generations with its unparalleled saga of sacrifice and courage. From Chancellorsville, where General Robert E. Lee launched his high-risk campaign into the North, to the Confederates' last daring and ultimately-doomed act, forever known as Pickett's Charge, the battle of Gettysburg gave the Union army a victory that turned back the boldest and perhaps greatest chance for a Southern nation. Continued below...
Now, acclaimed historian Noah Andre Trudeau brings the most up-to-date research available to a brilliant, sweeping, and comprehensive history of the battle of Gettysburg that sheds fresh light on virtually every aspect of it. Deftly balancing his own narrative style with revealing firsthand accounts, Trudeau brings this engrossing human tale to life as never before.
Recommended Reading: The Gettysburg Campaign: A Study in Command (928 pages). Description: Coddington's research is one of the most thorough and detailed studies of the Gettysburg Campaign. Exhaustive in scope and scale, Coddington delivers, with unrivaled research, in-depth battle descriptions and a complete history of the regiments involved. Continued below...
This is a must read for anyone seriously interested in American history and what transpired and shaped a nation on those pivotal days in July 1863.
Recommended Reading: General Lee's Army: From Victory to Collapse (Hardcover). Review: You cannot say that University of North Carolina professor Glatthaar (Partners in Command) did not do his homework in this massive examination of the Civil War–era lives of the men in Robert E. Lee's Army of Northern Virginia. Glatthaar spent nearly 20 years examining and ordering primary source material to ferret out why Lee's men fought, how they lived during the war, how they came close to winning, and why they lost. Glatthaar marshals convincing evidence to challenge the often-expressed notion that the war in the South was a rich man's war and a poor man's fight and that support for slavery was concentrated among the Southern upper class. Continued below...
Lee's army included the rich, poor and middle-class, according to the author, who contends that there was broad support for the war in all economic strata of Confederate society. He also challenges the myth that because Union forces outnumbered and materially outmatched the Confederates, the rebel cause was lost, and articulates Lee and his army's acumen and achievements in the face of this overwhelming opposition. This well-written work provides much food for thought for all Civil War buffs.
Recommended Reading: ONE CONTINUOUS FIGHT: The Retreat from Gettysburg and the Pursuit of Lee's Army of Northern Virginia, July 4-14, 1863 (Hardcover) (June 2008). Description: The titanic three-day battle of Gettysburg left 50,000 casualties in its wake, a battered Southern army far from its base of supplies, and a rich historiographic legacy. Thousands of books and articles cover nearly every aspect of the battle, but not a single volume focuses on the military aspects of the monumentally important movements of the armies to and across the Potomac River. One Continuous Fight: The Retreat from Gettysburg and the Pursuit of Lee's Army of Northern Virginia, July 4-14, 1863 is the first detailed military history of Lee's retreat and the Union effort to catch and destroy the wounded Army of Northern Virginia. Against steep odds and encumbered with thousands of casualties, Confederate commander Robert E. Lee's post-battle task was to successfully withdraw his army across the Potomac River. Union commander George G. Meade's equally difficult assignment was to intercept the effort and destroy his enemy. The responsibility for defending the exposed Southern columns belonged to cavalry chieftain James Ewell Brown (JEB) Stuart. If Stuart fumbled his famous ride north to Gettysburg, his generalship during the retreat more than redeemed his flagging reputation. The ten days of retreat triggered nearly two dozen skirmishes and major engagements, including fighting at Granite Hill, Monterey Pass, Hagerstown, Williamsport, Funkstown, Boonsboro, and Falling Waters. Continued below...
President Abraham Lincoln was thankful for the early July battlefield victory, but disappointed that General Meade was unable to surround and crush the Confederates before they found safety on the far side of the Potomac. Exactly what Meade did to try to intercept the fleeing Confederates, and how the Southerners managed to defend their army and ponderous 17-mile long wagon train of wounded until crossing into western Virginia on the early morning of July 14, is the subject of this study. One Continuous Fight draws upon a massive array of documents, letters, diaries, newspaper accounts, and published primary and secondary sources. These long-ignored foundational sources allow the authors, each widely known for their expertise in Civil War cavalry operations, to describe carefully each engagement. The result is a rich and comprehensive study loaded with incisive tactical commentary, new perspectives on the strategic role of the Southern and Northern cavalry, and fresh insights on every engagement, large and small, fought during the retreat. The retreat from Gettysburg was so punctuated with fighting that a soldier felt compelled to describe it as "One Continuous Fight." Until now, few students fully realized the accuracy of that description. Complimented with 18 original maps, dozens of photos, and a complete driving tour with GPS coordinates of the entire retreat, One Continuous Fight is an essential book for every student of the American Civil War in general, and for the student of Gettysburg in particular. About the Authors: Eric J. Wittenberg has written widely on Civil War cavalry operations. His books include Glory Enough for All (2002), The Union Cavalry Comes of Age (2003), and The Battle of Monroe's Crossroads and the Civil War's Final Campaign (2005). He lives in Columbus, Ohio. J. David Petruzzi is the author of several magazine articles on Eastern Theater cavalry operations, conducts tours of cavalry sites of the Gettysburg Campaign, and is the author of the popular "Buford's Boys." A long time student of the Gettysburg Campaign, Michael Nugent is a retired US Army Armored Cavalry Officer and the descendant of a Civil War Cavalry soldier. He has previously written for several military publications. Nugent lives in Wells, Maine.
Recommended Reading: Retreat from Gettysburg: Lee, Logistics, and the Pennsylvania Campaign (Civil War America) (Hardcover). Description: In a groundbreaking, comprehensive history of the Army of Northern Virginia's retreat from Gettysburg in July 1863, Kent Masterson Brown draws on previously unused materials to chronicle the massive effort of General Robert E. Lee and his command as they sought to expeditiously move people, equipment, and scavenged supplies through hostile territory and plan the army's next moves. More than fifty-seven miles of wagon and ambulance trains and tens of thousands of livestock accompanied the army back to Virginia. Continued below...
The movement of supplies and troops over the challenging terrain of mountain passes and in the adverse conditions of driving rain and muddy quagmires is described in depth, as are General George G. Meade's attempts to attack the trains along the South Mountain range and at Hagerstown and Williamsport, Maryland. Lee's deliberate pace, skillful use of terrain, and constant positioning of the army behind defenses so as to invite attack caused Union forces to delay their own movements at critical times. Brown concludes that even though the battle of Gettysburg was a defeat for the Army of Northern Virginia, Lee's successful retreat maintained the balance of power in the eastern theater and left his army with enough forage, stores, and fresh meat to ensure its continued existence as an effective force.