Battle of Ware Bottom Church
Ware
Bottom
Church, Virginia, History
Ware
Bottom
Church and Civil War
Battle of Ware Bottom Church History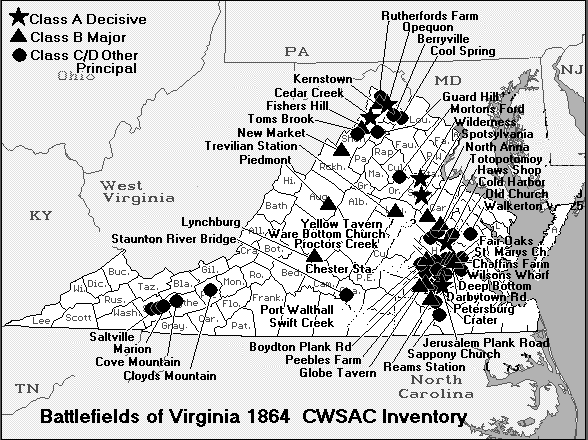 Ware Bottom Church Battlefield History
Battle of Ware Bottom Church
Nearly 10,000 soldiers of the National and Confederate armies clashed on May 20, 1864, around rustic Ware Bottom Church in Chesterfield County, Virginia.
Chesterfield
County
is located in the Richmond-Petersburg region in the
Commonwealth of Virginia
.
Before the day concluded, 1,400 dead and wounded men from fourteen American states lay sprawled and bleeding upon the ground. This climactic battlefield of the Bermuda Hundred Campaign was overshadowed by larger events of the time and lapsed into relative obscurity. Why? Because the
Battle of Cold Harbor
immediately followed the Battle of Ware Bottom Church. Today, the battleground itself has all but disappeared.
Richmond, Virginia, was at the heart of the conflict. As the industrial and political capital of the Confederacy, Richmond was the physical and psychological prize over which two mighty American armies contended in bloody battle from 1861 to 1865.
Ware Bottom Church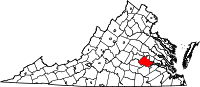 Chesterfield County, Virginia
Historic Military Map
Topographical engineers were the eyes of the armies during the American Civil War. Using simple, but effective, tools and techniques, they scouted the territory, recorded measurements, and produced and reproduced thousands of maps to guide military operations. Scales and skills varied, but many of these maps contained surprisingly accurate depictions of the terrain, roads and railroads, farms, fields, woodlots, and fortifications.
Georeferenced Map
Richmond, Virginia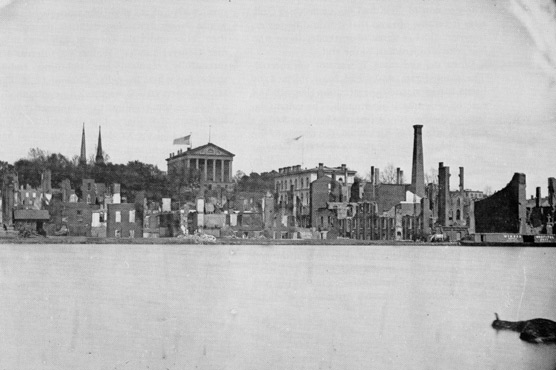 Richmond, Virginia, in 1865
Battle of Ware Bottom Church Map
Civil War Battle Ware Bottom Church History
A historic map can be a valuable tool for finding and documenting cultural resources in the field. By plugging real-world coordinates into the digital image using the ArcGIS georeferencing tool, a historic map can be overlain in GIS with modern data layers. To rectify this map of the area around Ware Bottom Church, we used road intersections, points along the railroad, and the locations of known structure sites and fortifications collected with global positioning systems.
Historic Landscape
Map features were then digitized onscreen, creating separate layers for structures, roads, woodlots, and fortifications. Overlaying these features with modern topography, rivers and streams, allows us to visualize the historic landscape. Features on this map are symbolized according to their current condition. Standing structures are depicted with a green dot. Structures that no longer survive are shown with a black diamond. The original historic fortifications are shown with a solid brown line.
Sources: National Park Service; Official Records of the Union and Confederate Armies.
Recommended Reading: Ashes of Glory: Richmond at War. Description: Drawing on an array of archival sources, Ashes of Glory portrays Richmond's passion through the voices of soldiers and statesmen, preachers and prostitutes, slaves and slavers. Masterfully orchestrated and finely rendered, the result is a passionate and compelling work of social history. The siege of Richmond, Virginia, is unlike anything in the history of America. For four years the Union soldiers tied an ever-tightening noose around the defiant city. That story--and the way Ernest B. Furgurson tells it--is reason enough to tackle this work. But even more fascinating is Furgurson's exploration of the minds of the residents who so passionately supported the Confederate cause. Continued below…
What twist of logic must have inspired a citizenry--many of whom never owned slaves--to plunge into one of history's bloodiest conflicts? Visit
Richmond
in its proudest moments, when it envisioned victory; visit
Richmond
in its darkest times, when it felt flames.
Recommended Reading: Cold Harbor: Grant and Lee, May 26-June 3, 1864, by Gordon C. Rhea (Hardcover). Description: In his gripping volume on the spring 1864 Overland campaign--which pitted Ulysses S. Grant against Robert E. Lee for the first time in the Civil War--Gordon Rhea vividly re-creates the battles and maneuvers from the North Anna stalemate through the Cold Harbor offensive. Rhea's tenacious research elicits stunning new facts from the records of a phase oddly ignored or mythologized by historians. The Cold Harbor of these pages differs sharply from the Cold Harbor of popular lore. We see Grant, in one of his most brilliant moves, pull his army across the North Anna River and steal a march on Lee. In response, Lee sets up a strong defensive line along Totopotomoy Creek, and the battles spark across woods and fields northeast of Richmond. Continued below…
Their back to the Chickahominy River and on their last legs, the rebel troops defiantly face an army-wide assault ordered by Grant that extends over three hellish days. Rhea gives a surprising new interpretation of the famous battle that left seven thousand Union casualties and only fifteen hundred Confederate dead or wounded. Here, Grant is not a callous butcher, and Lee does not wage a perfect fight. Every imaginable primary source has been exhausted to unravel the strategies, mistakes, gambles, and problems with subordinates that preoccupied two exquisitely matched minds. In COLD HARBOR, Rhea separates fact from fiction in a charged, evocative narrative. He leaves readers under a moonless sky, Grant pondering the eastward course of the James River fifteen miles south of the encamped armies. About the Author: Gordon Rhea is the author of three previous books, a winner of the Fletcher Pratt Literary Award, a frequent lecturer throughout the country on military history, and a practicing attorney.
Recommended Reading: Richmond Burning: The Last Days of the Confederate Capital. Description: Nelson Lankford draws upon Civil War-era diaries, letters, memoirs, and newspaper reports to vividly recapture the experiences of the men and women, both black and white, who witnessed the tumultuous fall of Richmond. In April 1865, General Robert E. Lee realized that his army must retreat from the Confederate capital and that Jefferson Davis's government must flee... As the Southern soldiers withdrew, they set the city on fire, leaving a blazing ruin to greet the entering Union troops. Continued below...
The city's fall ushered in the birth of the modern United States. Lankford's exploration of this pivotal event is at once an authoritative work of history and a stunning piece of dramatic prose. About the Author: Nelson Lankford edits the Virginia Magazine of History and Biography, the quarterly journal of the Virginia Historical Society. He has written and edited several books.
Recommended Reading: Season of Fire: The Confederate Strike on Washington (Hardcover: 300 pages). Editorial Review from Booklist: In 1864, Confederate General Jubal Early, outraged by Union depredations in the Shenandoah Valley by the Federals, launched a bold but futile raid on the outskirts of Washington, D.C. With this event as the central focus of his narrative, Judge has written a fascinating and riveting account of the men in battle. He masterfully maintains both dramatic tension and historical accuracy by relating the events through the memoirs of the actual participants. Judge explains the military maneuvers in language that laypersons can easily grasp, and his portrayals of the key participants breathe life into the account. Continued below...
Among the more memorable key-players are Early, the daring general of the valley; Lew Wallace (who would later author "Ben Hur"), who attempts to block Early's advance; and George Davis, from Vermont, who was awarded the Medal of Honor during this fiercely contested campaign. This is a fine recounting of a relatively obscure but quite interesting series of events, and both the general reader and Civil War aficionados will enjoy it. The book also contains sixty-one illustrations.
Recommended Reading: Eyewitness to the Civil War (Hardcover: 416 pages) (National Geographic; Fists edition) (November 21, 2006). Description: At once an informed overview for general-interest readers and a superb resource for serious buffs, this extraordinary, gloriously illustrated volume is sure to become one of the fundamental books in any Civil War library. Its features include a dramatic narrative packed with eyewitness accounts and hundreds of rare photographs, pictures, artifacts, and period illustrations. Evocative sidebars, detailed maps, and timelines add to the reference-ready quality of the text. Continued below...
From John Brown's raid to Reconstruction, Eyewitness to the Civil War presents a clear, comprehensive discussion that addresses every military, political, and social aspect of this crucial period. In-depth descriptions of campaigns and battles in all theaters of war are accompanied by a thorough evaluation of the nonmilitary elements of the struggle between North and South. In their own words, commanders and common soldiers in both armies tell of life on the battlefield and behind the lines, while letters from wives, mothers, and sisters provide a portrait of the home front. More than 375 historical photographs, portraits, and artifacts—many never before published—evoke the era's flavor; and detailed maps of terrain and troop movements make it easy to follow the strategies and tactics of Union and Confederate generals as they fought through four harsh years of war. Photoessays on topics ranging from the everyday lives of soldiers to the dramatic escapades of the cavalry lend a breathtaking you-are-there feeling, and an inclusive appendix adds even more detail to what is already a magnificently meticulous history.
Recommended Reading: Trench Warfare under Grant and Lee: Field Fortifications in the Overland Campaign (Civil War America) (Hardcover) (The University of North Carolina Press) (September 5, 2007). Description: In the study of field fortifications in the Civil War that began with Field Armies and Fortifications in the Civil War, Hess turns to the 1864 Overland campaign to cover battles from the Wilderness to Cold Harbor.
Drawing on meticulous research in primary sources and careful examination of trench remnants at the Wilderness, Spotsylvania, North Anna, Cold Harbor, and Bermuda Hundred, Hess describes Union and Confederate earthworks and how Grant and Lee used them in this new era of field entrenchments.