Introduction
Hiram Ulysses Grant was born in Point Pleasant, Ohio on April 27, 1822 to parents who were natives of Pennsylvania. His father Jesse Root Grant (1794–1873) was a self-reliant tanner and businessman of Yankee and English ancestry, from an austere family. His mother Hannah Simpson Grant (1798–1883) was of Scottish ancestry. In the fall of 1823, the family moved to the village of Georgetown in Brown County, Ohio. The second president from Ohio, Grant was elected the 18th President of the United States in 1868, and was re-elected to the office in 1872. He served as President from March 4, 1869, to March 4, 1877, and died on July 23, 1885, at the age of 63.
General US Grant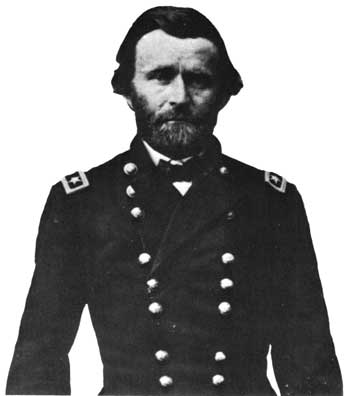 Ulysses S. Grant
Family Tree and Genealogy
Grant's parents were Jesse Root and Hannah Simpson Grant. Grant married Julia Dent in 1848. They had four children: Frederick Dent, Ulysses Simpson, Ellen Wrenshall, and Jesse Root.
At the age of 17, Grant entered the United States Military Academy (USMA) at West Point, New York, secured by Congressman Thomas L. Hamer's nomination. An opening had been made at USMA when a cadet from Georgetown resigned in October 1838. Hamer mistakenly nominated him as "Ulysses S. Grant of Ohio." At West Point, he adopted this name with a middle initial only. His nickname became "Sam" among army colleagues at the academy, since the initials "U.S." stood for "Uncle Sam".
Many believe that Grant's true character was evident in his writing — especially in his personal letters to his beloved wife, Julia. "His letters are marvels of composition and are mirrors of his sensitive soul." Grant's letters to his wife "reveal his passions, sorrows and the loneliness that enveloped him like a shroud."
Grant intensely loved his wife and children. Together, he and Julia had four children. Grant was reported to be an indulgent and affectionate father. He remained close to his wife and children throughout his life. In fact, his wife and youngest son stayed with him at his Civil War headquarters cabin at City Point, Virginia from December 1864 to March 1865. After the Union victory at Petersburg, he returned to City Point to retrieve his wife and son so they could return home together. His family stayed by his side during his final days as he battled throat cancer in 1885. Many attributed the cancer to his love of cigars; Grant was known to smoke at least 20 cigars daily.
Terminally ill, Grant had finished his memoir just a few days before his death. The Memoirs sold over 300,000 copies, earning the Grant family over $450,000. Mark Twain promoted the book as "the most remarkable work of its kind since the Commentaries of Julius Caesar." Grant's memoir has been regarded by writers as diverse as Matthew Arnold and Gertrude Stein as one of the finest works of its kind ever written.
Ulysses S. Grant died on Thursday, July 23, 1885, at the age of 63 in Mount McGregor, Saratoga County, New York. After lying in state, Grant's body was placed on a funeral train and traveled south from Albany, New York, and passed through the West Point station of Garrison, across the Hudson River from the Academy.
The train carrying Grant's body was draped in black and slowly passed on its way to New York City. As it passed through West Point the whole undergraduate battalion with Cadet Captain John J. Pershing at its head stood at present arms. Grant's body lies in New York City's Riverside Park, beside that of his wife, in Grant's Tomb, the largest mausoleum in North America. Grant is honored by the Ulysses S. Grant Memorial at the base of Capitol Hill in Washington, D.C.
General and President US Grant genealogy
US Grant Family Tree and Genealogy
The Ulysses S. Grant family tree continued when his children began to marry, although he wasn't pleased with his daughter Nellie's choice of husband. She married Algernon Sartoris, an English singer and nephew of the actress Fanny Kemble. Although he turned out to be a bad husband, he left Nellie a wealthy widow in 1893. Ulysses' son Jesse Root married Elizabeth Chapman, whose father was a founder of the California Academy of Sciences. Unfortunately, Jesse Root Grant publicly sued his wife for divorce, and the affair dragged out through the newspapers. Jesse Root Grant, after his divorce, went on to develop a gambling resort Tia Juana, which is now Tijuana, Mexico. Frederick Grant married the daughter of a Chicago real estate magnate, Henry Hamilton Honor, and Ulysses "Buck" Jr., married Fannie Chaffee, daughter of the U.S. Senator from Colorado, Jerome Chaffee.
President Grant genealogy and family tree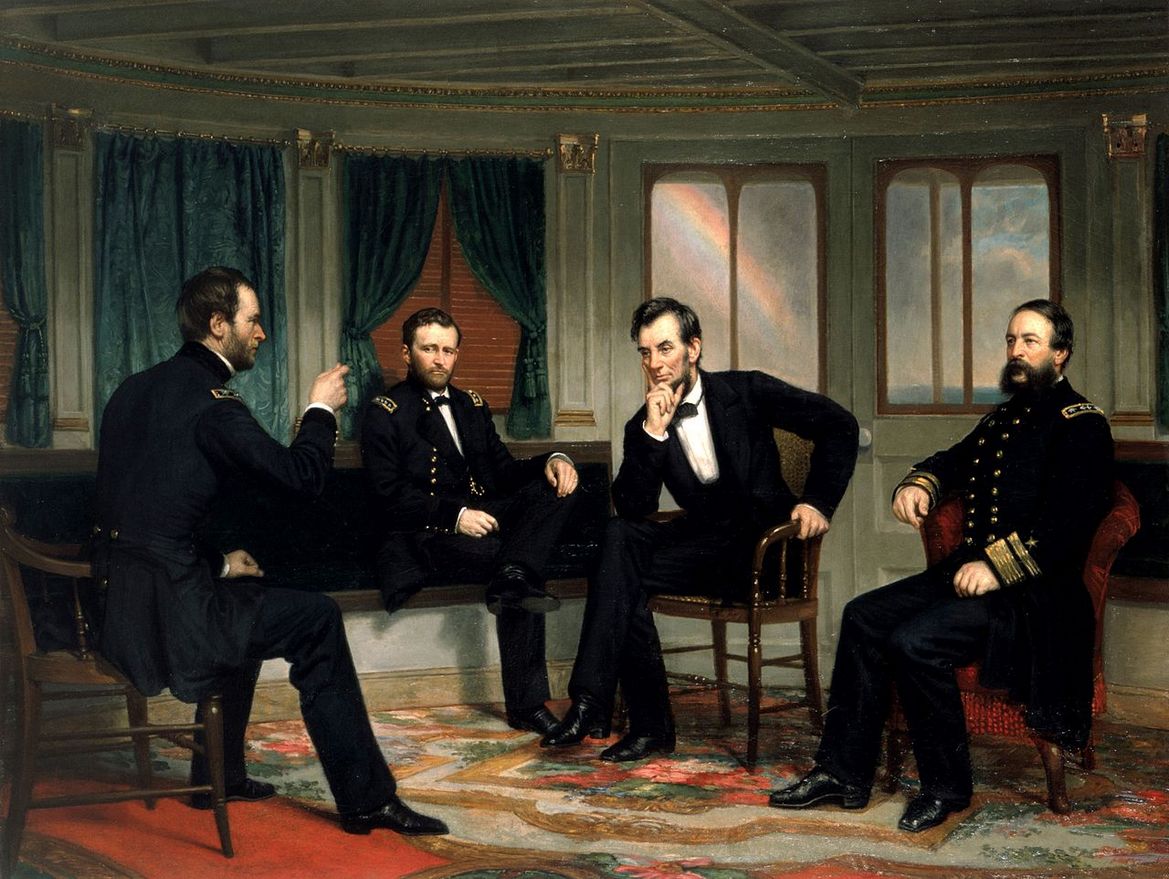 Sherman, Grant, Lincoln, and Porter aboard the River Queen on March 27-28, 1865.
(About) Sherman, Grant, Lincoln, and Porter aboard the River Queen on March 27th & March 28th, 1865. Grant (center left) next to Lincoln with General Sherman (far left) and Admiral Porter (right). White House copy of the lost 1868 painting of Sherman, Grant, Lincoln, and Porter aboard the River Queen. The White House Historical Association.
President US Grant genealogy and family tree.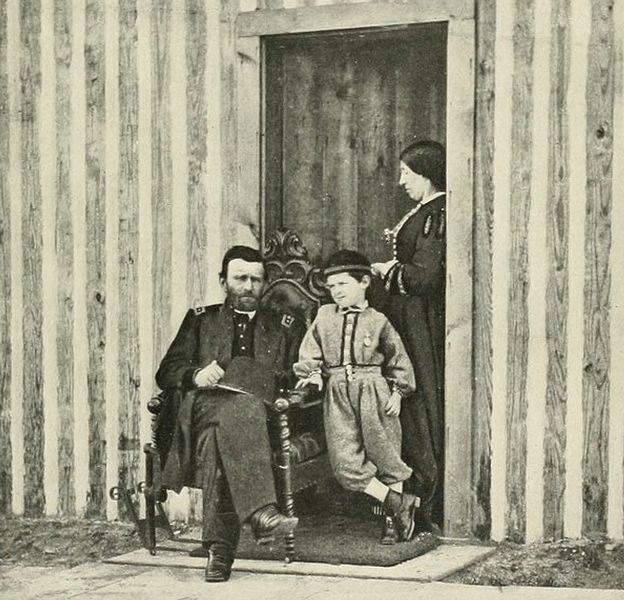 General Ulysses S. Grant at City Point in 1864 with his wife and son Jesse. ca. 1864.
General US Grant Family Tree and Genealogy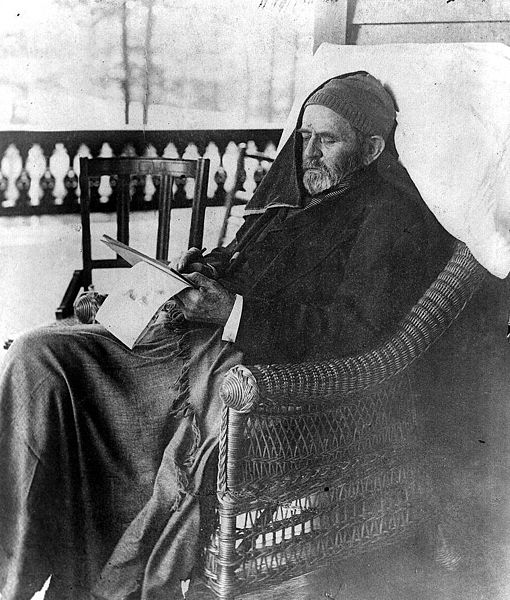 Ulysses Grant, three-quarter length portrait, seated in rattan chair
(Left) Ulysses Grant, three-quarter length portrait, on June 27, 1886, seated in rattan chair, writing memoirs, at Mount McGregor near Saratoga Springs, N.Y. Grant would die less than one month after this portrait. Library of Congress. (Right) General Ulysses S. Grant at City Point in 1864 with his wife and son Jesse.
President Grant Genealogy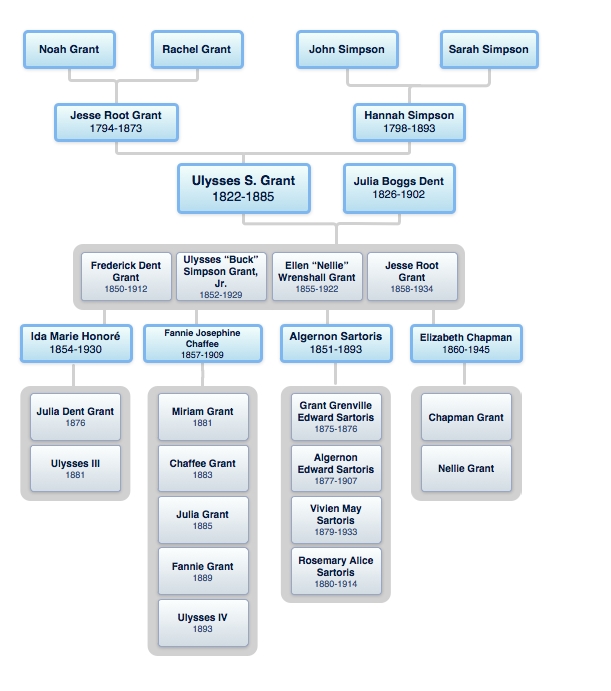 President US Grant Genealogy and Family Tree
Random descendants of U.S. Grant
Frederick Dent Grant - son, U.S. Army officer and Minister to Austria
Ellen (Nellie) Wrenshall Grant - daughter, married in the White House during her father's term
Ulysses S. Grant, Jr. - son, lawyer
Jesse Root Grant - son, engineer
Princess Cantacuzčne - granddaughter, memoirist of the Russian Revolution
Ulysses S. Grant III - grandson, soldier
Ulysses S. Grant IV - grandson, scientist
Chapman Grant - grandson, scientist
General US Grant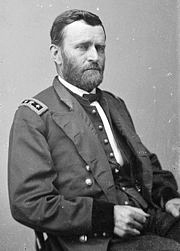 US Grant
Memoirs
Grant had forfeited his military pension when he assumed the presidency, but Congress restored him to the rank of General of the Army with full retirement pay in March 1885. Around the same time, Grant learned that he was suffering from throat cancer. To restore his family's income, Grant wrote several articles on his Civil War campaigns for The Century Magazine at $500 each. The articles were well received by critics, and the editor, Robert Underwood Johnson, suggested Grant write a book of memoirs, as Sherman and others had done.
Grant took up the project and asked his former staff officer, Adam Badeau, to help edit his work. Grant's son Fred assisted with references and proofreading. Century offered Grant a book contract with a 10% royalty, but Grant's friend, Mark Twain, made his own offer to Grant for his memoirs, proposing a 75% royalty. Grant ultimately decided on Twain's publishing company, Charles L. Webster and Company. Grant worked diligently on the memoir at his home in New York City, and then from a cottage on the slopes of Mount McGregor, finishing shortly before he died on July 23, 1885. The book, entitled Personal Memoirs of Ulysses S. Grant, was a success. In the end, Julia Grant received about $450,000, suggesting a royalty of about 30%. The memoir has been highly regarded by the public, military historians, and literary critics. Grant was a shrewd and effective writer, portraying himself in the persona of the honorable Western hero, whose strength lies in his honesty and straightforwardness. He candidly depicted his battles against both the Confederates and internal Army foes. Twain called the Memoirs a "literary masterpiece." In reviewing the favorable literary critique of Grant's book, including the analyses of Matthew Arnold and Edmund Wilson, author Mark Perry called the Memoirs "the most significant work" of American non-fiction.
Grant died on July 23, 1885, at the age of 63. Sheridan, then Commanding General of the Army, ordered a day-long tribute to Grant on all military posts, and President Grover Cleveland ordered a thirty-day nationwide period of mourning. After private services, the military in New York placed Grant's body on a special funeral train and traveled via West Point to New York City, where a quarter of a million people viewed it in the two days before the funeral. Tens of thousands of men, many of them veterans from the Grand Army of the Republic or other veterans' organizations, marched with Grant's casket drawn by two dozen horses to Riverside Park. His pallbearers included Union generals Sherman and Sheridan, Confederate generals Simon Bolivar Buckner and Joseph E. Johnston, Admiral David Dixon Porter, and John A. Logan, the head of the Grand Army. Grant's body was laid to rest in Riverside Park, first in a temporary tomb, and finally in a sarcophagus in a circular atrium at the General Grant National Memorial ("Grant's Tomb"), the largest mausoleum in North America. Attendance at the New York funeral topped 1.5 million. Ceremonies were held in other major cities around the country, and those who eulogized Grant in the press likened him to George Washington and Abraham Lincoln.
US Grant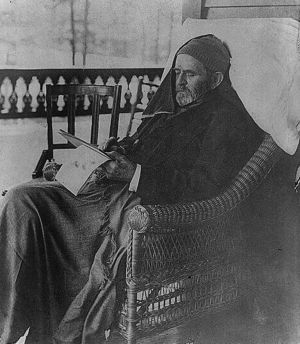 US Grant, with ill health, writing his memoir
President US Grant genealogy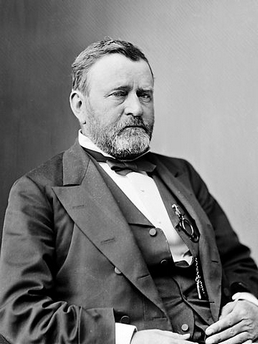 President US Grant family tree
In Memory
"It was my fortune, or misfortune, to be called to the office of Chief Executive without any previous political training." US Grant, December 5, 1876
General Ulysses S. Grant's victories in the Civil War made him a national hero. His fame propelled him into the White House.
Although Grant did not like politics and did not wish to hold any office, the death of Abraham Lincoln changed his plans. The new President, Andrew Johnson, did not appear to have the same forgiving leanings toward the South as Lincoln. Grant argued with President Johnson and challenged his views on the best way to reunite the country. He aligned himself with the Conservative Republicans, who also supported Lincoln's views on reunification. It soon became clear that as a symbol of the Union victory in the Civil War, Ulysses S. Grant was the Republican Party's candidate for President in 1868.
Grant's skills as a general and his ability to engage the enemy in combat contributed greatly to the country. Without Grant in the Civil War, the United States would have been a different country-or maybe not a country at all. Many historians agree that Grant's contributions as President and as a Union general were not appreciated.
President Johnson's term was plagued by bitter disagreements about Reconstruction, and so Grant, as the widely celebrated Union general who helped end the Civil War, was easily elected as the people welcomed his promise of "Let us have peace." Grant's presidency was consumed with a series of scandals. Though he was well regarded as an honest man of stalwart personal character, he was unable to judge adequately the character of others and thus unfortunately appointed friends and relatives to government jobs, many of whom exploited their positions through bribery and theft. Massachusetts Senator Charles Sumner was a critic of Grant who told the Senate the country was suffering from "a dropsical nepotism swollen to elephantiasis." Grant also was known to accept extravagant gifts from supporters.
Ultimately, Grant is best remembered for his role as Union general, rather than as an effective president. He did, however, serve two terms. Later in life, perhaps recognizing that his military experience was not adequate preparation for politics, he wrote, "I did not want the Presidency, and I have never quite forgiven myself for resigning the command of the army to accept it. . . . War and politics are so different."
Sources: National Park Service; National Archives and Records Administration; Library of Congress; The White House; archives.com.