Ulysses Grant Birthplace, Point Pleasant, Ohio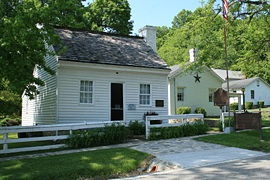 President Grant Birthplace
Unlike most of the Presidents before him who were born in log cabins, Hiram Ulysses Grant was born in a small frame cottage along the banks of the Ohio River on April 27, 1822. The cottage was located in a valley of Point Pleasant in Ohio. Grant's father, Jesse, was a leather tanner, and his mother was named Hannah Simpson Grant.
Grant reluctantly attended West Point, the U.S. Military Academy and his military career began as a cadet from July 1, 1839, to July 1, 1843. He graduated in the middle of his class and even though he had no intention of continuing his military career, he was promoted to Bvt. Second Lieutenant in the 4th Infantry.
Ulysses S. Grant Boyhood Home, Georgetown, Ohio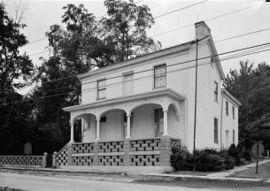 General Grant Boyhood Home
While in the Army, Lieutenant Grant participated in the military occupation of Texas from 1845 to 1846. The next year, he fought in the U.S.-Mexican War under the direction of General Zachary Taylor. This was the U.S.'s first foreign war, and it started when Mexico objected to the Republic of Texas becoming a state.
After the war, he moved his family to various military posts in the east. In 1852, he was sent to the West Coast. He had to leave his beloved wife, Julia, at home because she was expecting the couple's second child. This was an especially sad time for Grant. Because communication channels were poor, six months passed before he learned he had another son. He tried again and again to raise enough money to bring his family west, but each attempt failed. After two years without leave, and with an overwhelming desire to be with his wife and children, Grant resigned his commission as captain and returned home.
After leaving the service, Grant became a farmer in St. Louis, Missouri. Next, he tried his hand as a real estate agent. He then moved to be closer to his parents, who lived in Galena, Illinois. There, he went to work in his father's leather store. This is where he was working when the Civil War erupted and his military skills were again needed.
The Governor of Illinois appointed Grant to command an unruly volunteer regiment. The reluctant leader whipped his unskilled soldiers into shape. By September 1861, he rose to the rank of brigadier general of volunteers.
Sources: National Park Service; Official Records of the Union and Confederate Armies; Personal Memoirs of Ulysses S. Grant