Vice President John C. Breckinridge
14th U.S. Vice President John C. Breckinridge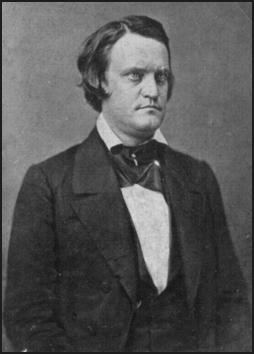 (Library of Congress)
BRECKINRIDGE, John Cabell, (grandson of John Breckinridge, father of Clifton Rodes Breckinridge, and cousin of Henry Donnel Foster), a Representative and a Senator from Kentucky and a Vice President of the United States; born at 'Cabell's Dale,' near Lexington, Ky., January 16, 1821; attended Pisgah Academy, Woodford County, Ky.; graduated from Centre College, Danville, Ky., in 1839; later attended the College of New Jersey (now Princeton University); studied law in the Transylvania Institute, Lexington, Ky.; admitted to the bar in 1840; moved to Burlington, Iowa, but soon returned and began practice in Lexington, Ky.; major of the Third Kentucky Volunteers during the
Mexican-American War
in 1847 and 1848; member, State house of representatives 1849; elected as a Democrat to the Thirty-second and Thirty-third Congresses (March 4, 1851-March 3, 1855); was not a candidate for renomination in 1854; was tendered the mission to Spain by President Franklin Pierce, but declined; elected Vice President of the United States in 1856 on the Democratic ticket with James Buchanan as President; unsuccessful candidate for President in 1860; elected to the United States Senate and served from March 4, 1861, until expelled by resolution of December 4, 1861, for support of the rebellion; entered the Confederate Army during the Civil War as brigadier general and soon became a major general; Secretary of War in the Cabinet of the Confederate States from January until April 1865; resided in Europe until 1868; returned to Lexington, Ky., and resumed the practice of law; vice president of the Elizabethtown, Lexington Big Sandy Railroad Co.; died in Lexington, Ky., May 17, 1875; interment in Lexington Cemetery.
(Sources listed below.)
Recommended Reading:
Breckinridge: Statesman, Soldier, Symbol
(Southern Biography Series) (Paperback, 688 pages). Description:
William C. Davis has written the only full-length biography of John C. Breckinridge, who is one of the most fascinating and yet one of the least known figures in all of American history.
Davis
begins by charting Breckinridge's early years as a lawyer, his rise in Kentucky state politics and then national politics, his role as Vice-President and his reluctant campaign for the Presidency in 1860. Davis then provides an excellent overview of Breckinridge's career as a Confederate military leader, fighting on nearly every front of the war and ending the war as the Confederate Secretary of State. Continued below.
Davis also gives an outstanding account of Breckinridge's dramatic escape from the country following the Confederate defeat, which was an adventure so extraordinary that it should be made into a movie.
Davis
concludes his work by describing Breckinridge's years as an exile before his final return to
Kentucky
and his tragic early death.
Davis
is one of the nation's most respected Civil War historians, and this book is an excellent manifestation of his scholarly and literary gifts. Not only is it full of information, allowing the reader to truly feel as though they have a solid understanding of Breckinridge's life, but it is written in such a fine style that it is always entertaining and never dull.
Recommended Reading: Generals in Gray Lives of the Confederate Commanders. Description: When Generals in Gray was published in 1959, scholars and critics immediately hailed it as one of the few indispensable books on the American Civil War. Historian Stanley Horn, for example, wrote, "It is difficult for a reviewer to restrain his enthusiasm in recommending a monumental book of this high quality and value." Here at last is the paperback edition of Ezra J. Warner's magnum opus with its concise, detailed biographical sketches and—in an amazing feat of research—photographs of all 425 Confederate generals. Continued below..
The only exhaustive guide to the South's command, Generals in Gray belongs on the shelf of anyone interested in the Civil War. RATED 5 STARS!
Recommended Reading: Civil War High Commands (1040 pages) (Hardcover). Description: Based on nearly five decades of research, this magisterial work is a biographical register and analysis of the people who most directly influenced the course of the Civil War, its high commanders. Numbering 3,396, they include the presidents and their cabinet members, state governors, general officers of the Union and Confederate armies (regular, provisional, volunteers, and militia), and admirals and commodores of the two navies. Civil War High Commands will become a cornerstone reference work on these personalities and the meaning of their commands, and on the Civil War itself. Errors of fact and interpretation concerning the high commanders are legion in the Civil War literature, in reference works as well as in narrative accounts. The present work brings together for the first time in one volume the most reliable facts available, drawn from more than 1,000 sources and including the most recent research. Continued below...
The biographical entries include complete names, birthplaces, important relatives, education, vocations, publications, military grades, wartime assignments, wounds, captures, exchanges, paroles, honors, and place of death and interment. In addition to its main component, the biographies, the volume also includes a number of essays, tables, and synopses designed to clarify previously obscure matters such as the definition of grades and ranks; the difference between commissions in regular, provisional, volunteer, and militia services; the chronology of military laws and executive decisions before, during, and after the war; and the geographical breakdown of command structures. The book is illustrated with 84 new diagrams of all the insignias used throughout the war and with 129 portraits of the most important high commanders.
Recommended Reading: Staff Officers in Gray: A Biographical Register of the Staff Officers in the Army of Northern Virginia (Hardcover) (360 pages) (The University of North Carolina Press) (September 3, 2008). Description: This indispensable Civil War reference profiles 2,300 staff officers in Robert E. Lee's famous Army of Northern Virginia. A typical entry includes the officer's full name, the date and place of his birth and death, details of his education and occupation, and a synopsis of his military record. Continued below...
Two appendixes provide a list of more than 3,000 staff officers who served in other armies of the Confederacy and complete rosters of known staff officers of each general in the Army of Northern Virginia.
Recommended Viewing: The History Channel Presents The Presidents (DVD: 6 Hours). Description: THE PRESIDENTS is an unprecedented eight-part survey of the personal lives and legacies of the remarkable men who have presided over the Oval Office. From George Washington to George W. Bush, THE PRESIDENTS gathers together vivid snapshots of all 43 Commanders in Chief who have guided America throughout its history--their powerful personalities, weaknesses, and major achievements or historical insignificance. Based on the book To the Best of My Ability, edited by Pulitzer Prize-winner James McPherson, THE PRESIDENTS features rare and unseen photographs and footage, unexpected insight and trivia from journalists, scholars, and politicians such as Walter Cronkite, David Brinkley, Wesley Clark, Bob Dole, and former President Jimmy Carter. Continued below...
Viewed within the changing contexts of each administration, the Presidency has never seemed more compelling and human. Narrated by Edward Herrmann ("The Aviator"), this three-DVD set is a proud addition to the award-winning documentary tradition of THE HISTORY CHANNEL®. DVD Features: Feature-length Bonus Program "All The Presidents' Wives"; Timeline of U.S. Presidents; Interactive Menus; Scene Selection, and more!
Bibliography: Official Records of the Union and Confederate Armies; American National Biography; Dictionary of American Biography; Davis, William. John C. Breckinridge: Statesman, Soldier, Symbol. Baton Rouge: Louisiana State University Press, 1974; Heck, Frank. Proud Kentuckian, John C. Breckinridge, 1821-1875. Lexington: University Press of Kentucky, 1976; Library of Congress; National Park Service; National Archives and Records Administration; Memoirs of William Williams Stringfield, 1901.