William Clarke Quantrill
(July 31, 1837 – June 6, 1865)
William Clarke Quantrill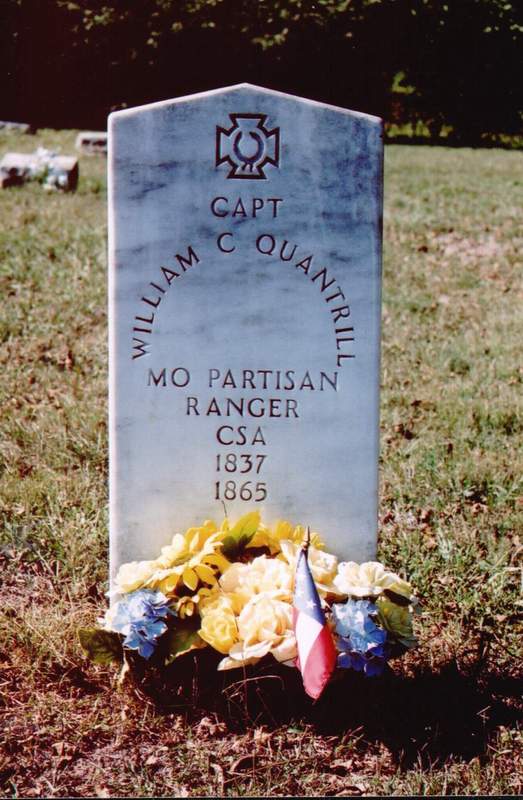 Headstone of William Clarke Quantrill
William Clarke Quantrill: A History
QUANTRILL, WILLIAM CLARKE
(1837-1865). William Clarke Quantrill (Charley Hart, Charles William Quantrill, and Billy Quantrill), Civil War guerrilla leader, was born at Canal Dover, Ohio, on July 31, 1837, to Thomas Henry and Caroline Cornelia (Clarke) Quantrill. He taught school briefly in Ohio and Illinois; in 1857, he moved to Kansas Territory, and in 1858, he accompanied an army provision train to Utah. At Fort Bridger, Salt Lake City, and elsewhere in the territory, Quantrill was associated with a number of murders and thefts. He fled a warrant for his arrest in Utah in 1860 and returned to Kansas. In December, he joined a group in an effort to free the slaves of a Missouri man; he betrayed the plans, and three of the

abolitionists

were killed. Quantrill collected a group of renegades in the Kansas-Missouri area. He served and fought with Confederate forces at the battle of Wilson's Creek in Oakhills, Missouri, in August 1861 but soon thereafter began irregular independent operations. Quantrill and his band, known as Quantrill's Raiders, attacked Union camps, patrols, and settlements. In November 1862 the group murdered twelve unarmed teamsters. Union authorities declared them outlaws. Quantrill's role in the capture of Independence, however, led to his being commissioned a captain in the Confederate Army. Shortly thereafter, he sought a regular command under the Confederacy Partisan Ranger Act, but his reputation for brutality preceded him, and his request was denied, although he was promoted to the rank of colonel.
In mid-October 1863, Quantrill and his band crossed the Red River at Colbert's Ferry and established winter camp on Mineral Springs Creek fifteen miles northwest of Sherman. During his first winter in Grayson County Quantrill and his men may have acted as a police force against cattle thieves who raided farms and ranches from Indian Territory. This winter camp was necessary, in part, for Quantrill's men to escape retribution for two of their recent affairs, the first being their infamous sack of Lawrence, Kansas, on August 21, 1863, during which they looted the town and shot approximately 180 men and boys (Quantrill's Raiders and Kansas Civil War History). Weeks later, while on their way to Texas, Quantrill's well-mounted and armed force of 400 men came upon the 100-man headquarters escort of Union general James G. Blunt. Quantrill's band attacked on October 6, 1863, and killed eighty men and wounded eighteen in the Barter Springs Massacre. Many were murdered after having surrendered. The raiders also captured several fully loaded supply wagons. (See also William Quantrill's Raiders and Missouri Civil War History)
William Quantrill
William Quantrill
Quantrill reported at Bonham on October 26 to Gen. Henry E. McCulloch. One of the officers described Quantrill as standing about five feet ten inches, weighing about 150 pounds, with fair hair, blue eyes, and a florid complexion. Lt. Gen. Edmund Kirby Smith, commander of the Trans-Mississippi Confederacy, approved of Quantrill and ordered McCulloch to use Quantrill's men to help round up the increasing number of deserters and conscription-dodgers in North Texas. Quantrill's men captured but few and killed several, whereupon McCulloch pulled them off this duty; McCulloch sent them to track down retreating Comanches from a recent raid on the northwest frontier. They did so for nearly a week with no success. Quantrill is credited with ending a near-riot of county "war widows" who were convinced that the Confederate commissary in Sherman was withholding from them such "luxury goods" as coffee, tea, and sugar. During this winter Quantrill's lieutenant, William (Bloody Bill) Anderson, took some of the men to organize his own group. With two such groups in the area, residents of Grayson and Fannin counties became targets for raids, and acts of violence proliferated so much that regular Confederate forces had to be assigned to protect residents from the activities of the irregular Confederate forces.
Finally, General McCulloch determined to rid North Texas of Quantrill's influence. On March 28, 1864, when Quantrill appeared at Bonham as requested, McCulloch had him arrested on the charge of ordering the murder of a Confederate major. Quantrill escaped that day and returned to his camp near Sherman, pursued by over 300 state and Confederate troops. He and his men crossed the Red River into Indian Territory, where they resupplied from Confederate stores. Except for a brief return in May, Quantrill's activities in Texas were at an end. His authority over his followers disintegrated completely when they elected George Todd, a former lieutenant to Quantrill, to lead them. In an attempt to regain his prestige Quantrill concocted a plan to lead a company of men to Washington and assassinate President Abraham Lincoln. He assembled a group of raiders in Lafayette County, Missouri, in November and December 1864, but the strength of Union troops east of the Mississippi River convinced him that his plan could not succeed. Quantrill returned, therefore, to his normal pattern of raiding. With a group of thirty-three men, he entered Kentucky early in 1865. In May or early June of that year a Unionist irregular force surprised his group near Taylorsville, Kentucky, and in the evening battle Quantrill was shot through the spine. He died at the military prison at Louisville, Kentucky, on June 6, 1865. (See also William Quantrill: A History, Quantrill's Raiders and Border State Civil War History.)
William Clarke Quantrill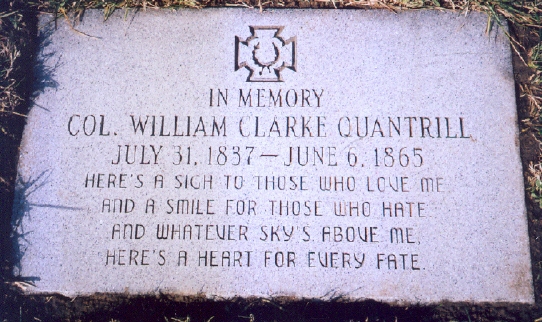 William Clarke Quantrill Grave
Death
While in Texas, Quantrill and his 400 men quarreled. His once-large band broke up into several smaller guerrilla companies. One was led by his lieutenant, "Bloody Bill" Anderson, whose men would be known for tying the scalps of slain unionists to the saddles and bridles of their horses. Quantrill joined them briefly in the fall of 1864 during fighting north of the Missouri River. In the spring of 1865, now leading only a few dozen men, Quantrill staged a series of raids in western Kentucky. Confederate General Robert E. Lee surrendered to Ulysses Grant on April 9, and General Johnston surrendered most of the rest of the Confederate Army to General Sherman on April 26. On May 10, Quantrill and his band were caught in a Union ambush at Wakefield Farm. Unable to escape on account of a skittish horse, he was shot in the back and paralyzed from the chest down. He was brought by wagon to Louisville, Kentucky and taken to the military prison hospital, located on the north side of Broadway at 10th Street. He died from his wounds on June 6, 1865, at the age of 27.
Quantrill's actions remain controversial to this day. Some of Quantrill's celebrity later rubbed off on other ex-Raiders – Jesse and Frank James, and Cole and Jim Younger, William McWaters – who went on after the war to apply Quantrill's guerrilla hit-and-run tactics to bank and train robbery.
(Bibliography and related reading below.)
Bibliography: Albert Castel, William Clarke Quantrill: His Life and Times (New York: Fell, 1962). William Elsey Connelley, Quantrill and the Border Wars (New York: Pageant, 1909; rpt. 1956). Dictionary of American Biography. Patricia L. Faust, ed., Historical Times Illustrated Encyclopedia of the Civil War (New York: Harper and Row, 1986). Donald R. Hale, We Rode with Quantrill (Clinton, Missouri: Printery, 1975). Lary C. Rampp, "William C. Quantrill's Civil War Activities in Texas, 1861-1863," Texas Military History 8 (1970). David Paul Smith, Frontier Defense in Texas, 1861-1865 (Ph.D. dissertation, North Texas State University, 1987). The War of the Rebellion: A Compilation of the Official Records of the Union and Confederate Armies (Washington: GPO, 1880-1901). David Paul Smith, Texas State Historical Association.
Try the Search Engine for Related Studies: William Clark Quantrill History, William C. Quantrill Biography, William Quantrill Early Life Picture, Family Reunion Photograph William Quantrill's Raiders, Quantrill's Raids Facts, Quantrill's Raiders Activities, William C. Quantrill and Border War, Quantrill Kansas Missouri Border, Quantrill and Border Ruffians, Kansas Jayhawkers Jesse James Gang, Younger Outlaws, American Civil War William Clarke Quantrill.