William Quantrill's Raid into Kansas
(Baxter Springs Massacre)
Names(s): Battle of Baxter Springs; Baxter Springs Massacre
Location: Cherokee County
Campaign: Occupation of Indian Territory North of the Arkansas River (1863)
Date(s): October 6, 1863
Principal Commanders: Lt. James B. Pond and Maj. Gen. James G. Blunt [US]; Lt. Col. William Clarke Quantrill [CS]
Forces Engaged: Detachments from three regiments and an escort [US]; Quantrill's Raiders (approx. 400) [CS]
Estimated Casualties: 106 total (US 103; CS 3)
Result(s): Confederate victory
Baxter Springs Massacre Map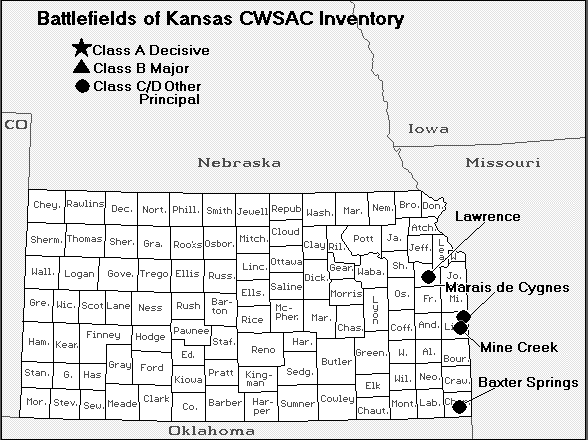 Quantrill Kansas Massacre Map
Description: After conducting many raids in Kansas, including the massacre at Lawrence, Quantrill decided to winter in Texas. Along with other partisans, he headed south on the Texas Road and captured and killed two Union teamsters who had come from a post called Baxter Springs. Quantrill decided to attack the post and divided his force into two columns, one under him and the other commanded by a subordinate, David Poole. Poole and his men proceeded down the Texas Road, where they encountered Union soldiers, most of whom were African Americans. They chased and attacked the Union troops, killing some of them before they reached the earth and log fort. After the Union survivors reached the fort, the Rebels attacked, but the garrison, with the help of a howitzer, fought them off. Quantrill's column moved on the post from another direction and chanced on a Union detachment escorting Maj. Gen. James G. Blunt and wagons transporting his personal items from his former headquarters of the Department of the Frontier at Fort Scott to his new one at Fort Smith. Most of this detachment, including the band and Maj. Henry Z. Curtis (son of Maj. Gen. Samuel R. Curtis), was murdered, but Blunt and a few mounted men returned to Fort Scott. Blunt was removed from command for failing to protect his column, but he was soon restored. The Civil War atrocities that transpired between Missouri and Kansas were a direct result of the Kansas-Missouri Border War (1854-1861), which is commonly referred to as Bleeding Kansas. Touted as a massacre by some, Baxter Springs was another event that characterized the vicious Kansas-Missouri border warfare. See also Kansas Civil War History.
Baxter Springs Massacre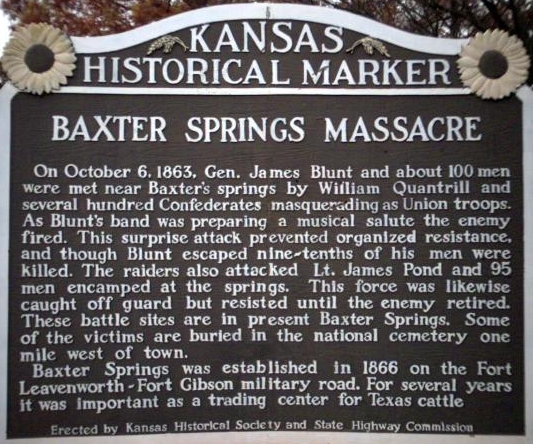 Quantrill Kansas Massacre : Quantrill Raiders
Related Reading for William Clarke Quantrill and Quantrill's Raiders:
Try the Search Engine for Related Studies: Quantrill's Raiders and the Baxter Springs Massacre Civil War History William Clark Quantrill Guerrilla Warfare during the American Civil War History Biography Indian Territory Civil War Battles.
Sources: National Park Service, Official Records of the Union and Confederate Armies.