Total Killed and Dead Civil War Soldiers
Casualties: Killed, Dead, Mortally Wounded Civil War Soldiers
Casualty Does Not Equal Dead
Dead Union Soldier at Siege of Petersburg in 1865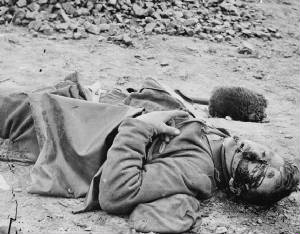 Library of Congress
Casualties include three categories: 1) dead (aka fatalities, killed-in-action and mortally wounded); 2) wounded; and 3) missing or captured. In general terms, casualties of Civil War battles included 20% dead and 80% wounded. Of the soldiers who were wounded, about one out of seven died from his wounds. Over 2/3 of the estimated 620,000 men who gave their lives in the Civil War died from disease, not from battle.
When one totals the Americans that died in the Revolutionary War, War of 1812, Mexican American War, Spanish American War, World War One, World War Two, Korean War, and Vietnam War, it is less than the total American Civil War casualties.
Union Casualty (Fatality) Estimates:

Battle Deaths: 110,070
Disease, etc.: 250,152
Total Deaths: 360,222

Confederate Estimated Losses (Fatalities):

Battle Deaths: 94,000
Disease, etc.: 164,000
Total Deaths: 258,000
Sources: Fox's Regimental Losses; United States Department of Veterans Affairs; Library of Congress: American War Casualty Lists and Statistics; Official Records of the Union and Confederate Armies; National Park Service.
Casualties and Statistics for All American Wars and Conflicts:
American Deaths in All Wars
The following numbers reflect deaths (excluding wounded and missing):
Source: U.S. Army Military History Institute, Carlisle, PA
| | |
| --- | --- |
| Revolutionary War (1775-1783) | 4,435 |
| War of 1812 (1812-1815) | 2,260 |
| Mexican War (1846-1848) | 13,283 |
| Civil War (1861-1865) | 623,026 |
| Spanish-American War (1898) | 2,446 |
| World War I (1917-1918) | 116,708 |
| World War II (1941-1945) | 407,316 |
| Korean War (1950-1953) | 36,914 |
| Vietnam War (1964-1973) | 58,169 |
| Persian Gulf War (1991) | 269 |
North Carolina War Deaths
The following numbers reflect deaths (excluding wounded and missing)
Source: North Carolina Museum of History

Civil War
992,622 (1860)
40,275 (CSA)
World War I
2,206,287 (1910)
2,375
World War II
3,571,623 (1940)
7,000
Korean War
4,061,929 (1950)
876
Vietnam War
4,556,155 (1960)
1,572