Thomas' Legion
American Civil War HOMEPAGE
American Civil War
Causes of the Civil War : What Caused the Civil War
Organization of Union and Confederate Armies: Infantry, Cavalry, Artillery
Civil War Navy: Union Navy and Confederate Navy
American Civil War: The Soldier's Life
Civil War Turning Points
American Civil War: Casualties, Battles and Battlefields
Civil War Casualties, Fatalities & Statistics
Civil War Generals
American Civil War Desertion and Deserters: Union and Confederate
Civil War Prisoner of War: Union and Confederate Prison History
Civil War Reconstruction Era and Aftermath
American Civil War Genealogy and Research
Civil War
American Civil War Pictures - Photographs
African Americans and American Civil War History
American Civil War Store
American Civil War Polls
NORTH CAROLINA HISTORY
North Carolina Civil War History
North Carolina American Civil War Statistics, Battles, History
North Carolina Civil War History and Battles
North Carolina Civil War Regiments and Battles
North Carolina Coast: American Civil War
HISTORY OF WESTERN NORTH CAROLINA
Western North Carolina and the American Civil War
Western North Carolina: Civil War Troops, Regiments, Units
North Carolina: American Civil War Photos
Cherokee Chief William Holland Thomas
HISTORY OF THE CHEROKEE INDIANS
Cherokee Indian Heritage, History, Culture, Customs, Ceremonies, and Religion
Cherokee Indians: American Civil War
History of the Eastern Band of Cherokee Indian Nation
Cherokee War Rituals, Culture, Festivals, Government, and Beliefs
Researching your Cherokee Heritage
Civil War Diary, Memoirs, Letters, and Newspapers
American Civil War Store: Books, DVDs, etc.

Women Civil War Soldiers
Woman Civil War Soldiers
Deposition from a fellow soldier
Deposition from a fellow soldier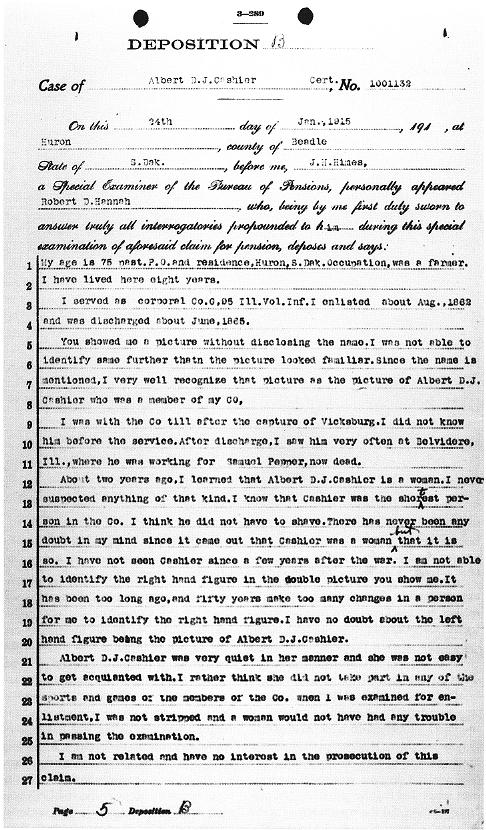 National Archives
Recommended Reading: She Went to the Field: Women Soldiers of the Civil War. Description: Women Soldiers of the Civil War profiles several substantiated cases of female soldiers during the American Civil War, including Sarah Rosetta Wakeman (aka Private Lyons Wakeman, Union); Sarah Emma Edmonds (aka Private Frank Thompson, Union); Loreta Janeta Velazquez (aka Lieutenant Harry T. Buford, Confederate); and Jennie Hodgers (aka Private Albert D. J. Cashier, Union). Continued below...
Also featured are those women who may not have posed as male soldiers but who nonetheless pushed gender boundaries to act boldly in related military capacities, as spies, nurses, and vivandieres ("daughters of the regiment") who bore the flag in battle, rallied troops, and cared for the wounded.
Recommended Reading: They Fought Like Demons: Women Soldiers in the Civil War. Publishers Weekly: At least 250 women served-disguised as men-in the ranks of both North and South during the Civil War. Although works about female Civil War soldiers have appeared over the past several years, this volume, by National Archives archivist Blanton and Cook, a Fayetteville State University employee in North Carolina, makes a nice summation. After covering the major combat actions in which women served (and in which several were killed), the authors reconstruct the reasons why women entered the armed forces: many were simply patriotic, while others followed their husbands or lovers and yet others yearned to break free from the constraints that Victorian society had laid on them as women. Continued below…
Blanton and Cook detail women soldiers in combat, on the march, in camp and in the hospital, where many were discovered after getting sick. Some even wound up in grim prisons kept by both sides, while a few hid pregnancies and were only discovered after giving birth. Many times the rank and file hid them from officers, who were duty-bound to discharge women if they were found out. Some remained in disguise for years after the war; Albert D.J. Cashier (nee Jennie Hodgers) of the 95th Illinois Infantry was only unmasked in 1911, when she suffered a fractured leg in an automobile accident. The authors make a strong case that the controversial Loreta Janeta Velazquez (alias Lt. Harry T. Buford, C.S.A.) actually did perform most of the deeds she wrote about in her 1876 memoir, which has previously been discounted as fiction by most Civil War historians. Solid research by the authors, including a look at the careers of a few women soldiers after the war, makes this a compelling book that belongs in every Civil War library.
Recommended Viewing: The American Civil War (DVD Megaset) (2009) (A&E Television Networks-The History Channel) (14 DVDs) (1697 minutes) (28 Hours 17 Minutes + extras). Experience for yourself the historical and personal impact of the Civil War in a way that only HISTORY can present in this moving megaset™, filled with over 28 hours of American Civil War content. This MEGASET is the most comprehensive American Civil War compilation to date and is the mother of all Civil War documentaries. A multifaceted look at "The War Between the States," this definitive collection brings the most legendary Civil War battles, and the soldiers and leaders who fought them, vividly to life. From Gettysburg and Antietam to Shiloh, and led by the likes of Sherman, McClellan, Grant, Beauregard, Lee, Davis, and Jackson, delve into the full military and political contexts of these men, their armies, and the clashes between them. Continued below...
The American Civil War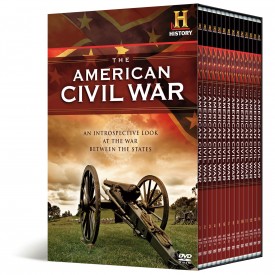 Almost 150 years after Lee's surrender at Appomattox Court House, the unexpected secrets and little-known stories from Civil War history are divulged with fascinating detail. Cutting-edge CGI and accurate dramatizations illustrate archival letters and original diary entries, and the country's most renowned historians describe the less familiar incidents that add perspective and depth to the war that divided a nation. If the DVDs in this Megaset were purchased separately, it could cost hundreds of dollars. This one-of-a-kind compilation belongs on the shelf of every Civil War buff, and if you know anyone that is interested in the most costliest and bloodiest war in American history, buy this, they will love it.
THE AMERICAN CIVIL WAR contains the following programs:
* The Most Daring Mission Of The Civil War
* April 1865
* Battlefield Detectives: The Civil War (3 Episodes): Antietam, Gettysburg, Shiloh
* Secret Missions Of The Civil War
* The Lost Battle Of The Civil War
* Tales Of The Gun: Guns Of The Civil War
* Eighty Acres Of Hell
* Lincoln
* Investigating History: Lincoln: Man Or Myth
* Man, Moment, Machine: Lincoln & The Flying, Spying Machine
* Conspiracy?: Lincoln Assassination
* High Tech Lincoln
* Sherman's March
* The Hunt For John Wilkes Booth
* Civil War Combat (4 Episodes): The Hornets' Nest At Shiloh, The Bloody Lane At Antietam, The Wheatfield At Gettysburg, The Tragedy At Cold Harbor
* Civil War Journal (8 Episodes): John Brown's War, Destiny At Fort Sumter, The Battle of 1st Bull Run, The 54th Massachusetts, West Point Classmates—Civil War Enemies, Robert E. Lee, Stonewall Jackson, Sherman And The March To The Sea
BONUS FEATURES:
* Full-Length Documentary "Save Our History: Sherman's Total War Tactics"
* Behind the Scenes Featurettes for "Sherman's March" and "Lincoln"
Recommended Reading: Band of Sisters: American Women at War in Iraq. From Booklist: Holmstedt started studying the experience of women marines when she lived near Camp Lejeune, North Carolina. Her research became a master's thesis in creative writing and the most up-to-date discussion of women in the current war. Unblushingly in favor of women in combat, she doesn't whitewash their experiences or exaggerate their achievements. Their male colleagues aren't universally accepting, but many of them admit that the women are performing effectively; since 20 percent of the troops currently in Iraq are women, they must. Continued below…
Following the tradition of American soldiers before them, they say that they are "just doing the job." That is, they are flying F-18s into enemy ground fire, driving Hummers and trucks that may be ambushed at any moment, and playing invaluable roles in intelligence operations and in the nation building that is one of the more positive aspects of a seemingly interminable and frustrating conflict. Nearly 500 female soldiers have been killed or wounded in Iraq. Invaluable as well as readable. Green, Roland
Recommended Viewing: The Full Metal Corset: Secret Soldiers of the Civil War (The History Channel). Description: In April 1861, the newly inaugurated President Lincoln calls for 75,000 men to fight for the Federal cause. What he does not anticipate is the shared desire by hundreds of women to fight for their country. Forbidden by laws of society, these determined women become the "Secret Soldiers of the Civil War." Continued below…
Travel back in time and hear the story of two of the Civil War's most interesting female soldiers--Sarah Emma Edmonds and Loreta Janeta Velazquez. Hear their tales of passion, recounting the sacrifice of identity, fear of discovery, and constant need for duplicity...even under fire.