Thomas' Legion
American Civil War HOMEPAGE
American Civil War
Causes of the Civil War : What Caused the Civil War
Organization of Union and Confederate Armies: Infantry, Cavalry, Artillery
Civil War Navy: Union Navy and Confederate Navy
American Civil War: The Soldier's Life
Civil War Turning Points
American Civil War: Casualties, Battles and Battlefields
Civil War Casualties, Fatalities & Statistics
Civil War Generals
American Civil War Desertion and Deserters: Union and Confederate
Civil War Prisoner of War: Union and Confederate Prison History
Civil War Reconstruction Era and Aftermath
American Civil War Genealogy and Research
Civil War
American Civil War Pictures - Photographs
African Americans and American Civil War History
American Civil War Store
American Civil War Polls
NORTH CAROLINA HISTORY
North Carolina Civil War History
North Carolina American Civil War Statistics, Battles, History
North Carolina Civil War History and Battles
North Carolina Civil War Regiments and Battles
North Carolina Coast: American Civil War
HISTORY OF WESTERN NORTH CAROLINA
Western North Carolina and the American Civil War
Western North Carolina: Civil War Troops, Regiments, Units
North Carolina: American Civil War Photos
Cherokee Chief William Holland Thomas
HISTORY OF THE CHEROKEE INDIANS
Cherokee Indian Heritage, History, Culture, Customs, Ceremonies, and Religion
Cherokee Indians: American Civil War
History of the Eastern Band of Cherokee Indian Nation
Cherokee War Rituals, Culture, Festivals, Government, and Beliefs
Researching your Cherokee Heritage
Civil War Diary, Memoirs, Letters, and Newspapers
American Civil War Store: Books, DVDs, etc.

General James Green Martin
Compiled Military Service Record
James Green Martin (Confederate)

Biographical data and notes:
- Born Feb 14 1819 in Elizabeth City, NC
- Pre-enlistment occupation: US Army Officer
- James Green Martin died on Oct 4 1878 at Asheville, NC

Enlistment:
- 43 years of age at time of enlistment
- Enlisted on May 15 1862 as Brigadier General

Mustering information:
- Commissioned into Gen & Staff (Confederate States) on May 15 1862

Promotions:
- Promoted to Brig-Gen (Full, Vol) (May 1862)
General James Green Martin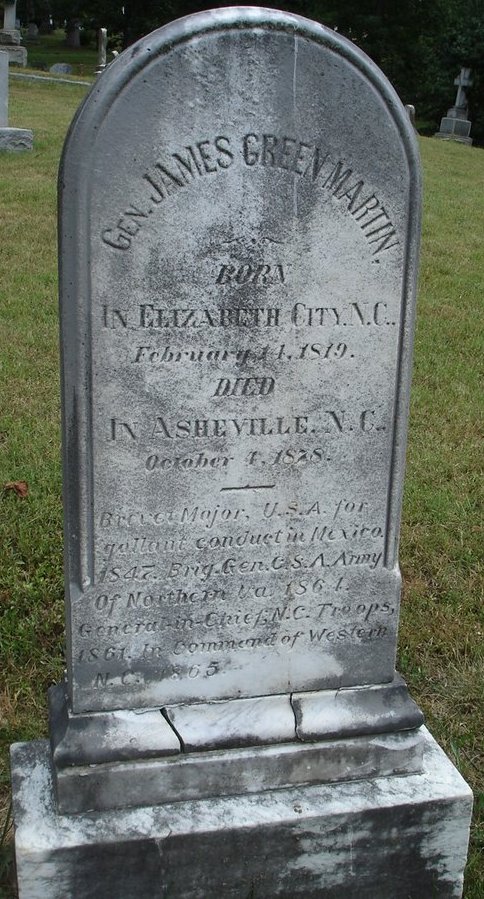 General James Green Martin. Grave, Asheville, NC.
Sources: General Officers of the Confederate States of
America, Confederate Military History, National Archives
Recommended Reading: Generals in Gray Lives of the Confederate Commanders. Description: When Generals in Gray was published in 1959, scholars and critics immediately hailed it as one of the few indispensable books on the American Civil War. Historian Stanley Horn, for example, wrote, "It is difficult for a reviewer to restrain his enthusiasm in recommending a monumental book of this high quality and value." Here at last is the paperback edition of Ezra J. Warner's magnum opus with its concise, detailed biographical sketches and—in an amazing feat of research—photographs of all 425 Confederate generals. Continued below.
The only exhaustive guide to the South's command, Generals in Gray belongs on the shelf of anyone interested in the Civil War. RATED 5 STARS!
Advance to:
Recommended Reading: Generals in Blue: Lives of the Union Commanders (Hardcover). Description: More than forty years after its original publication, Ezra J. Warner's Generals in Blue is now available in paperback for the first time. Warner's classic reference work includes intriguing biographical sketches and a rare collection of photos of all 583 men who attained the rank of general in the Union Army. Here are the West Point graduates and the political appointees; the gifted, the mediocre, and the inexcusably bad; those of impeccable virtue and those who abused their position; the northern-born, the foreign-born, and the southerners who remained loyal to the Union. Continued below.
Warner's valuable introduction discusses the criteria for appointment and compares the civilian careers of both
Union
and Confederate generals, revealing striking differences in the two groups. Generals in Blue is that rare book—an essential volume for scholars, a prized item for buffs, and a biographical dictionary that the casual reader will find absorbing.
Recommended Reading: The Civil War in North Carolina. Description: Numerous battles and skirmishes were fought in North Carolina during the Civil War, and the campaigns and battles themselves were crucial in the grand strategy of the conflict and involved some of the most famous generals of the war. Continued below.
John Barrett presents the complete story of military engagements and battles across the state, including the classical pitched battle of Bentonville--involving Generals Joe Johnston and William Sherman--the siege of
Fort
Fisher
, the amphibious campaigns on the coast, and cavalry sweeps such as
General George Stoneman's Raid
. "Includes cavalry battles, Union Navy operations, Confederate Navy expeditions, Naval bombardments, the land battles... [A]n indispensable edition." Also available in hardcover:
The Civil War in North Carolina
.
Recommended Reading: Robert E. Lee on Leadership : Executive Lessons in Character, Courage, and Vision. Description: Robert E. Lee was a leader for the ages. The man heralded by Winston Churchill as "one of the noblest Americans who ever lived" inspired an out-manned, out-gunned army to achieve greatness on the battlefield. He was a brilliant strategist and a man of unyielding courage who, in the face of insurmountable odds, nearly changed forever the course of history. "A masterpiece—the best work of its kind I have ever read. Crocker's Lee is a Lee for all leaders to study; and to work, quite deliberately, to emulate." — Major General Josiah Bunting III, Superintendent of the Virginia Military Institute. Continued below.
In this remarkable book, you'll learn the keys to Lee's greatness as a man and a leader. You'll find a general whose standards for personal excellence was second to none, whose leadership was founded on the highest moral principles, and whose character was made of steel. You'll see how he remade a rag-tag bunch of men into one of the most impressive fighting forces history has ever known. You'll also discover other sides of Lee—the businessman who inherited the debt-ridden Arlington plantation and streamlined its operations, the teacher who took a backwater college and made it into a prestigious university, and the motivator who inspired those he led to achieve more than they ever dreamed possible. Each chapter concludes with the extraordinary lessons learned, which can be applied not only to your professional life, but also to your private life as well.
Today's business world requires leaders of uncommon excellence who can overcome the cold brutality of constant change. Robert E. Lee was such a leader. He triumphed over challenges people in business face every day. Guided by his magnificent example, so can you.
Reviews:
"A splendid and inspiring book, Robert E. Lee on Leadership offers enormously valuable lessons for all of us today, and should be required reading in the White House, the State Department, and the Pentagon, at least."
— Caspar Weinberger, former Secretary of Defense, chairman of Forbes magazine
"As Harry Crocker reminds us, the principles that guided Robert e. Lee were grounded in the finest traditions of American values. Robert E. Lee on Leadership is a timely and valuable reflection on character, and on the personal and spiritual convictions that make for great leaders."
— S. Patrick Presley, director of Federal Government Affairs, British Petroleum
"A moving and illuminating look at Lee the man, so that thoughtful people can learn from him how to succeed in the business of life."
— Dinesh D'Souza, author of Ronald Reagan: How an Ordinary Man Became an Extraordinary Leader
"Harry Crocker has provided a great service by reminding us through this moving and tightly written biography that winning isn't the only thing: faithfulness and honor live in our memories after the guns are silent."
— Marvin Olasky, author of the bestselling Renewing American Compassion and The American Leadership Tradition
Recommended Reading: Confederate Military History Of North Carolina: North Carolina In The Civil War, 1861-1865. Description: The author, Prof. D. H. Hill, Jr., was the son of Lieutenant General Daniel Harvey Hill (North Carolina produced only two lieutenant generals and it was the second highest rank in the army) and his mother was the sister to General "Stonewall" Jackson's wife. In Confederate Military History Of North Carolina, Hill discusses North Carolina's massive task of preparing and mobilizing for the conflict; the many regiments and battalions recruited from the Old North State; as well as the state's numerous contributions during the war. Continued below.
During Hill's Tar Heel State study, the reader begins with interesting and thought-provoking statistical data regarding the 125,000 "Old North State" soldiers that fought during the course of the war and the 40,000 that perished. Hill advances with the Tar Heels to the first battle at Bethel, through numerous bloody campaigns and battles--including North Carolina's contributions at the "High Watermark" at Gettysburg--and concludes with Lee's surrender at Appomattox.